Local publican Tom Dillon went back to the heritage of his establishment in order the relaunch what is becoming one of town's most impressive establishments.
More than any other London Borough, Richmond has experienced a massive growth in gastro pubs, international and UK-wide food chains along with a serving of independent eateries spiced up with a couple excellent vegan coffee bars.
We are lucky to have such a varied menu when it comes to supper out – especially mid-week when everyone is looking for satisfying food in a friendly atmosphere which doesn't need a bank loan to cover three courses.
Einstein once said you don't have to find a new game – you just have to play the old one better. So, perhaps it is not surprising that it is an establishment which went back to its heritage and focused on home-cooked hero dishes that is becoming a favoured destination on our stretch of the Thames.
For, while other proprietors were decking their premises out in every shade of Farrow and Ball paint from elephant grey to dead salmon and mouse-tail, owner and manager of the Red Cow, Tom Dillon, was sorting through the 19th heirlooms and pub accessories he had carefully stored in his cellar while he quietly planned his pub's rebirth.
Which is why when you visit the Red Cow, on the Sheen Road at the gateway to Richmond, you will find genuine pub mirrors from the 1830's along with a lovely working fireplace and even acid etched glass panel divides known at the time as snob screens, used to separate the original Public Bar from the Lounge.
Tom and his wife Carmel have owned the pub for more than two decades. It was in every sense of the word always a real pub, drawing its customers from the railway cottages behind – now known as the Alberts – and the wealthier folk from further up the Hill. It was a key asset in the community, even if at the time it was believed to be a harbour for thieves and vagabonds. Ironically, it is now known as the Golden Triangle.
"Carmel was very worried about buying the Red Cow and she made no secret of that. I felt it was the right spot for us and I believed I had enough experience behind me to make it work. I've worked in pubs since I was 18 and felt this would work for us."
Carmel, had only just had their second child, but put her reservations behind her. Although the couple now live in Twickenham, they originally lived above the shop and all three children walked around the corner to St Elizabeth's Primary school in Queens Road. It is, by anyone's estimation, a true, family-run establishment.
In fact, Carmel was an integral part of the Red Cow's new look which happened just before the re-launch at the start of this year. She led the design project which undertook the immensely difficult repositioning of the bar, restoration of the original mirrors and glass, chose the chic midnight blue colour scheme and renovated the hugely popular outside area at the apex of Worple Way and Sheen Road, where the pub sits.
Tom first thought of re-launching the Young's Brewery pub just over ten years ago and in many ways, was slightly ahead of his time in predicting the return of what he calls community pubs. A relatively recent change in personnel at the Ram Pub Company – the sister organisation of Young's – meant he got a chance to see his pub reborn on a foundation of its legacy.
The transformation has proved popular with locals and visitors alike, not least because it delivers when it comes to food. Carmel, whose talents also extend to the kitchen, makes sure that there is always a well-stocked supply of sausage rolls, scotch eggs and a speciality of the house called Mac Cheese Croquettes. The Red Cow's Sunday lunch is amongst the best in Richmond and the stack of top quality pub grub is hard to resist. Everything is made on the premises. There is an extensive range of cask ales and craft beers, alongside a decent wine and cocktail list.
It is hard to find a pub with a history that goes back to the early 1800s, has a tremendously loyal following and represents such good value…but the Red Cow meets all the criteria…..and Carmel's secret recipe hamburgers are legendary.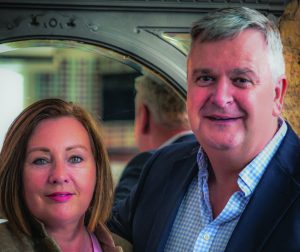 59 Sheen Road, Richmond, Surrey TW9 1YJ
Tel: 020 8940-2511  ● Email: tom@redcowpub.com