Fancy a trip on the Thames? Better still, perhaps, one with a really nice meal and live music included? Or maybe a romantic evening meal, while also having the chance to enjoy the amazing lights that illuminate our capital's riverside? Well, look no further than a trip with Bateaux London; you'll be in for a memorable experience – one that if you're anything like us, you'll be telling your friends about for weeks afterwards…
Guests board the boat at Embankment Pier (opposite the underground station) and congregate in the rather swish bar for a cocktail, prior to embarking on the boat itself. On boarding the boat, we felt very spoiled indeed, as our table was right at the front with a giant window giving us a panoramic view of the river. The decor is very upmarket – and to be honest, it felt just as though we were in a smart restaurant – but this one floated along and showcased for us the River Thames in all her evening splendour!
We were offered a glass of prosecco – included in the price of our particular ticket. Now, I'm not normally a big fan of prosecco, but this one was really excellent. It was Vaporetto prosecco (£11 a glass or £40 a bottle) was nicely dry and crisp with excellent length. The package we were on also included house wines, beer and soft drinks, but on studying the well curated drinks menu, prices are in line with most London restaurants or gastro pubs. (Wines from £30 a bottle, spirits from £6 a serving.)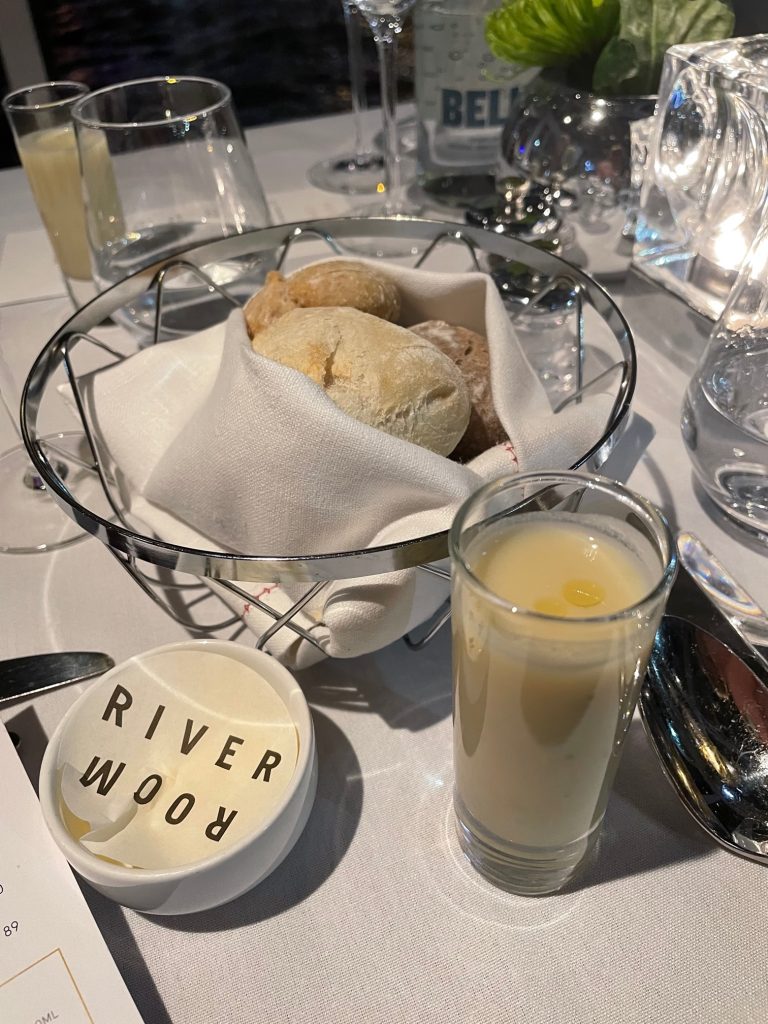 We were brought an amuse-bouche and some warmed bread rolls and butter to enjoy while we chose from the menu. The amuse-bouche was a shot glass of chilled gazpacho – similar to a vichyssoise. For our starters, my husband chose game terrine with Rubies in the Rubble chutney and chargrilled artisanal bread but I opted for beetroot cured salmon with celeriac remoulade (two of my favourite things in a combination that was new to me – so irresistible!). Both starters were excellent and attractively presented.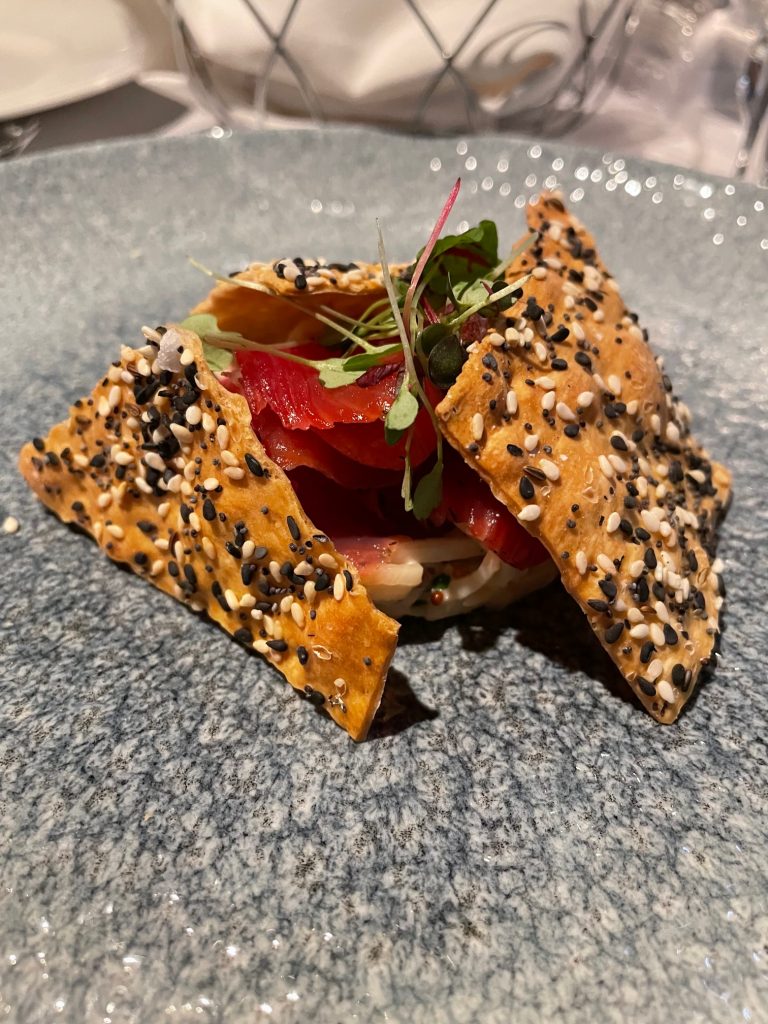 We were gliding along the Thames, enjoying the wonderful scenery. The boat took us past the London Eye, Battersea Power Station, St. Paul's Cathedral, the Tower of London and the Houses of Parliament among other notable landmarks. This really brought home to us the beauty of London at night – something we tend to take for granted when we live alongside it!
We both chose the same main course; braised lamb shank, gratin dauphinoise, maple glazed parsnip and red wine jus. It was beautifully tender but I'd have loved a little more kale than the tiny piece decorating the lamb – a very minor niggle! Our chosen desserts were rhubarb crumble with custard and toffee pudding with caramel sauce. Again, very tasty and attractively presented. (There's a vegetarian/vegan option for all courses by the way)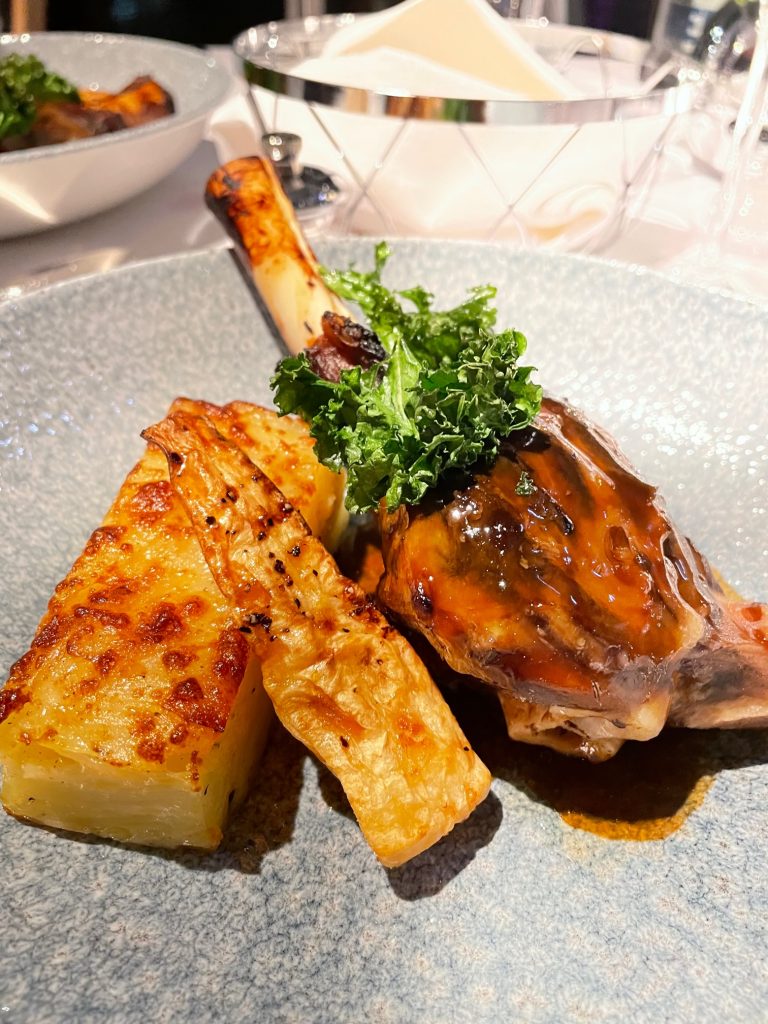 By the time our final course of a sharing cheeseboard arrived, we were deep in conversation with the diners at our adjacent tables and thoroughly enjoying the live music from the very talented singer/guitarist who was entertaining us. There was a definite party atmosphere on board that evening and everyone was busy taking photos and videos of the ever changing scenery.
I really recommend trying the Bateaux London experience. There are a number of different packages available for dinner, some offering just a meal, and others including drinks. Prices are from £99 per head – not cheap, I know, but considering the quality and uniqueness of the whole experience, excellent value for money. There is also the option of Sunday lunch on the boat – a great one for families (children must be over the age of 12 for the evening cruise). If you want to treat overseas visitors with a magical tour of the Thames, it's the perfect answer. And, of course, it's a very popular party and wedding venue when you can hire a whole boat.
They do Valentine's Day specials, so definitely something to bear in mind for next year. And perhaps for Mother's Day you could consider the classic Sunday lunch cruise at £79 per head (£34 per child) when you can take in the sights of the city in daylight, listening to live jazz and enjoying a classic three course roast lunch. Vouchers are also available – what a great present and a really unusual wedding present!