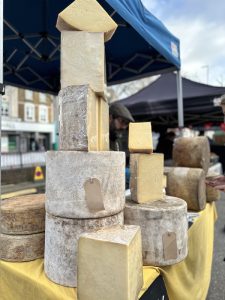 Cheesewick?
Did you know that Chiswick was originally known as 'Cheesewick' – it's Old English for cheese farm. I've also discovered that on the third Sunday of each month, there is a fabulous street market with over 150 DIFFERENT CHEESES, plus chutney, crackers and many more cheese related goodies.  It's the ONLY dedicated cheese market in London.  You can see the list of exhibitors for the next market on the link here.  
Where?
It takes place on Old Market Place – outside Planet Organic – on Chiswick High Road, London W4. Nearest tube is Turnham Green and there are many buses from Hammersmith or walk from Chiswick or Gunnersbury Station.  From Twickenham you can hop on the 267.  There are loads of great places for brunch or lunch locally,  and some will also have Cheesewick market specials – check out Instagram or Twitter for the latest info. The market on 19 March will be hosting a lunchtime masterclass and lunch at George IV pub with a cheese expert and a wine expert. More info is on the link here
Local foodie celebrity and cookbook writer Jo Pratt has kindly provided us with a delicious recipe to tempt you to visit the market. 
BLUE CHEESE AND SWEET ONION SWIRLS
"Not quite a bread or a pastry, these light and fluffy cheesy twirls are very hard to resist and a joy to make. We like to serve them with a bowl of soup or tomato-based stew but they are just as good served with a crisp salad or on their own as a snack or sharing starter.
At the Chiswick Cheese Market, we have a fabulous Gorgonzola Dolce (soft, unctuous and full of flavour) every month which works a treat in the recipe, however why not try the recipe with award winning British Pevensey Blue from Faye at Big Wheel Cheese or you could try it using Beauvale from Cropwell Bishop – a fabulous gorgonzola style cheese made by one of the UK's top Stilton producers, available from Heritage Cheese."
Prep 40 minutes / Cooking 20 minutes / Makes 8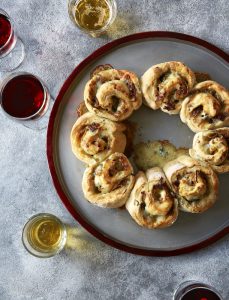 2 tbsp olive oil

1 large onion, finely sliced

1 tbsp balsamic vinegar

1 tbsp caster sugar

325g self-raising flour, plus extra for dusting

250ml buttermilk or natural yoghurt

2 tbsp olive oil, plus extra for drizzling

1 tbsp sage leaves, finely chopped

1 tsp flaked sea salt

100g creamy blue cheese such as gorgonzola, cut into pieces

freshly ground black pepper
Heat the oil in a saucepan over a low heat and add the onion. Cook gently for around 15 minutes until soft and starting to become golden. Add the balsamic vinegar, sugar and season with salt and pepper. Cook for a further couple of minutes before removing from the heat and leaving to cool.
Heat the oven to 200°C/180°C fan/400°F/gas 6. Line a baking tray with baking parchment.
Put the flour, buttermilk or yoghurt, oil, sage and salt in a large bowl. Using a round-ended knife, mix until you have a soft dough. Turn out onto a worktop dusted with flour and gently and briefly knead until you have a smooth dough.
Dust a rolling pin with flour, and making sure the worktop is also well floured, roll out the dough to a 20 x 30cm rectangle and scatter over the caramelised onions and blue cheese. Roll up from the long side of the dough to create a long sausage shape.
Using a sharp knife, cut into 8 even pieces. Sit, cut side up, on the baking tray in a ring shape so they are almost touching one another and drizzle the top with olive oil. 
Bake for 20 minutes until golden brown and serve warm.
Recipe: courtesy of Jo Pratt (The Flexible Baker, White Lion Publishing) for The Chiswick Cheese Market  www.chiswickcheesemarket.uk
Image: Malou Burger