I can't believe how fast this year has flown by – we seem only to have just put away the decorations from last Christmas!
Soon we'll be buying Advent or 'Holiday Countdown' (thank you America) Calendars and there's an amazing range to choose from.  Here are some that've caught my eye and look fabulous.
M&S Comes Up Trumps as Always
For an excellent and wide range of chocolate calendars, M&S has come up trumps again this year with a sensational selection, and all very well priced.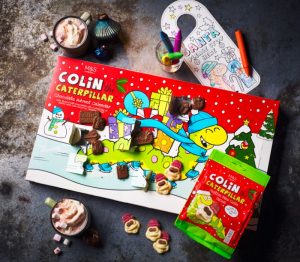 Youngsters (and some older folk I know) who are fans of Colin the Caterpillar, can indulge at just £6 (from M&S stores or online from Ocado)
And if you have a coffee machine that uses pods, you can experiment to your heart's content with the coffee one with a selection of roasted and ground Arabica and Robusta coffee pods including: vanilla, hazelnut, Italian-style, house blend, jump start and decaf.
Hotel Chocolat's Surprisingly Good Value Range
Hotel Chocolat has surprised me this year with a range of good value and stylish calendars. 
Starting from just £8.50 there's something for everyone, whether an adult or a child, or if you prefer your chocolate to be dark, white, caramel or vegan. And there's even a double one – for two – that's perfect for couples.  
Montezuma's Top Quality Dark (and others too)
If, like me, you're a fan of chunks of quality, dark chocolate, I'd suggest the Montezuma's Dark calendar. 
It's organic and 74% cocoa solids and has 25 solid chocolates for £12.99. 
The website currently has some special offers of other items for Christmas too, including some new mini cookies, so worth checking it out. 
Chococo for The Serious Filled Fan
For the serious, filled chocolate aficionado, look no further than Chococo's Classic Christmas Countdown calendar, with contemporary styling, and packed with an assortment of milk, gold, dark and oat milk award-winning chocolates. 
This year there are new flavours including Bottoms Up! Champagne Gem, We Three Fruits and Panela Panache Truffle. 
At £27.50 it might seem pricey, but for a chocolate connoisseur, it's really worth it.
Suitable for all Ages: Tony's Chocolonely
Still highly ethical and perfect for adults and children alike, is the Tony's Chocolonely calendar. 
Made with Fairtrade cocoa, sourced responsibly according to the company's five sourcing principles, all products are plastic and palm oil free too.
Tony's larger than life calendar to countdown to the festive season is filled with "25 tiny Tony's classic flavours over 24 windows – unequally divided like the profits in the chocolate industry. Every door has a tiny mission to help to educate about the bitter truth in chocolate."
£12.99 from Waitrose, Sainsbury's, Ocado and independents.  And also, of course online, together with all sorts of other goodies here
Vegans Don't Lose Out, thanks to Love Raw
I've been impressed with the quality of the Love Raw vegan chocolate and the company has a first for this year – its rather natty calendar with, like most of the other chocolate companies in this article, no nasties like palm oil. 
It's 'm:lk' chocolate and will make a vegan chocoholic very happy for 24 days this December! 
A very reasonable £6.99 from Love Raw
Oh Wow! Liquorice Heaven from Lakrids by Bülow
And last, but by no means least, of the choccy calendars, is the one from Lakrids by Bülow. 
Not only does it contain the most fabulous chocolate coated liquorice, but there are two treats each day for sharing with a loved one (or being super indulgent and hogging them yourself!).  It's packed with all-time favourite flavours as well as some limited edition ones. 
Danish deliciousness such as this isn't cheap (£50) but you can share it, and you – or they – are worth it!  Available from John Lewis, Selfridges and the Lakrids store in Monmouth Street.  Or, of course, online here
Poppingly Good from Joe & Sephs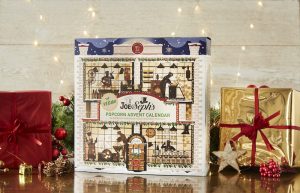 Not everyone likes chocolate, so it's nice to look at some alternatives.
If you're a fan of popcorn, then I recommend you check out Joe & Seph's as the company has not one, but four Advent Calendars this year, including a lower cost 7 Day Countdown to New Year Calendar, featuring seven unique flavours. 
The classic one has 19 flavours and there's even a Vegan one (both are for 24 days). 
Joe & Seph's Advent calendars do tend to sell out, as they are very popular, so I'd order soon.
Mine's a G&T please!
The Craft Gin Club  will help you to 'GINgle' all the way to Christmas by toasting every night of December with one of the 25 mini bottles of gin from the UK and beyond.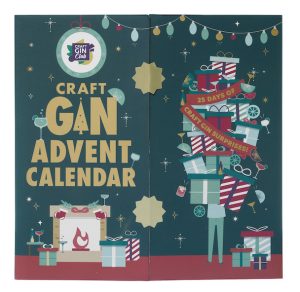 Each bottle is a double (50 ml) measure, and there are seven new gins exclusive to the club.  
It costs around £95 but if you compare it to the price of a G&T in a pub, it's good value and a great way to discover new gins.
Top Cuppas from Ahmad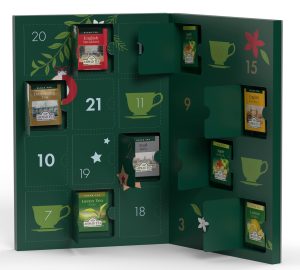 For the tea lover, there's a fabulous calendar from Ahmad – the 24 days of Tea Advent Calendar. 
Featuring 24 foil fresh tea bags, there's a different blend to try each day, from classics such as Darjeeling, Earl Grey, Cardamon, Ceylon and English Tea No.1, to more exotic flavours such as Mango & Lychee Green Tea, Apple Refresh, Cinnamon Haze, Camomile & Lemongrass, Honey & Vanilla, Rooibos & Cinnamon, and Berries & Hibiscus.
£13.99 from Amazon or  uk.ahmadtea.com
Nourishment for your Body too, from M&S
And to finish, one's body also needs feeding with nourishment, and there are many different beauty calendars this year. 
One of the best value ones is from M&S and it boasts a veritable treasure trove of 25 beauty products to help beautify you for Christmas.
From haircare and makeup to sleep and fragrance, this calendar is filled with everything you need for the party season, alongside indulgent self-care essentials to remedy any festive havoc and help you look your best.
You can unwrap the latest launches and beauty favourites worth up to £310 –  but you'd better hurry. 
It's just £40 when you spend £25 on clothing, home and beauty in store (it's now sold out online) .