It's not long now till Christmas, and don't forget that homemade treats are always a welcome gift. So  if you're planning to do some baking for the festivities, make sure you stock up on some top quality chocolate chips; you can use them in all manner of recipes. Homemade truffles or brownies are so delicious, and it's important to use a quality chocolate.  San Francisco chocolate producer Guittard makes great ones, available in Waitrose, but also now Ocado.  The Guittard website has some great, easy, recipe ideas such as these White Apricot Truffles here that will be delicious with dark chocolate chips too.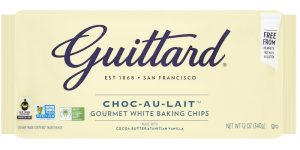 Truffled cheese is one of my favourites, but it's often a tad pricey.  I'm delighted to be able to report that Ilchester has recently launched a rather splendidly moreish Cheddar cheese with truffle that will enhance any festive cheese board.  At just £2.50 for 180g Ilchester Cheddar Cheese with Truffle is available from Tesco.
If you're wanting to buy some champagne for your festive fizz, but maybe, like many of us, have a limited budget,  do try the excellent value Gartissier Champagne Brut. It's a delicious and well balanced champagne, with a stream of fine bubbles, that combines a mix of fresh citrus flavours with elegant toasty notes and a long lasting finish that befits a far more expensive wine. And it's stonkingly good value at £15 a bottle from Tesco. 
But if pushing the boat out a little, try the Tesco Finest Rose Champagne.  This award-winning rose is again excellent value at £24 a bottle.  But don't forget that there is a special offer of a 25% discount if you buy six or more bottles of wine there at the moment – offer available until and including this Sunday, 18 December 
Christmas is the perfect time to indulge if you're a gin drinker and I suggest treating yourself with a bottle of one of the most awarded gins in the country: Manchester Gin's Signature Gin. Made with dandelion and burdock root, plus ten other specifically sourced botanicals including orange, lemon, liquorice and ground almond, it's spicy and sweet, yet elegant, and makes a citrus-rich G&T. Available for £29 a bottle from Threshers online or The  Whisky Exchange (that you can visit in person if in the West End before Christmas)
A really delicious red for your Christmas feast is the Mark West Pinot Noir.  This Californian wine maker delivers top quality tipples inspired by Burgundy winemakers.  This one showcases the aromas, flavours and textures of Pinot Noir with soft tannins and will be a great accompaniment to that turkey. £11 a bottle from Sainsbury's, Amazon, Ocado and convenience stores.
But if you're having to watch the budget ultra carefully this year, as so many are, you might be interested to learn that Asda has announced its new frozen dinner offer, where customers can pick up Christmas Dinner (including a whole turkey and those pigs in blankets!) for a family of five for under £22 – apparently  the cheapest frozen deal on the market.
And there's no shame in taking the easy option and buying ready-made accompaniments from your supermarket.  There are so many excellent ones available now.