Kew Fashionista Vicky Ngari Wilson

 

follows the thread that connects community crafts around the world.
Valuing local, independent designers and retailers is part of belonging to our Tribe but recognising the importance and achievements of other small communities around the world is important too. Different continent. Same ethos.
It is no longer only about international brands. I am talking about placing a premium on the craft and artisanal work produced by some of the world's indigenous tribes – communities who beat the drum just like we do on our stretch of the Thames for fashion with heritage and legacy.
Many of us have travelled to locations far and wide before returning to our green urban village, yet we sometimes fail to support some of the beautiful clothes and accessories we have seen elsewhere in the world. Despite being captivated by textiles woven in Africa and a shell-embroidered clutch made in Jordan, we are slow to see the potential of what I call Glocal fashion.
Yet, there is a tribe of young local women from international backgrounds who have launched The Rural Retail Challenge: calling Fashion and Luxury to include the stories, craftmanship and techniques of indigenous people in mainstream design – before their sacred arts completely fade.
It was my privilege to host a captivating evening at Mary's Living and Giving shop in Kew this Spring which was designed to highlight the work of these talented women.
Accompanied by an impressive panel, including the RiverTribe Editor Linda Duberley, the night featured a live styling session showing how to use classic clothes with authentic handcrafted accessories made in Kenya by women and girls seeking to build a route out of abuse and prostitution. On show was Kenya's traditional basket, now an icon, originally made from stripping a Sisal plant.
Most native cultures garments are extremely symbolic, passed down for centuries. Adopting their art into our trends uniting all generations, invokes collaboration with the west instead of being rescued by the west. This isn't just about fashion – it is about inclusion.
The new Temperate House in Kew Gardens has a waiting list from the Fashion Industry for photo shoots. The irony is that we are so close to threatening independent artisans so that they face extinction in the same way as some of the plant species inside the newly renovated glasshouse.
Fast fashion that produces quick trends has been decimating environments, communities locally and globally. Ultimately, supporting local craft – from communities far and wide – is the answer not just to style but to sustainability too.
For now, we can take control of our own story by aligning to global villages at www.theruralretail.com
 

and their incredible photography on their social media @theruralretail

 
Even better you can buy products made by native communities at Mary's Living and Giving at Kew Village on July 1st between 10am – 2pm.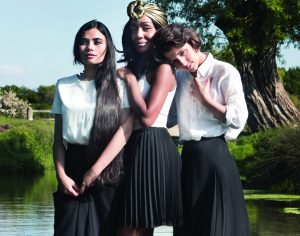 The Rural Retail Team:  
Marketing Director Daisy 
Deka, Founder Vicky Ngari-Wilson, Creative Director & 
Photographer Valentina Vacó