I dread to think how much money was spent on the refurbishment of the old Revolution site on Richmond Riverside by Caprice Holdings when opening the recently launched Scott's Richmond.  All l can say is that they did a fantastic job; it really is the most stunningly beautiful restaurant.  We arrived on a bitter
ly cold evening to find a celestial gathering  of top-hatted characters alighted on the windowsills, like happy ghosts of Christmas past, and strings of shimmering white lights giving a sparkling welcome.  Comfortably seated and enjoying a glass of Nyetimber Classic Cuvee while perusing the menu, we marvelled at the decor, the fabulous artwork, and the troupe of smartly dressed staff busily going about their respective roles.    It was like watching 'a well-oiled machine' according to my husband.  The noise level for such a busy restaurant was also good –  high ceilings and soft upholstery seem to absorb noise well.
The menu is seriously fishy (not surprising as Scott's is renowned for its seafood) but there are also lots of options for vegetarians and meat eaters. My husband couldn't resist trying the wild mushroom risotto with truffled burrata to start, and the baked spiced crab with garlic and herb toast, had captured me at first glance!  The crab was delicately spiced, but not overwhelming the flavour of the crab itself.  Needless to say, I scraped the shell clean!  Both starters were excellent, and the Nyetimber paired surprisingly well with them.  My only slight criticism was the wine was served in rather heavy flutes, with a particularly thick rim that, in my opinion, didn't do justice to the delicacy of the contents!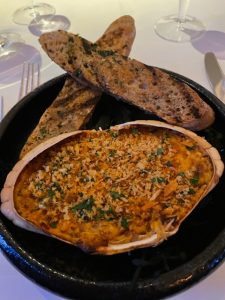 Grilled sea bass, fried shrimp and garlic, chosen by my husband, was pronounced superb.  I managed to sneak a few shrimps off his plate and they were crispy little bursts of fishy deliciousness.  If they are planning to offer a bar snacks menu in the future, a bowl of these will go down a treat with a nice glass of white wine!   The skin of the bass was beautifully seasoned and crispy too, and the fish itself was perfectly cooked. 
Monkfish and tiger prawn masala, pilaf rice, coriander yogurt and crispy onions was my chosen main, and again, it paired well with the Nyetimber (by this time we were on our second glass).   Subtly spiced, with a gentle heat, but I didn't think it actually needed the coriander yogurt at all.
While we were enjoying our meal it was interesting to watch Will, the GM, moving around the room, constantly checking tables and being very 'hands on' helping clear and serve too.  It is refreshing to see someone who obviously revels in his job, steering the front of house team with such cool professionalism.  He stopped by our table for a chat, and told us that Scott's is open up until, and including, Christmas Eve, then reopening after Boxing Day, and through New Year.  
Not that we actually needed anything else, but the lure of the special Christmas desserts was too much to resist, so we shared a baked Christmas pudding fondant with Bailey's custard and a clementine bauble.  Oh wow! Both were sensationally good; the Christmas pud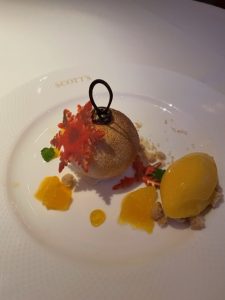 was surprisingly light and chocolatey, while the clementine bauble was so delicate and refreshing.
Scott's isn't cheap,  I admit, but it is extremely special.  It's brought a taste of West End glamour and luxury to Richmond that other restaurants have attempted, but not triumphed over, in quite the same way.  It's a very special place for a celebratory meal and I was pleased to hear that they will be introducing a set lunch menu in January (Mon-Wed £29.50 for two or £34.50 for three courses).
Richmond is lucky to have Scott's make such a significant investment in the Riverside – let's hope folk appreciate it.