For the millions of us who are fans of Great British Bake Off, the name Candice Brown is a familiar one. Candice, [pub landlord and 2016 GBBO winner) has always found the kitchen to be a happy place which she can relax, take stock and create comforting treats. And comforting treats are just what most of us need at the moment, so this great new cookbook by Candice is a real find. She shares the uplifting meals and those comforting treats that have seen her through the toughest times. Happy Cooking by Candice Brown has just been published by Ebury Press at £22. It has great photos by Ellis Parrinder and is one of those tomes that will inspire you…these are recipes to live for, to get out of bed for, to eat under the duvet (or sheet if it is as hot as it has been of late!) and, more importantly, share with those you love.
There are favourite bakes, quick pick-me-ups for busy weekdays, therapeutic recipes to keep those hands busy and hearty dishes that take care of themselves as well as you. This really is packed with food to lift your spirits. Here are a couple of recipes from the book that I've chosen for you.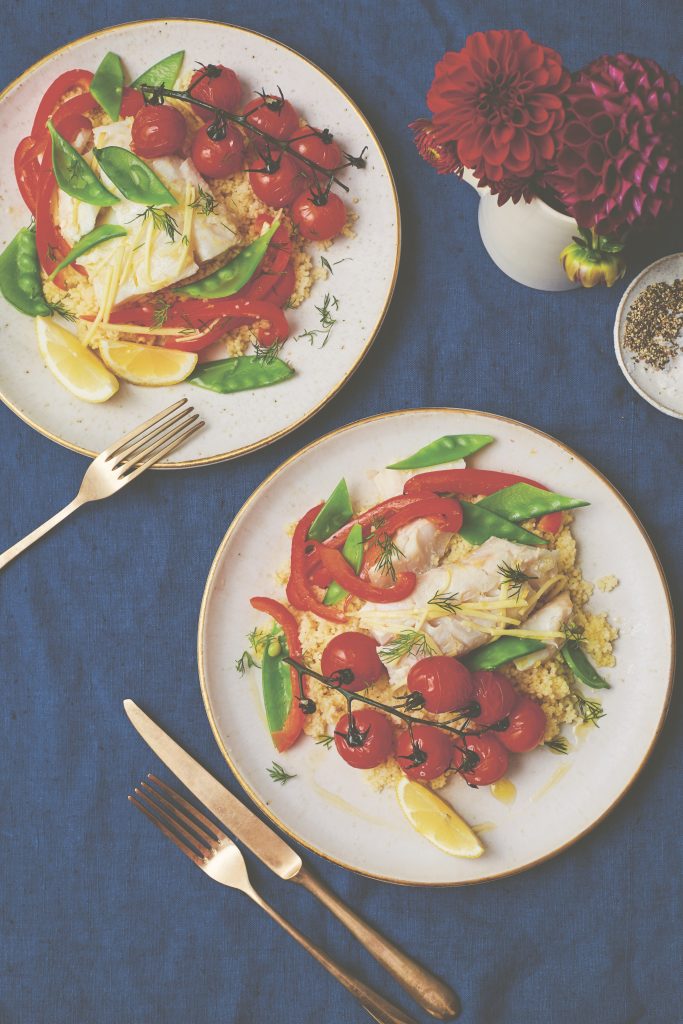 LEMONY TOMATO, PEPPER & COD PARCELS (SERVES 2)
"Anything seafood I am there! These little parcels of tastiness are so fast to make, and you can put everything in together, so it's minimal fuss, mess and prep. If cod is too expensive or you can't get it, then go for another sustainable white fish such as haddock or pollock which both work beautifully. The little parcels make you feel quite fancy too, plus all the veg in there means you're getting those vitamins and minerals to keep you fighting fit even though you may not feel it."
1 red pepper, deseeded and chopped into small pieces
A handful of mange tout
1 thumb-sized piece of fresh ginger, peeled and sliced into matchsticks
1 garlic clove, crushed
zest and juice of 1 lemon
2 cod fillets or loin, skin on
olive oil
2 vines of cherry tomatoes, with about 6–8 tomatoes on each
small handful of fresh dill, chopped
salt and freshly ground black pepper
100g cooked couscous, to serve
Preheat the oven to 160 deg C fan (180 C/350 F/Gas Mark 4).
Put the pepper, mange tout, ginger, garlic, lemon zest and juice and some salt and pepper in a bowl. Give it a really good mix, then add the cod and gently rub the marinade into the fish.
Place a large piece of foil on a flat baking tray and drizzle over some oil. Place the cod on top and tip over the lemony vegetables. Top each piece of cod with one of the tomato vines. Drizzle over a little more oil. Fold up the edges of the foil and roll the top down to make a large sealed parcel.
Bake for 15 minutes – if the cod is thick it may need slightly longer. The fish should flake away easily when cooked.
Remove from the oven and undo the parcel. Gently lift out the cod and vegetables, place on top of some cooked couscous and sprinkle over some freshly chopped dill. RASPBERRY, BLUEBERRY+ ALMOND CLAFOUTART (serves 8)
"What could be better than sweet batter spiked with fresh raspberries and blueberries? Sweet batter when it's being given a little hug by flaky puff pastry! Not totally authentic I know, but I couldn't resist. If you want to stick to the French way, then skip the pastry and pop the batter straight in a buttered tin. It's like the ultimate stodgy, sweet Yorkshire pudding."
300g sheet of puff pastry
2 eggs
40g light soft brown sugar
25ml spiced rum
65ml whole milk
65ml double cream
zest of 1 lemon
A sprig of fresh lemon thyme, leaves only (optional)
25g unsalted butter, melted
30g plain flour
200g fresh blueberries
200g fresh raspberries
30g flaked almonds
Cream, to serve
Preheat the oven to 160 deg C fan (180 C/350 F/Gas Mark 4).
Gently lift and tease the puff pastry into the flutes of a 23–25cm loose-bottomed flan tin. Leave the edges sticking up and jagged, then gently squeeze and fold over.
Scrunch up some greaseproof paper and lay into the pastry case.
Weigh down with baking beans or dried lentils or rice. Bake for 15 minutes, then remove the greaseproof paper and baking beans and bake for a further 5 minutes.
Beat the eggs, sugar and rum together in a jug. Then add the milk, cream, lemon zest and lemon thyme leaves, if using, and beat well.
Pour in the melted butter and whisk vigorously. Sift in the flour and whisk until all the lumps are gone.
Tip the blueberries and raspberries into the pastry case and then pour in the batter. Scatter over the almonds and bake for 25–30 minutes until the batter is just set and starting to turn golden round the edges.
Remove from the oven and leave to cool until warm. Serve with pouring cream.
Best eaten on the day it's made but any leftovers can be kept covered overnight in the fridge.