RiverTribe Home Cook
Ann Gibbons, founder of AG Interiors
is sharing some of her favourite vegetarian recipes which are nutritious and easy to make at home. It is not easy to stay inside – but developing a knack with home-cooking is a win-win situation. Ann will be posting regularly throughout the lockdown. We will be updating this post as we receive more recipes from Ann!
Home-cooking for vegetarians can be a trifle difficult right now, what with food stocks occasionally running a bit low, but these dishes should still be easy and perfect for eaters of all stripes!
Roasted aubergine and butternut squash, halloumi, mint and bulgur wheat by Rukmini Iyer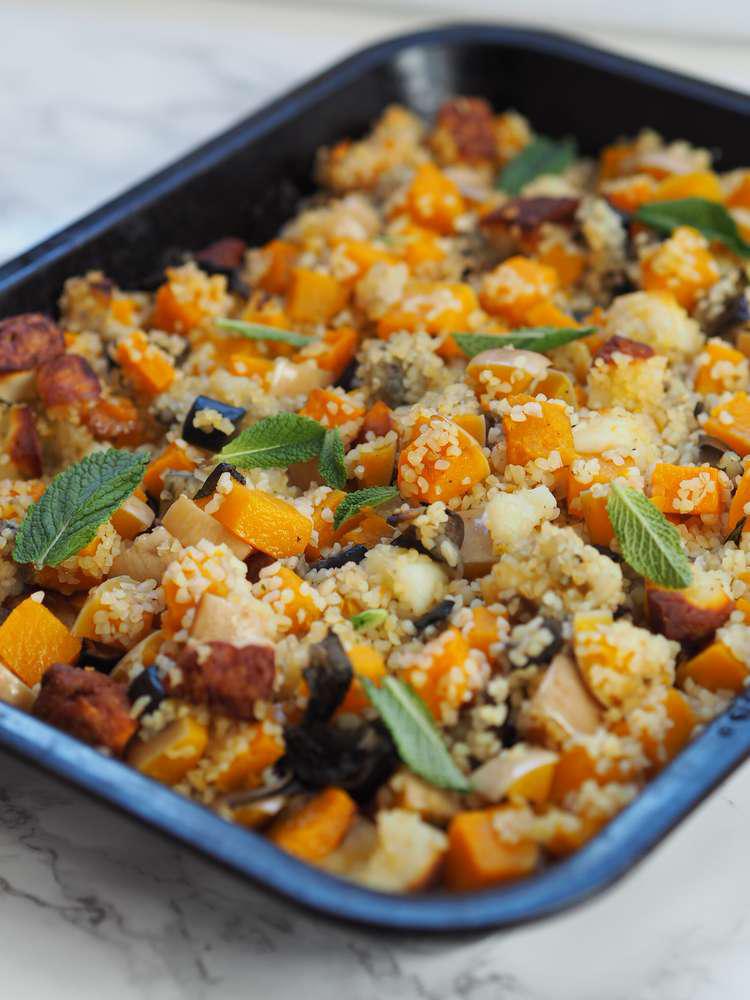 Ingredients: –
700g butternut squash cut into 1cm cubes
1 aubergine cut into 1cm cubes
250g halloumi cut into 1cm cubes
3 tbsp olive oil
1 bunch of fresh mint
Salt and pepper
200g bulgar wheat
400ml vegetable stock
Method: –
Preheat the oven to 180 degrees
Mix the squash, aubergine, halloumi, olive oil, half the mint and a good pinch of salt and ground pepper together in a roasting tin, then transfer to the oven and roast for 45 minutes
Tip the bulgur wheat into the roasting tin and give it a good stir with the vegetables and oil. Add the stock and mix well so that the wheat is submerged in the stock. Cover tightly with foil, then return to the oven for a further 15 minutes
Let it stand, covered, for a further 5 minutes before serving hot or cold, scattered with the remaining mint
Serve as a main or as a side dish with meat/fish of your choice
Herby roasted peppers with artichokes and fetta cheese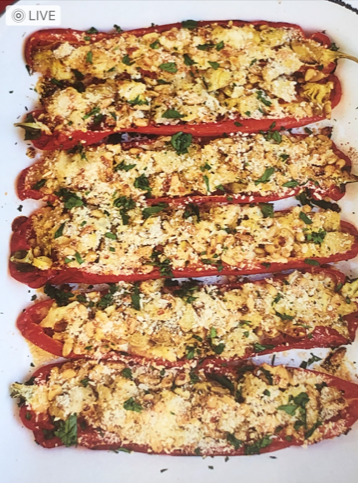 Ingredients: –
4 long red peppers, halved lengthwise and deseeded
1 x jar of artichokes, roughly chopped
200gm feta cheese, crumbled
100gm pine nuts
Black pepper
25gm flat-leaf parsley
Juice of 1 lemon
50 gm breadcrumbs
1 tbs of olive oil
Method: –
Preheat the oven to 200 degrees
Put halved peppers in roasting tin
Mix the artichokes, feta, pine nuts, black pepper, parsley, lemon juice and half the breadcrumbs and arrange in the peppers
Top with remaining breadcrumbs, drizzle over the olive oil and roast for 30 – 35 minutes until peppers are softened and slightly charred and turning golden brown
Serve with green salad and fresh bread
Turmeric roasted Cauliflower with Cherry tomatoes and smoky black beans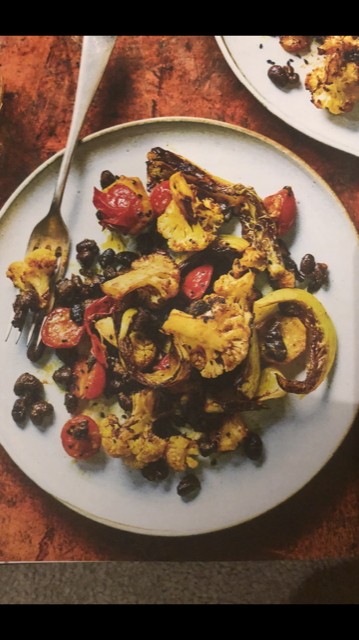 Ingredients: –
1 small cauliflower
2 gloves of garlic – chopped
½ tsp turmeric
Juice of half a lemon
200gm cherry tomatoes – halved
1 x 400g tin of black beans, drained
1 tsp nigella seeds
½ tsp paprika
Salt and pepper
Crème fraiche or sour cream
Method: –
Preheat the oven to 220 degrees
Cut the cauliflower into florets
Mix the cauliflower with the garlic, turmeric, lemon juice and 30 ml water
Season well, place in a tray and cook in oven for 15 mins
Add the cherry tomatoes, beans, nigella seeds and paprika and mix well and return to the oven for a further 10 minutes
Serve with crème fraiche or sour cream
But that's not all! It's not just home-cooking that's vital to keeping up a good health in this time. Excercise is vital, at the minute, and it's a good job that fitness correspondent Simon Duberley's Fit for Business sections are great for keeping healthy and wellbeing, now more than ever!