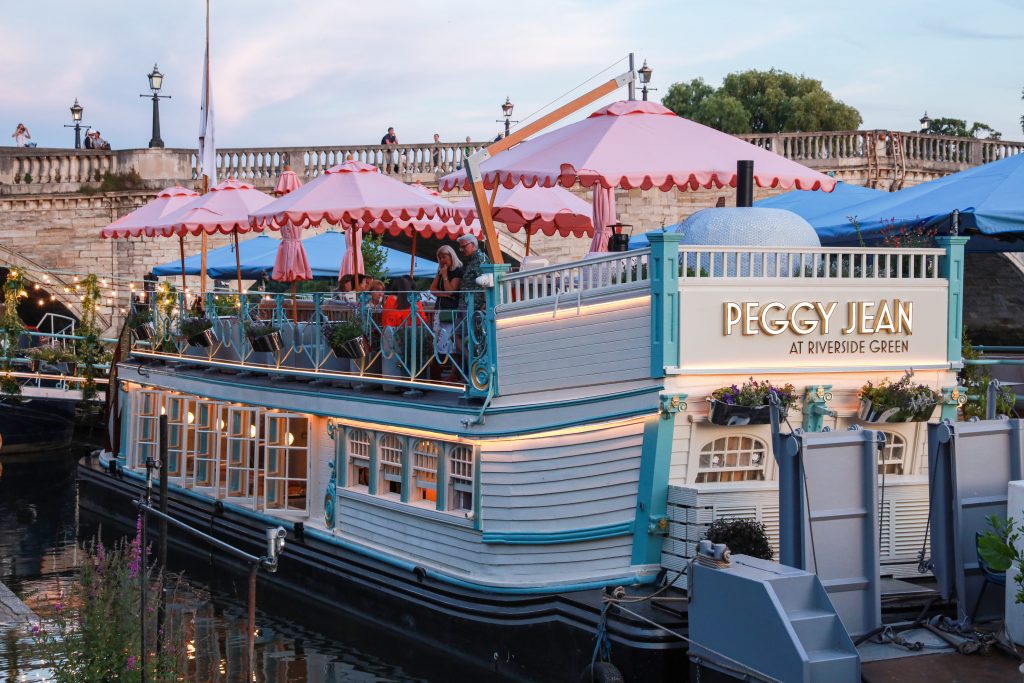 Located at one of Richmond-upon-Thames' most desirable summertime locations, the Peggy Jean restaurant and bar is the recently restored, former Jesus College Oxford barge.  Long term locals might remember that she was once a restaurant before, then fell into disrepair and more recently caught fire and sank.  But I'm pleased to say that she has been lovingly  brought back to life with the help of local boat builder Mark Edwards MBE and the not-insubstantial investment by the Australian-led Daisy Green Collection.   The night we visited there was a queue of folk hoping for a last-minute table and the riverside was packed.  
We were shown to our table, in fact on an adjacent pontoon, not the barge itself, but had the benefit of spectacular views of Richmond Bridge and the river itself.  It's decked out in soft blues and pinks, making it a very striking addition to the Richmond scene.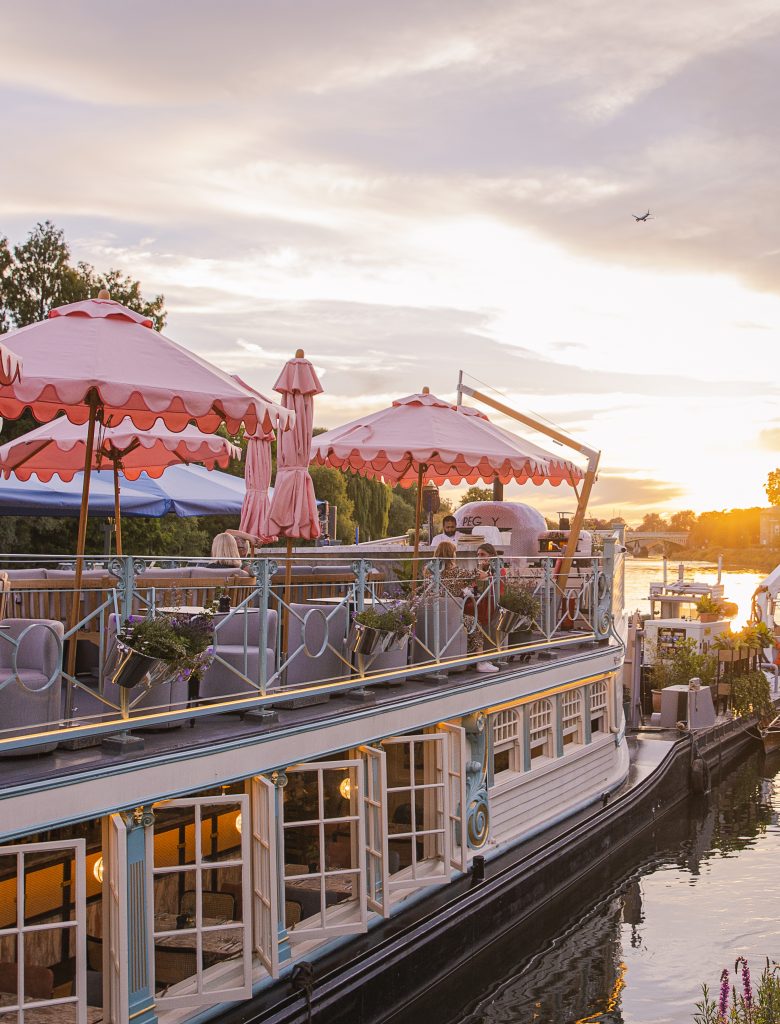 I enjoyed a negroni and my husband enjoyed a home made lemonade while we perused the menu. The drinks are all served – very sensibly – in very acceptable plastic glasses for safety reasons.  The range of tapas-style 'smalls' was incredibly tempting, but knowing that my husband had his eyes on a steak, we chose just three:  Hot Smoked Olives (£6), Fresh calamari with chilli & lime (£12.40) and we couldn't resist the Sheep's Milk Feta in filo pastry (£8.90).  The olives were very interesting – I'd never had them smoked, let alone hot smoked.  They were lovely olives,  but to be honest I think they might have been just as nice without the smoking.  The calamari and the feta were both divine!
Tempting as the 45 day aged tomahawk steak looked, there was no way we could eat 1.25kg of meat, so my husband opted for the 30 day dry aged ribeye (£34) served with crispy new potatoes, salad and a rather delicious béarnaise sauce (I managed to snaffle a tiny taste 'in the interests of this review').  I chose the sashimi grade tuna steak (£22.90) that was served with white bean & avocado puree, tenderstem broccoli, raw kohlrabi, candied beetroot, soft herb & citrus salad.  A beautifully presented tower of freshness hid the perfectly cooked tuna steak.  It was ideal for a warm evening, and accompanied by a glass of sauvignon blanc, was the epitome of freshness and summer eating.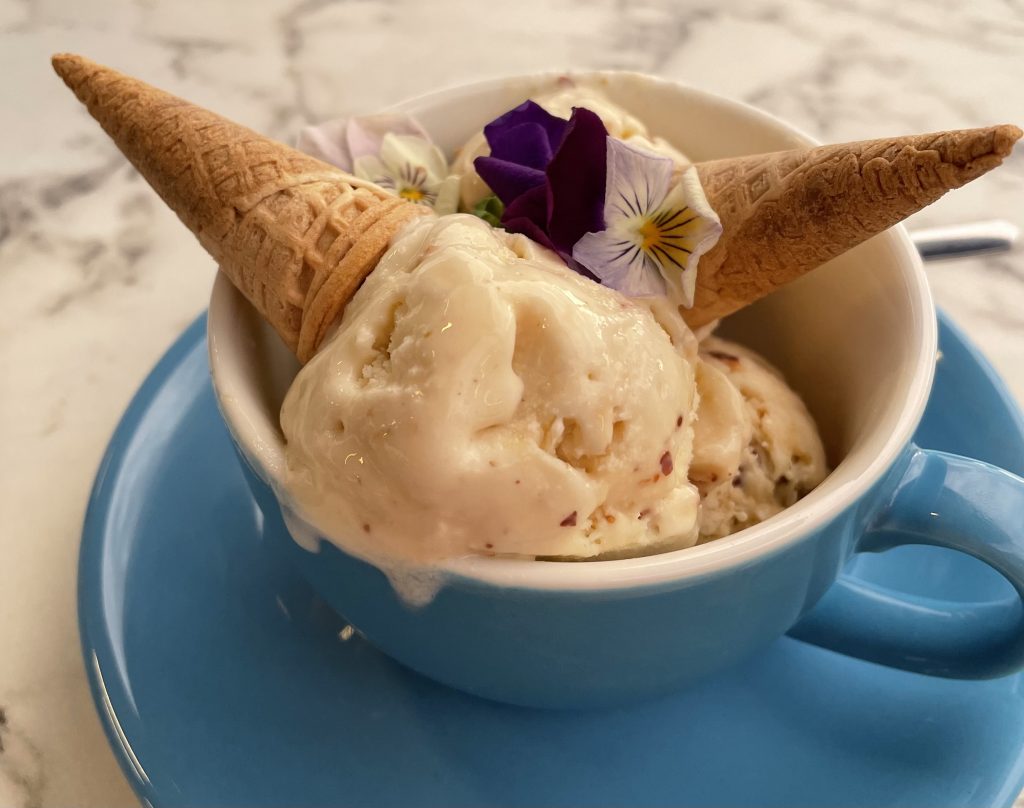 To finish, we both tried the mini gelato cones (3 for £7.90).  There was some confusion, as we assumed from the menu description that  we would be able to order a selection, but were told that they all needed to be the same. We found out later that this had been a mistake, a tiny one considering the restaurant has been open for such a short time. It was delicious ice cream, but I felt the rather strange presentation in a teacup didn't do the scrumptious fig and roasted almond praline ice cream  justice.  
We will be back soon, and having also had a chance to observe other diners enjoying their meals, will be tempted by a pizza (from one of the twin bespoke Gozney woodfired pizza ovens – 'Peggy' and 'Jean' – which deliver freshly baked Neapolitan style pizzas). Also, very tempting, looked the Fire Roasted Aubergine, with coconut risotto, pomegranate, crispy kale and miso tahini dressing (£15.50) which the woman on the next table was thoroughly enjoying.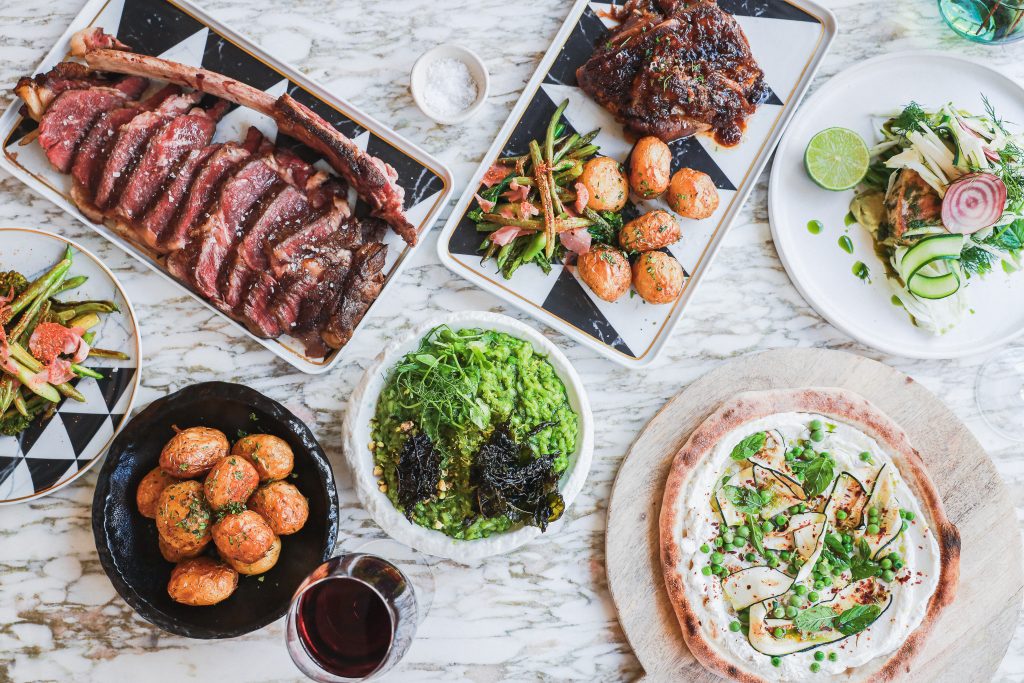 It's dog friendly, child-friendly, and the bar and dining area inside the boat is a cosy place to relax. Daisy Green Collection is famous for its Aussie-style brunches too, and I'm sure the Peggy Jean will soon be 'the' destination brunch venue for Richmond residents and visitors. The service is charming, professional, and relaxed and I'm delighted that we have such a stellar addition to Richmond Riverside!