Spring is on the way – time to shape up!
After the excesses of Christmas, and the cold weather making me want comfort food, I'm trying to shed a few pounds (well, stones actually!) so have been investigating some of the latest products that focus on health and cutting calories or carbs, or both.
Chocolate Delights from Cadbury's
Ideal for that late afternoon urge for something sweet with your mug of tea, Cadbury's newly launched Cadbury Delights are only 91 calories per bar and really tasty.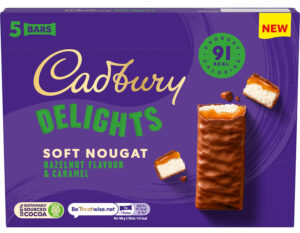 They're chocolate coated nougat bars with a soft filling and caramel layer inside, and available in three flavours:  Salted Caramel, Hazelnut Flavour & Caramel, and Orange & Caramel. They retail at around £1.50 for a pack of five, from Asda, Tesco or Morrisons. 
Guilt-free Ice Cream from Oppo Brothers
To salve your conscience when you really fancy an ice cream, I'd recommend keeping a few of the wonderful Oppo Brothers Ices in the freezer.  The brothers have just released four brand new, low calorie, guilt-free products including: Chocolate Hazelnut Snacking Balls; Vanilla Almond Caramel Swirl Ice Cream Sticks; Salted Caramel Biscuit Crunch Ice Cream Sticks and the delicious Caramelised Biscuit Swirl Ice Cream.  From £4.50 at Waitrose, Sainsbury's and Ocado
Low Carb Options from SRSLY
If you're watching those carbs, you'll be interested to hear of this great new range of very low carb products from SRSLY. The brand was born
in 2020, when endurance sportsman Andy Welch decided to enter an iron man and accidently discovered the keto diet. Loving bread, but not being allowed to eat high carbs was difficult. Andy's inability to find a tasty keto-friendly alternative shaped his decision to make his own. He's now added pizzas, wraps and lots more,  Check out the range here at SeriouslyLowCarb.com 
Savoury Nibbles without the Guilt from Good Guys
Unlike many savoury snacks, that tend to be sprayed with flavourings and extra oils, these Biscuit Melts – available in Cheddar and Peppered – from Good Guys Bakehouse are made with generous helpings of real Cheddar Cheese and Spices then baked to lock in the flavour. As a result, the tasty, crispy, wafer light biscuit melts have real flavour and contain 50% less fat. Even better, they're just 5 calories each!   Good Guys Biscuit Melts are available to buy at Ocado, Sainsbury's and Amazon at £1.75 for a carton of 39 biscuits.
On the Ball for Keto Fans from The Protein Ball Co
Another great, on-the-go, snack is The Protein Ball Co's new Keto Ball range of low carb, low sugar, all natural, healthy
snacks. With a sweet nut butter base, and 100% natural ingredients, this new range provides an excellent source of slow-release energy, helping to bridge the gap between main meals. Choose from three flavours – inspired by cakes – Peanut Butter Blondie, Salted Caramel Blondie and Classic Chocolate Brownie. The new Keto Balls are packed into handy grab and go bags for busy snackers, and boast high fibre, 5g protein per pack and less than 1g carbs per ball. They are also free from added sugar, are vegan friendly and gluten free. The Protein Ball Co's new Keto balls will be available here RRP £1.20 per 25g bag of three balls
The Ultimate Superfood from Take Stock Broth
Bone broth has long been valued as a cure-all remedy.  Low calorie and with high levels of protein, collagen and amino acids to support gut health, immunity, fertility and general wellbeing, it's the original superfood!  But unless you're prepared to run your slow cooker 24/7, I'd advise you to invest in a stock (pardon the pun!) of award-winning Take Stock Broth. Each broth has a different nutritional profile and they're all gluten, dairy and yeast free. They offer the highest protein and collagen and lowest calories per 100ml compared to fresh and shelf-stable bone broth brands, Take Stock Broths are an excellent companion to most healthy diets and lifestyles such as keto, paleo and intermittent fasting. And they taste great! Available in four varieties: for meat eaters there's Chicken Bone Broth or Beef Bone Broth; for a sustainable and nutritious taste of the sea, there's Fish Bone Broth, and also there's a delicate and herby Vegan Broth.  Find Take Stock at Whole Foods Market, and Amazon, or buy direct from www.takestockfoods.com. 
Simple food prep with OXO
And while we're on that health kick, this new gadget from OXO is really helpful for speeding up food prep. You can let the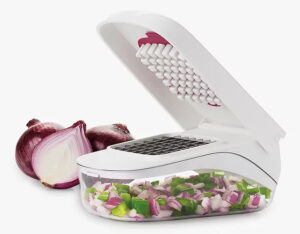 OXO Chopper do the hard work for you. The new chopper features sharp stainless-steel blades to efficiently chop food like onions, mushrooms, herbs and even nuts. The large handle provides extra leverage as you push down to reduce pressure on the wrists, while the tapered neck design makes the task of chopping more comfortable. The clear container holds your chopped ingredients so they can be poured directly into your saucepan or dish and the protective blade grips keeps hands safe, for added peace of mind. BPA-free and dishwasher safe. Available at John Lewis and Amazon. RRP: £29.99