"Season of mists and mellow fruitfulness…"  Here are some of the new food and drink products I've found for you recently:
Fruity Treats from Oppo
It's time to switch up your fruit game, with Oppo Brothers' latest innovation – Oppo Dipped.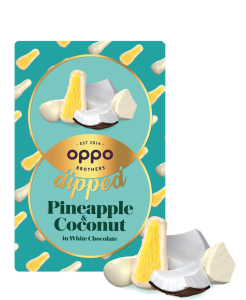 Oppo uses fresh fruit, picked at the peak of ripeness, and frozen directly at the source, then combines this with thick chocolate (either in Belgian milk chocolate or white chocolate). In three flavours: Strawberries & Raspberries in Belgian milk chocolate; Banana & Caramel inBelgian milk chocolate and Pineapple & Coconut in white chocolate
They're bite-sized and start at just 59 calories per portion, so pretty healthy too, and best enjoyed 10 minutes after removing from the freezer, to allow the fruit to soften slightly.  The sweet and juicy semi-frozen fruit and chocolate is very unusual and rather delicious.
Available at around £5 for a 150g pack from Ocado and Sainsburys.
Littl' Bits of Indulgence from Tony's Chocolonely
Tony's Chocolonely, the company sweetening the cocoa industry by fighting for 100% slave free chocolate, has launched Littl' Bits – a highly moreish munchable chocolate snack range, in four flavours, in plastic-free pouches.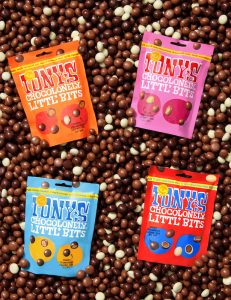 Chewy and crunchy centres are covered in a generous, chunky layer of ethical and Fairtrade chocolate from 100% traceable cocoa, flavours are: Triple chocolate mix  (milk, white and dark layered chocolate balls); milk caramel sea salt & biscuit mix (butterscotch caramel and biscuits  in  milk chocolate); milk marshmallow & biscuit mix (chewy marshmallows and biscuits  in milk chocolate) and dark orange choco cookie (orange-flavoured choco cookies  in dark chocolate – and they're vegan)
Around £2.50  a pack from Ocado, Tesco or Sainsbury's
Cook by Asda – Sensibly Priced Ingredients 
Helping us to save money, Asda has launched a range of affordable, high-quality scratch-cooking ingredients – starting at just 80p.
Cook by Asda includes over 40 new products: dry herbs, spices, seasonings, and pastes, as well as frozen herbs and vegetables.  Highlights include Gochujang Paste, Massaman Paste, Laksa Paste, Chipotle Breadcrumbs and Nooch Seasoning.
Spanning more than 10 cuisines, the range aims to inspire shoppers to eat more healthily, affordably and easily, with quality ingredients that don't break the bank. Customers keen to cook more Asian-inspired dishes, can try spicy Gochujang Paste (£1.25) or citrusy Lemongrass Paste (£1.25), ideal for curries, soups, stews or marinades.
The Nooch Seasoning (£1) and crispy Chipotle Breadcrumbs (£1.50) add a unique, savoury edge to family favourites such as a smoky Chipotle Mac and Cheese, and others that can be found on Asda Good Living.
Teatime Treats from Joe & Seph's
One of the best  – and one of my favourite popcorn companies – Joe & Seph's – has launched a new cake lover's collection, featuring not one, but four limited-edition popcorn flavours inspired by our favourite bakes.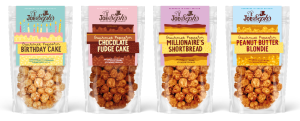 There's Chocolate Fudge Cake – air-popped popcorn coated in chocolate caramel, with cream cheese and vanilla; Millionaire's Shortbread – air-popped popcorn coated in smooth caramel, with shortbread and dark chocolate; Peanut Butter Blondie – air-popped popcorn coating in our white chocolate caramel sauce, with crunchy peanut butter (1-star Great taste award 2022) and Birthday Cake – air-popped popcorn coated in smooth caramel, with raspberry and cream cheese frosting.
They are rather scrumptious! These flavours are now available at £4 a pack, directly from Joe & Seph's, here
Sugarlandia from Don Papa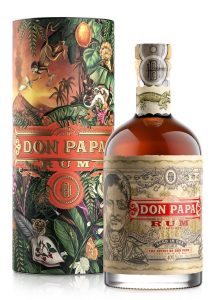 Don Papa Rum, a delicious, premium, single island rum made in the Philippines, has released a limited edition 'Eternal Spring in Sugarlandia' gift canister.
The company is raising awareness and supports key conservation and regeneration efforts on its island home of Negros – known locally as Sugarlandia. This beautiful pack encapsulates the rich and diverse flora that thrive deep within the jungles there.
It will make a delightful gift – enhanced by knowing that you're giving back and making the world a better place.  This canister holds 7-year-old Don Papa Rum, renowned for its long, rich- textured finish, and features a QR Code to learn about Don Papa's  initiatives to protect the island and its creatures.
It's available now at Threshers online at £37 or in Sainsbury's from November – a perfect time to start thinking about Christmas tipples and gifts.
Wines to Help Global Ocean Conservation from Sea Change
Sea Change, is an award-winning, ethically sourced, eco-friendly wine, supporting global ocean conservation projects. Organic practices encourage soil fauna and flora and improve soil

structure and health.
The Otter Range: Organic Red and Organic White, has beautifully drawn labels.  These Spanish wines are also vegetarian and vegan. The Organic Red balances intensity with notes of red and black fruits. With a deep ruby colour, this wine is full-bodied with high tannins and a beautifully long finish.  The Organic White is bright  in the glass, and is a balanced combination of aromas and taste giving a light, yet fruity wine. With hints of white flowers on the nose and citrus fruits on the palate, it has a refreshing acidity and a long finish. 
Founded in 2018, Sea Change has raised €350,000 towards marine conservation and the fight against plastic pollution through partnerships with charities including Ocean Generation, Sea-Changers and the Olive Ridley Project. 
These delicious wines are £15.49 a bottle, from John Lewis or seachangewine.com 
Get in Kir pre Christmas

I'm a great fan of a glass of kir, or better still, a kir royale.  Creme de Cassis is, of course, key to this and this Giffard one is perfect. 
It's also vegan,  lactose and gluten free, and can be used in desserts too. You can include this deep blackcurrant liqueur in a berry crumble, or try pouring over vanilla ice cream for a really easy and delicious end to an autumn meal. 
But don't stop there: you can use it in savoury dishes too, such as a beef casserole or a sauce for chicken. 
It's a great standby for autumn and festive entertaining.    £15.75 for a 70cl bottle from The Whisky Exchange
Sticks 'n' Sushi has come to Kingston! 
Sticks'n'Sushi opened in Kingston last week, and this will be followed by Richmond in early 2024.
Aiming to replicate the success of their first UK restaurant in Wimbledon, now 11 years established, the Danish-Japanese restaurant group has revisited its residential roots with these new openings, offering us southwest London locals and visitors to the royal borough an opportunity to experience the well-loved Japanese fare for which the group is famed.
Kingston is the biggest one to date, it's set over two floors with a large external terrace, located on the corner of Wood Street and Clarence Street in the Bentall Centre.
I'll be reviewing the Kingston site very soon, so watch this space.