Danish-Japanese isn't a combination that one often finds here in the UK.  But I am glad to have discovered it in Kingston at Sticks 'n' Sushi.  The company was established 11 years ago in Wimbledon and has very recently opened its largest site to date, on the corner of the Bentall Centre.  
The Kingston site
It's pretty massive: two floors and an external terrace for al fresco dining, with the decor striking a balance between Japanese minimalism and Scandi elegance.  The tables aren't too close together, and if dining in a foursome, there are some rather cosy little sofas at some tables.There is a central open kitchen, where it's possible to witness the skills of the sushi-masters first hand. 
On arrival, one is warmly welcomed – embodying that famous Japanese concept of 'Omotenashi' – to wholeheartedly look after each and every guest.  Our server, Irina, was delightful, and nothing was too much trouble.  On perusing the cocktail menu, I opted to take them up on the challenge offered to produce any cocktail not featured, so asked for a Negroni with a Japanese twist.  What a result: Japanese gin was included and it was wonderful.  My husband chose a Meantime beer (but there were plenty of Japanese beers available too).
The Menus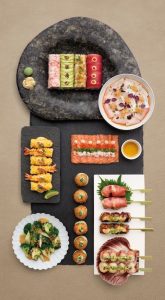 The menus are well laid out, with a la carte and set menus. We were novices, so chose one of the set menus – the Carpe Diem (£93 for two) – that would give us a full range of dishes to try.  Wow! What a fabulous introduction it was.
To start
We had broccoli, in supreme soy with spicy goma.  Reader, it took broccoli to a stratospheric level and I'm already checking recipe books in order to make 
some more.  Then Ebi Bites (beautifully presented tempura prawns with miso aïoli, chilli, lime & coriander) which were piping hot and delightfully crunchy.  The Kani Korokke (crab croquettes with wasabi caesar) were little balls of pure deliciousness and the final starters – the only cold ones – were tuna tartare bites that would be the pride of any cocktail party hostess's canape tray and Shake Carpaccio, a plate of beautifully decorated slivers of salmon with miso aïoli, trout roe, chives, daikon & lime marinade.
The Wines
We paired our meal with a bottle of the house white wine (Stormy Cape Chenin Blanc – £30, the reds start at £33 with a Portuguese Evaristo) 
Our Main Courses
The 'Main' courses were outstanding: a selection of sushi, with fillings such as chicken, avocado, salmon, and shrimp.  
Then a platter of sticks: Yaki Yagi (goat cheese wrapped in ham) Tsukue Chilli (chicken meatballs, chilli dip, teriyaki and spring onions and finally Hotate Bacon (scallops and bacon with miso herb butter).  It was a mammoth feast indeed.
Desserts
The only slight let down was the dessert menu. I can never resist panna cotta and the white chocolate one topped with liquorice and raspberry foam was not only tiny but rather disappointing.  My husband chose vanilla ice cream with tonka bean which he thoroughly enjoyed.  On checking the menu while writing up this review I see that they recommend you choose a few desserts to enjoy, which accounts for the size of the dishes themselves.  To be honest, any more than we had would have been too much anyway, as we were certainly very replete.
Christmas Menus
With Christmas looming around the corner, from 27th November until Christmas Eve, three special festive Sticks'n'Santa set menus will be available for pre-booked tables of over six guests, each offering their own spin on the most popular Sticks'n'Sushi dishes. Starting at £40 per head, the menus can be viewed here and there is also an Evergreen menu for those wishing to opt for a plant-based meal. What's more, bookings placed for a Monday or Tuesday will receive a complimentary glass per head of Telmont champagne. Smaller groups and walk-in guests are also able to enjoy a taste of Christmas with three seasonal dishes. The festive additions comprise the 'Kakiage Tempura & Ikura', 'Wagyu Temaki' – seared Kyushu wagyu beef, sushi rice, tsume soy & crisp nori and 'Miso Fried Sprouts' – a Sticks'n'Sushi twist to convert even the most avid sprout sceptic!
To conclude
We were really impressed with our meal and the whole Sticks 'n' Sushi experience. We'll be back very soon and it's perfectly located for Christmas shopping (and the 281 bus stop).
And coming soon to Richmond – yippee!
And I'm delighted to report that the company is opening another local branch in the New Year – in Richmond (in the old House of Fraser building).