I don't know about you, but scrolling through Instagram gives me lots of inspiration for recipes and quick snack ideas. 
I'm delighted to tell you about a great new cookbook that has captured lots of the very best recipes from these 'influencers': The Social Kitchen, published by Meze Publishing is £25 for a hardback, packed with inspiration! It celebrates social media's impact on the food scene, offering the most well-loved recipes from influential foodies.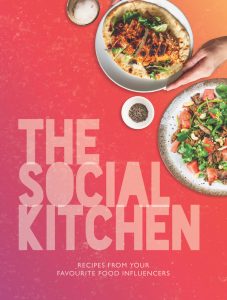 Containing 60 recipes, The Social Kitchen is a collation of the internet's favourites laid out in print. Inside, each influencer tells their story, food journey, and accomplishments, followed by three of their favourite recipes (these would be the ones they pin at the top of their feed for you to find first!).
The Social Kitchen covers a broad range of tasty recipes by people from all walks of life: professionals, parents, and Instagram-posters to name a few, meaning there's something for everyone in this cookbook.  Healthy recipes from weight-loss cook and influencer Becky Walker include Crunchy Cheeseburger Tacos, Sticky Sesame Chicken Noodles, and a Sriracha Honey Beef Bowl, while you can expect deliciously flavourful dishes inspired by a variety of global cuisines from Corina Blum, such as Roasted Cauliflower Curry, Lemony Air Fried Asparagus with Za'atar, and Easy Marinated Griddled Chicken.
There are also gluten-free and vegetarian recipes aplenty.
It's a welcome break from your screen, (and a good way to stop getting your phone dirty while following online recipes!) Here are a couple of recipes to give you a taster:
LAMB PILAF
@NOTSOFARMERSWIFE            Prep time: 10 minutes | Cook time: 30 minutes | Serves 4
'I have always been a fan of curry dishes and this one is something a little bit different to a standard curry. If you're not a fan of lamb, then worry not, this dish is also delicious with other meats; try beef or chicken mince! If you like a little extra spice, add a chilli in there too.' 
200g basmati rice
80g green beans, trimmed and cut in half 
400g lamb mince 
1 white onion, finely chopped 
3 cloves of garlic, finely chopped 
1 tsp ground turmeric 
1 heaped tbsp curry paste 
200g baby plum tomatoes, cut in half 
1 chicken stock pot 
1 tbsp mango chutney, plus extra to serve 
100ml water 
Pinch of chilli flakes, to serve (optional) 
Cook the rice following the packet instructions, adding the green beans halfway through the cooking time for them to cook together.
Cook the mince in a separate pan, breaking it up with a wooden spoon until browned.
With lamb mince, I tend not to add any oil. 
Add the onion, garlic, turmeric and curry paste. Mix together well and cook until the onion is soft.
Add the tomatoes, chicken stock pot, mango chutney and water.
Cook for 5 to 10 minutes. Add the cooked rice and beans to the dish and mix together well. Serve with another dollop of mango chutney.
Add a sprinkle of chilli flakes if you like a little spice!
NO-BAKE VANILLA CHEESECAKE         @ZAKBAKES_ (INSTAGRAM) | @ZAKBAKES (TIKTOK)
Prep time: 30 minutes, plus 4 hours chilling | Serves 10-14
'This cheesecake is easy to make and looks really pretty decorated with fresh fruit. I like to use blueberries and strawberries, but feel free to use whatever you like!'
250g digestive biscuits
100g butter, melted
600g cream cheese
100g icing sugar
2 tsp vanilla extract
280ml double cream
Fruit of your choice, to decorate
Crush up the digestives to fine crumbs, making sure there are no lumps of biscuit remaining. You can use a food processor or bash with a rolling pin.
Add the melted butter to the crushed biscuits and mix to combine. Put this mixture into a 20cm cake tin and compress well using the back of a metal spoon.
In a bowl mix together the cream cheese and icing sugar, then add in the vanilla and double cream and mix until stiff peaks form. Put the cream cheese mixture into the cake tin and flatten the top.
Place in the fridge to set for at least 4 hours, or overnight. When ready to serve, decorate with fresh fruit – and enjoy!
ROCKY ROAD 
@ZAKBAKES_ (INSTAGRAM) | @ZAKBAKES (TIKTOK)
'I like to decorate my rocky road with a drizzle of melted white chocolate and my favourite chocolates on top. Enjoy!'
 250g dark chocolate
130g unsalted butter 
40g golden syrup 
200g digestive biscuits 
180g mini marshmallows 
50g raisins (optional) 
30g popcorn (optional) 
Grease and line a 20cm square tin. 
Put the chocolate, butter and golden syrup in a heatproof bowl and either melt in the microwave in 20 second bursts or over a saucepan of simmering water. Set aside to cool slightly.
In a separate bowl, roughly crush up the biscuits. You don't want to over-crush them, as you want some larger and some smaller pieces to help add a variety of textures. Add the marshmallows, as well as the raisins and popcorn (if using), to the bowl with the crushed biscuits. Mix together. (If you don't like raisins or popcorn, you don't have to add them, but feel free to add anything else you would like, such as nuts!)
Add most of the (slightly cooled) chocolate mixture and keeping some to the side, stir together well until the ingredients are fully coated in the chocolate mix.
Transfer the mixture into the lined tin and compress it down using a spatula or wooden spoon. Add the rest of the chocolate mixture on top – this will help get a nicer top to your rocky road. Put the rocky road in the fridge for about 3 hours until set, then cut into pieces.