The Festive season, for me anyway, isn't complete without those delicious pickled walnuts on Boxing Day and beyond,with the cold meats.  Opies, THE name for pickled walnuts, also produces some other fabulous products, such as bottled fruits in alcohol syrup, (Black cherries with Luxardo Kirsch is currently on offer in Sainsbury's – down from £6 to £3.50) that offer a ref
reshing and easy change from mince pies and Christmas pud!  Here are  some  recipes from Opies that will be great for 'Twixmas time. First a casserole that uses up that turkey and then  a modern take on baked Alaska but using ready made ice cream and sweet Belgian waffles
Turkey Casserole
(
Serves 4)
Preparation time:  10 minutes Cooking time:  40 minutes Allergens:Dairy. Gluten, Nuts, Sulphites (White Wine) and Celery, Barley (dependent on stock cube)
8 Opies Pickled Walnuts, halved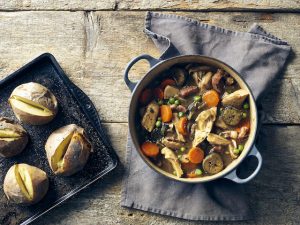 50g Butter
50ml Oil
2 Onions, sliced
250g Lardons
25g Flour
650g Cooked Turkey, shredded
200g Carrots, sliced
700ml Chicken Stock
250ml White Wine
Salt and Black Pepper
100g Frozen Peas
Pre-heat the oven to 180°C.

Heat the butter and oil in a shallow pan. Add the onions and lardons, fry until the onions have softened and the lardons have browned. 

Place in a casserole dish together with the turkey, walnuts and carrots.

Stir in the flour well and pour over the stock and wine. Season to taste.

Cover tightly and bake in the oven for approximately 20 minutes. 

Remove from the oven and stir in the frozen peas. Re-cover and return to the oven for 10 minutes.

Serve immediately with delicious, crispy and buttered jacket potatoes.
 Hints and tips: Swap cooked turkey for leftover roast chicken.
Individual Alaskan Bomb with Cherries in Kirsch
Serves 4 Preparation time:  20 minutes Cooking time:  5 minutes Oven temperature:  220°C Allergens: gluten, eggs, milk, Cooks notes: piping bag and large star nozzle
500ml vanilla ice cream
4  x 8cm round sweet waffles
100g Opies Black Cherries with Kirsch and reserved syrup
4 egg whites
200g caster sugar
Pre-heat oven to 220°C

Place the waffles on a lined baking tray, drizzle about a tbsp of reserved syrup on each one. 

Place 2 – 3 scoops of ice cream on top of each waffle and push in Opies Black Cherries with Kirsch, refreeze until solid.

To make the meringue, place egg whites in a very clean bowl, whisk until stiff peaks are formed.

Whisk in half of the sugar for about a minute until there are soft peaks, gradually fold in the remaining sugar.

Put the meringue in a piping bag fitted with a large star nozzle, pipe rosettes all over the ice cream mixture.

Bake immediately in a very hot oven at 220°C for 3 minutes until the meringue is golden.

Serve immediately. Hints and Tips: As an alternative to using the oven, a kitchen blowtorch can be used to brown the meringue.