I suppose it's sensible of those who decided to run Veganuary at the start of the year. Not least because there isn't another month that trips off the tongue in the same way.  It's also a month when many of us are trying to eat healthily after the excesses of the festive season, and there certainly seems to have been a great deal of Veganuary activity on social media and an interesting range of new vegan products.  Here are a few products that I've checked out for you – even if you're not vegan, they are pretty delicious!
Delicious meze
Odysea is a fine food producer, specialising in sourcing products from Greece and the Mediterranean.  I love this company, and have yet to be disappointed by anything it produces.  It recently launched a new range of meze products and dips and it's worth a special trip to Sainsbury's to stock up. (by far the best range)  M
any of them are, in fact, vegan, without necessarily promoting this  on the packaging.  The Aubergine Meze, the piquant Spicy Ajvar, and the Harissa Houmous at £2.75 for a 220g jar are great value and delicious. And being ambient, are great store cupboard reserves (if you can resist opening them!) Also available from the Odysea website here
Plant-based meat alternatives
Heura is the next generation of plant-based meat alternatives – with products that are good for you and the planet. Heura embodies the Mediterranean lifestyle using olive oil to create a range of surprising tasty products. 
I loved the chorizo burgers and the sausages, and the Mediterranean 'Chick'n Pieces' made a very tasty stir fry.  And at around £3 a pack, available from Waitrose and Ocado, they're good value too.
 

Plant-based Kefir

Biotiful has just launched the UK's first plant-based kefir.  Kefir set to be one of the big food & drink trends next year, and I'm really impressed with the  dairy free products from Biotiful.
This cultured oat-based drink is fermented with billions of vegan kefir cultures, added vitamins, calcium and no sugar added. As a non-vegan, I wouldn't have known that it was plant based – the whole range of yogurts and drinks and protein pots are delicious and packed with all sorts of extra goodness. Widely available and sensibly priced, from around £1.60, at most major supermarkets.
Another meat alternative – Jackfruit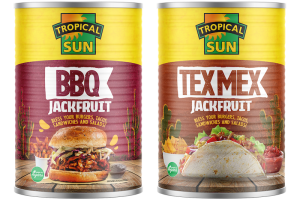 Tropical Sun Jackfruit is now available in ready-to-serve recipes:  BBQ; Tex Mex and Thai Green Curry.  These tasty meat alternatives are ideal for making a quick, tasty meal and are great as a cupboard standby.  They're low carb, low calorie as well as vegan and free from any artificial nasties.  Around £2.50 for an 800g can from Asda
Gut-Friendly Sauerkraut
I love a good kimchi or sauerkraut, and Vadasz, the gut-friendly condiment brand, has just this month launched new Pineapple and Turmeric Sauerkraut.  This crunchy, tangy and sweet condiment is made from natural ingredients, rich in fibre and vitamin C. I'm told that Pineapple and Turmeric Sauerkraut is a posh, modern interpretation of Piccalilli, boasting the health benefits of pineapple and turmeric with the gut-health benefits of fast-growing, on-trend sauerkraut; naturally fermented for extra gut-ness. Available in selected Waitrose stores at £4.75 for a 400g pot. 
Vegan wines
Because vegan wines are usually organic and devoid of additives, preservatives, and artificial ingredients, they usually taste richer, more vibrant, and fresher than regular wine.  They are not often very obviously marked, so it's definitely worth checking the label.  We particularly enjoyed this Altano Rewilding Edition Red at £10 a bottle from Tesco.  It has defined, vibrant aromas of red fruits, with floral notes that express the Mediterranean vegetation of the Alto Douro.
An excellent vegan fizz and a great alternative to champagne is Crémant de Bourgogne and this Simonnet Febvre Brut Cremant is produced using the traditional method where the bubbles are created by an in-bottle secondary fermentation. This Cremant de Bourgogne is a blend of 60% Chardonnay and 40% Pinot Noir. Once in bottle it is matured for a minimum of 24 months before it is released ensuring a fine mousse (bubbles) and a rounded palate.  £15 a bottle from Tesco
Vegan Chocolate for those chocaholics!
Laderach has recently launched some excellent vegan chocolate. Made with cashew milk and coconut blossom and preservative free, the range includes vegan tablet bars, vegan chocolate-covered popcorn and also  FrischSchoggi™(the brand's signature fresh chocolate slabs), to supplement other dark chocolate, dairy-free products Läerach also offers.  Available in all three London stores as well as on Laderach.com