Italian restaurant – Il Cavaliere is a hidden gem found in West Molesey – transporting your taste buds to the enchanting streets of Italy. This delightful eatery captures the essence of Italy, serving up a taste of the Mediterranean that is nothing short of enchanting.
Upon stepping inside the restaurant, you are immediately greeted by the warm and inviting ambiance. The interior is an elegant fusion of rustic Italian charm and modern. The soft Italian music set the stage for a romantic dinner or a gathering with friends. Whether you're celebrating a special occasion or just craving a delectable Italian meal, the atmosphere here ensures a memorable experience.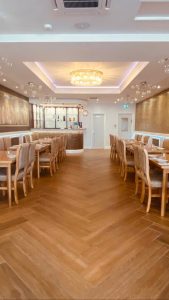 The heart and soul of Il Cavaliere Italian restaurant lie in its culinary offerings. The talented kitchen team, led by the passionate Chefs , crafts each dish with an unwavering commitment to authenticity and quality. The menu is a culinary masterpiece of traditional Italian dishes, prepared using only the finest and freshest ingredients.
Start your culinary journey with their signature dish, a mosaic of flavors featuring prosciutto, mozzarella, olives, and more. For the main course, their pasta dishes are a triumph. The Linguine Di Mare, with fresh clams and prawns, will transport you to the seaside villages of Italy. If you're a fan of heartier fare, the filleto is a must-try, melting in your mouth with its tender braised beef shank.
Vegetarians will delight in the Risotto ai funghi, a creamy rice dish that is a symphony of earthy flavors. Pair your meal with a fine Italian wine from their extensive selection, expertly curated to complement the dishes.
Desserts and Dolce:
No Italian meal is complete without a sweet ending, and Il Cavaliere does not disappoint. Their Tiramisu is a cloud of coffee-soaked ladyfingers and mascarpone, and their "torta de la nonna", a crispy pastry filled with fresh custard cream, is a work of art.
The Verdict:
In the bustling world of culinary options, Il Cavaliere Italian restaurant, stands out as a beacon of Italian authenticity and excellence. From the first bite to the last, this enchanting eatery captures the heart and soul of Italy in every dish. So, whether you're a seasoned aficionado of Italian cuisine or just beginning your journey, be prepared for a memorable and delectable adventure at Il Cavaliere Italian restaurant. Buon appetito!