Christmas isn't far away now, so here are some food and drink products that have recently caught my attention and I thought I'd share with you:
Easy Peasy with Bold Bean Co
Pulses in jars tend to be so much nicer, and I'd never heard of, let alone tried, Queen Carlin Peas.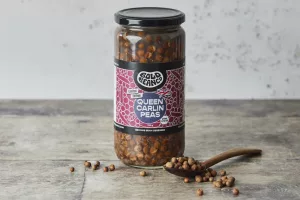 Produced by The Bold Bean Co and the perfect substitute for chickpeas, small, brown carlin peas are grown and harvested when dry across the UK, (mainly in the Midlands and the North of England), with a firm texture and nutty flavour, reminiscent of chestnuts.
Carlin peas are seriously versatile, tasty and great in everything from salads and dips to stews and curries. They can also be blitzed with black tahini to make a nutty, hummus-style dip with lots of depth of flavour
Not that widely available (yet sadly) but well worth ordering from Bold Bean Co at £10 for a double pack – you'll be hooked!   But look out for them in Waitrose early in 2024
Sweet Treats from Crosta & Mollica
One of my favourite Italian food brands, Crosta & Mollica has launched four delicious new biscuits.
Perfect for sharing over a coffee with friends and family, the range includes Crunchy Amaretti (the base of many Italian desserts and great for dunking – with a signature bitter taste), Soft Amaretti (perfect with an espresso) , Chocolate & Hazelnut Baci ('lady's kisses' hazelnut biscuits with a chocolate filling) and Almond Cantucci (delicious with a glass of prosecco).
Whether a fan of crunchy or soft, nutty or chocolatey, there's one for you. The Crosta & Mollica sweet biscuit range is available at Tesco, from £2.95. 
Vodka from Altamura

While we're on the subject of Italy, I tried a great Italian vodka recently: Altamura.
This unique, intense, smooth, and elegant vodka is distilled solely from specific wheat that's grown in Altamura or the adjoining communes of Puglia for over 2,000 years.
The first spirit made from 100% ancient Altamura grains, Altamura vodka is distilled using a process that's carefully designed to preserve the pure essence of its ingredients.
It results in a vodka that is elegant and refined, and rich in the notes deriving from the Italian terroir and Altamura wheat. 
It's lovely neat on the rocks, and also makes a fabulous vodka martini. Around £32.50 a bottle from Master of Malt and other stockists.
Asda Raises the bar for Pan Asian Ready Meals
Asda has launched Bom Bahia and House of Yum: two new, premium Indian and Pan Asian ranges set to provide restaurant quality meals at home – without the price tag or lengthy recipe. I've tried a couple now, and they are very good.
These new ranges each include eight mains and five sides, created using authentic cooking methods and traditional recipes allowing you to recreate restaurant flavours at home. The Bom Bahia includes the fiery Goan King Prawn Curry (£4.50) and Lamb Karahi (£4.50) both perfect winter warmers The House of Yum range includes dishes such as Black Tiger Prawns with a sweet, and savoury Tamarin dip (£2.50) and Char Siu Pork (£4.50).
Both ranges are available to buy in-store and online now, with prices starting at a very reasonable £2.50.
Outrageously Good Choccy Biscuits from M&S
on the subject of great biscuits, M&S Food has launched some new ranges including Outrageously Chocolatey Chocolate-Coated Custard Creams and Outrageously Chocolatey Chocolate-Coated Bourbons – both of which are more chocolate than biscuit.
Also landed in M&S stores are the new range of crispy, melty and dunkable mini wafer biscuits, which are all made in Italy and come in six great flavours including creamy chocolate, zesty sweet lemon, smooth cappuccino and chocolate-coated hazelnut.
With prices from £1.50, they're excellent store cupboard standbys for the festive season.
Seriously Good Honey from The Honey Project
Despite many folk thinking honey is natural, friendly and positive for the world,  it's the third most faked food, behind milk & olive oil. 'Honey launderers' cheat authenticity tests by adding cheap rice and corn syrup to the mix.
This lack of transparency hinders tracing provenance. UK wildflower meadows have declined by 97% (an area the size of Wales) since the 1930s, predominantly due to intensive agricultural farming affecting our insect and floral biodiversity.
Sadly there aren't many honey brands that give back to Britain's natural environment. So Laura Eyles and Ed Little, decided to start The Honey Project – to wake people up to British honey and fall back in love with nature, through their rewilding. All their honey is from Tamworth, Staffordshire – where their beekeeper has over 170 hives.
The 'Unrivalled Runny' is a summer variety with bees feeding on wildflowers. The 'Creamy Soft Set' is a spring variety with bees feeding on oil seed rape.  Treat yourself (or someone else). They retail for £7.89 or £15.78 for the bundle of both. Thehoneyproject.co.uk
Spice up your Drinks with Giffard's
Giffard's Gingerbread Syrup adds a festive touch to so many things.

Drizzle it over ice cream, stir  into hot chocolate, porridge or yogurt, or add it to the icing on a cake. 
Oh, and I nearly forgot to mention cocktails – it's alcohol free too, so even the kiddies can enjoy a warming, festive drink.  And it takes mulled wine to a different level.  It tastes buttery, biscuity, with spicy notes and cinnamon, accompanied by cloves. And the taste is intense and rich, with notes of spices, honey and a touch of anise. 
Under £10 for a litre bottle from Drink Finder
Hummus Heaven from Chic

Hummus and truffles are two of my favourite things and ChicP, the sustainable hummus brand, has put the two together: the result is fabulous. It's in collaboration with neighbouring company The Truffle Hunter.
After its limited-edition launch in August, ChicP is now running the flavour permanently alongside its core range: Beetroot & Horseradish, Carrot, Ginger & Turmeric, Spinach & Parsley and Velvet.
ChicP's Truffle Hummus is £2.40 for a 150g tub from Ocado.  But I suggest you order more than one tub, as it's very moreish!
Snacks that are Just 'Made for Drink'
And finally, still with truffles, some of the most wonderful crisps are made by Made for Drink.
The English Truffle crisps are very yummy, slightly pricey, but really worth it at  £1.20 for a 40g bag from Waitrose.  The company also makes a Baron Bigod crisp and a Gentleman's Relish variety that aren't so widely stocked, but worth looking out for. 
But with Christmas coming up, it might be worth buying a mixed box from them directly at £22.99 for 20x40g bags with four of each of the above and also Dorset Sea Salt and a Salt & Vinegar variety – all equally good.