I don't know about you, but we have a kitchen drawer that's crammed with all sorts of kitchen gadgets – some of which are hardly ever used. 
Every so often I have a clear out, and our local charity shop benefits greatly. 
I thought it might be helpful to highlight some of the newer gadgets and also some of those good old classics that have stood the test of time.
A Peeler with Appeal
When it comes to peelers, folk seem divided.  For me, it's got to be a swivel peeler – I can't abide those 'Y' shaped ones.
The OXO one (right)  is great.  It has a sharp, stainless steel blade that glides through even the toughest fruit and vegetable skins with ease, while the comfy, non-slip, grip handles cushion your hand as you peel (whether you're left or right handed). It's an ideal tool for asparagus ribbons, chocolate curls and Parmesan shavings. And of course they're rustproof and dishwasher safe, and last for years. 
£9 from John Lewis, Lakeland or Amazon.
A Great Tool for Ginger
If you're a cook who uses fresh ginger, the seriously sharp and efficient new Microplane® 3-in-1 Ginger Tool (left) in black makes peeling, grating and slicing easy for a wide variety of cooking and baking recipes.

Doing away with the need for a knife or spoon, the rasp-like tool features a peeler on the side to gently, and easily remove the skin.  A wide panel, incorporating a photo-etched fine blade, makes fast work of grating to a fine paste without ripping or tearing, and the integrated razor-sharp angled blade creates thinly sliced ginger easily.
A non-slip base and handle add comfort and stability. (You can hold the tool at an angle or place it flat on a surface to slice or grate). 
It really came into its own when I was making chutney – and it hardly takes up any space in that drawer! 
Available from John Lewis £19.99
A Clever way to Chill Drinks
Something that I now keep in my freezer is the ChillCore 3-in-1 by CellarDine from Tradestock.  It solves the problem of warm wine, water, or any soft drink, without dilution due to ice cubes.
A unique system lets the ChillCore remain inside the bottle while pouring, giving consistent temperatures and ease. When finished, the ChillCore has a built-in stopper to keep the wine fresh for a few days.
Easy to use, you simply freeze it for a minimum of 4 hours and place it inside the bottle. After 10 minutes the drink will be sufficiently chilled.
Around £20 Ocado or Robert Dyas
Avoid Food Waste with ZWILLING
We all hate food waste, so food storage that goes above and beyond the standard takeaway plastic container is important for anyone serious about reducing it.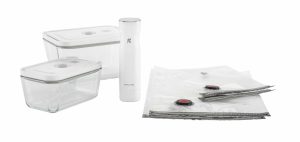 ZWILLING's FRESH & SAVE collection includes vacuum food storage containers in different sizes as well as bags, which all keep food fresh for up to five times' longer when sealed with the cordless vacuum pump.
The pump can also be used with its new CUBE collection, and both feature a QR code that can be scanned with the free app to track food's shelf life, to ensure food is eaten before its 'Best Before' or 'Use By' date. 
The two vacuum containers made of borosilicate glass, the four reusable vacuum bags and the handy, automatic vacuum pump are game changers: food stays fresh up to five times longer compared to conventional non-vacuum storage methods.
They aren't cheap, but they will last. It's £100 odd for the starter set here
Perfect Butter at Just the Right Temperature
And finally, a wonderful way of keeping butter at just the right temperature, all year round. 
The Butter Bell crock is the return of a 16th-Century invention that helps solve the hard butter problem, enhancing butter richness and saving precious fridge space.  It's been popular in the US for years, but is now available here in the UK.
To use a butter bell crock, you first fill the base with cold water, creating a water seal. Then, you pack softened butter into the lid portion. The lid is then placed upside down into the base, allowing the water to create an airtight seal around the butter. This water seal helps to keep the butter fresh and spreadable without refrigeration. 
It's so clever, and we love it.  Around £25 from butterbell.com and there's a wide selection of designs to choose..