A Trip to Albury
Fancy a short break in gorgeous countryside, enjoying fabulous food and drink in a warm and friendly atmosphere?  Then I have the answer for you:
The Drummond in Albury.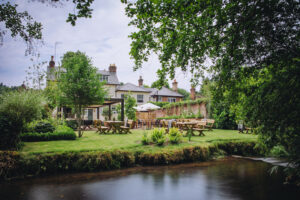 We arrived late afternoon, on a windy and rather wet day.  We crossed a little wooden bridge from the car park, and made our way inside via the bar, which was surprisingly busy for a weekday evening.  There was a log fire and various groups of locals, plus an assortment of cute dogs, and a great atmosphere.  We had a quick drink and were shown to our room.
Our Bedroom
It was beautiful:  whoever did the interior design for The Drummond has a keen eye on style, coordination and quality.  I
loved the headboard and the mirror that echoed the curves and clouds on the beautiful hand-printed wallpaper.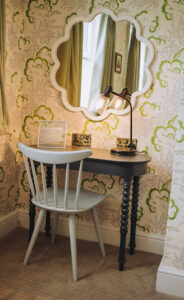 The ensuite bathroom was spotlessly clean, and we were pleased to see that Peach Pubs, the parent group, has strong ethics, and keenly supports sustainability and local sourcing.  Little plastic bottles were definitely not in evidence; instead there were refillable aluminium containers with soaps and lotions.  The quality of everything – from the bedlinen to the towelling robes, was comparable to that of a five star hotel.  Being an old building, formerly a brewery for the Duke of Northumberland's estate, the room had been sympathetically updated, but retaining original features, like the fireplace.  
Dinner
We strolled down for dinner – our table was in the main dining room.  This was a lovely room, again stylishly but sympathetically updated. The peach and bright green colour scheme was lovely, and the tables well spaced.
Drinks
My husband was tempted by the locally brewed Shere Drop from the Surrey Hills Brewery, located at the nearby Denbies Vineyard in Dorking, while I couldn't resist a Negroni.  The cocktails are very well priced: most of the cocktails are under £10 and a glass of Piper Heidsieck  £10 and Nyetimber at £10.50.  My Negroni was perfect – not too sweet, and one of the best I've ever had.   
To Start
I chose a light starter: hand picked Devonshire crab with cured salmon, apple and cucumber (£12.50).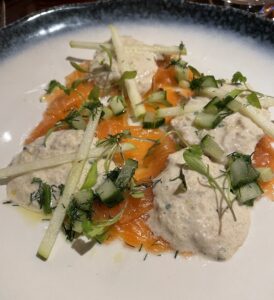 It was delicious, the apple cut through the richness perfectly,  and there was a gentle hint of dill in the sauce.
My husband chose a twice baked Cheddar & Comté soufflé (£9.25) served with a rocket and walnut salad, and he loved it.
Mains
Being a pie fan, the temptation of the 14 hour braised beef and ale pie, (£16.50 and served with buttered mash, greens and gravy) was too strong for my better half.  He absolutely raved about it – the pie (a 'proper' one with a full pastry case) was absolutely packed with meltingly tender meat.  I couldn't resist a cap rump steak, especially as I noticed the Drummond buys its steak from Aubrey Allen.  My steak (£22.50) was cooked to perfection with superb flavour,  and served with the best, crispiest chips ever.  A side of purple sprouting broccoli with miso hollandaise was an intriguingly good match – the buttery hollandaise was given another dimension by the miso, and it would also make a fabulous starter.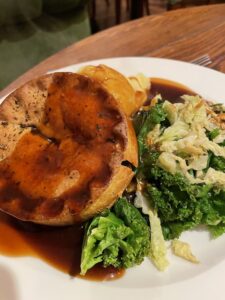 Great Value Wines
Washed down with a bottle of well-priced organic Chilean Merlot (£26.50), this was an exceptionally good meal. The staff at The Drummond, despite many of them telling us that they were new to the pub or to Peach Pubs, were, without exception, charming, highly professional and clearly enjoy working for Peach.
Irresistible Puds
Never one to resist a panna cotta, the Buttermilk one with poached English Rhubarb and Amaretti (£8.25) was too good to refuse…and boy, am I glad I succumbed! The rhubarb cut perfectly through the richness, and the addition of crumbled amaretti was a triumph (and one I've noted for the rare occasions I do make a dessert).
Sticky Toffee Pudding (£7.75) has the same temptation for my husband, and he declared it superb.  
Breakfast the Following Morning
After an extremely comfortable night in our lovely bedroom, we ventured downstairs, to find the bar pleasantly full of folk enjoying their breakfasts.  Some were clearly locals who knew a good breakfast venue, and others were overnighters, like us. 
An excellent serving of Eggs Benedict was ample for me, but my husband was tempted by the full English.  Wow! It was an amazing array, and I'm just surprised that he had the appetite for it after putting away so much delicious food the evening before!  If I had a niggle – and it really was just the one –  it was that they had no orange juice left at breakfast, but apple juice or cranberry were offered in its place. 
Summing Up a Wonderful Visit
We really enjoyed our stay at The Drummond.  I'm very impressed with Peach Pubs and the company's philosophy.  As it says on the website: "Our pubs are lovely, but it's our people that make them stand out. Each one is a well-loved "local" to its regulars (hosting a wealth of fun events and special occasions and supporting good causes), as well as offering a warm welcome to every new face. Peach started in 2002, with a devotion to Make Life Peachy. We believe in only serving the good stuff – honest plates of food cooked well by our team of proper chefs. We have been awarded as a top employer in The Best Companies to Work for and continue to strive to be the employer of choice." 
Having witnessed this first hand, I would certainly agree!
RiverTribe was kindly hosted by Peach Pubs