Fabulous New Restaurant
I've got some great news for those of you who live in or near to Twickenham, Fulwell or Teddington.  Fairly near the Squires Garden Centre junction and Lidl there's a   lovely new Italian restaurant! But the rest of us need not fret: there's a bus stop right outside, so you can relax and not worry about parking or driving home.
Experienced Chef/Patron
I'd heard from some locally based foodie friends that they really rated Vesuvio, so I thought I should head over there to check it out.  It's only been open for about a year, and is run by Anisa and Beni, a lovely couple who live locally with their small daughter.  It's a family business through and through – even the sous chef's a family member.  Anisa certainly knows her way around Italian food; she's honed her craft at the stove of some iconic Italian restaurants, most recently as head chef in a central London branch of Carluccio's.  
The Location and Decor
Vesuvio is on Hampton Road, in the small parade of shops opposite Brouge Gastropub.  Anisa and Beni spent a considerable amount of time and money refurbishing, and the result is modern, sleek and stylish.  It could have been noisy, as there are lots of hard surfaces, but the fabric inlay on all the chairs seems to absorb sound well, and the tables are well spaced.   There is also an area in front of the restaurant for al fresco dining…when our weather allows.
Our Meal
While my friend and I perused the menu, Beni brought us an Aperol Spritz and a Negroni to enjoy.  A tray with homemade focaccia, olives and dipping oil was brought to whet our appetites.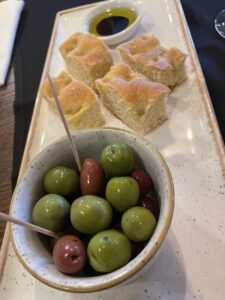 The starters offered a range of the classic Italian options, and tempting as they all were, I felt I should choose something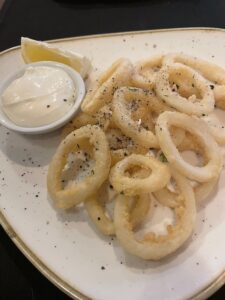 that allowed the kitchen to display its prowess.  With that in mind,  I chose fried calamari, served with a light mayonnaise, while my friend Satu chose burrata and prosciutto.  My calamari was piping hot, deliciously tender and sweet.   Satu's starter was extremely generous and could, in itself, make a lovely light lunch dish. 
A Stupendous Pasta Menu:
The Seafood Linguine tempted me as a main course – with clams, mussels, squid, prawns and a gentle hint of chilli in a deliciously fresh tomato and white wine sauce.  It was served in a small, deep bowl with a large flat rim, so it stayed piping hot until I had enjoyed the last
strands of linguine.  It was really delicious and I'm salivating at the memory of it!  Satu had homemade fresh ravioli filled with ricotta and spinach, served in a butter sauce and declared it excellent too. We shared a green salad – topped with shavings of Parmesan cheese and drizzled with a balsamic reduction (in just the right proportions we noted, as so often the balsamic drowns the dish) 
Our meal was washed down with a bottle of Ramarro Sicilian Cattarrato – the house white wine. It was delicate, with light notes of blossom and citrus, and amazingly good value at £21 a bottle (but also available by the glass from £5.95.
Pretty jolly replete, we were encouraged though,  to try a dessert, so we shared a portion of panna cotta: homemade, of course, and
fabulous.  
The menu at Vesuvio is well priced, with starters around £7/8, pasta dishes from £11.50 and mains from £16.50.   Having had a brief chat with Anisa and Beni, we spotted a 281 bus outside so thanked them and bade them farewell.  
And, of course, "Arrivederci" – as we will be returning soon!