Okay, I have a confession to make: even though I'm a long-term subscriber to Amazon Prime, I'd never even as much as ventured inside one of the new-fangled Amazon Fresh stores. I had held a rather strange view that there was something alien about a shop that didn't take your cash or have tills to serve you. The idea of just walking out with my shopping felt totally bizarre . Until now… when I have to confess that I have completely changed my mind!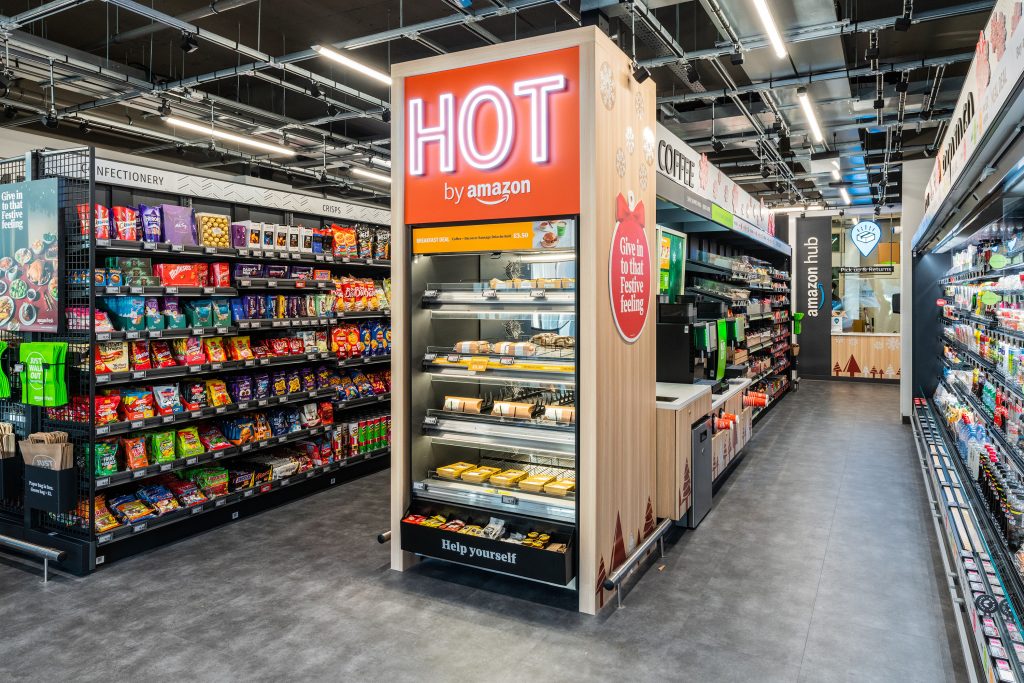 I think one of the reasons so many folk don't venture in, is the appearance of 'security guards' on duty at the entrance, who can appear a tad intimidating.  In fact, they are there to assist you, and show you how to use your Amazon app to go shopping there (NB: you don't have to be an Amazon Prime customer to shop there).  I visited the Amazon Fresh in Richmond recently – it's right beside the station and I was intrigued to discover that there is a brilliant facility there whereby you can arrange to have your Amazon deliveries sent for safe storage and collected at a time to suit you.  Even better folks, you can take any returns along and just drop them in – no need even to repackage, label and arrange a collection.  This is brilliant, and such a boon for commuters…remember them? They're the people who take the tube and train to work each day!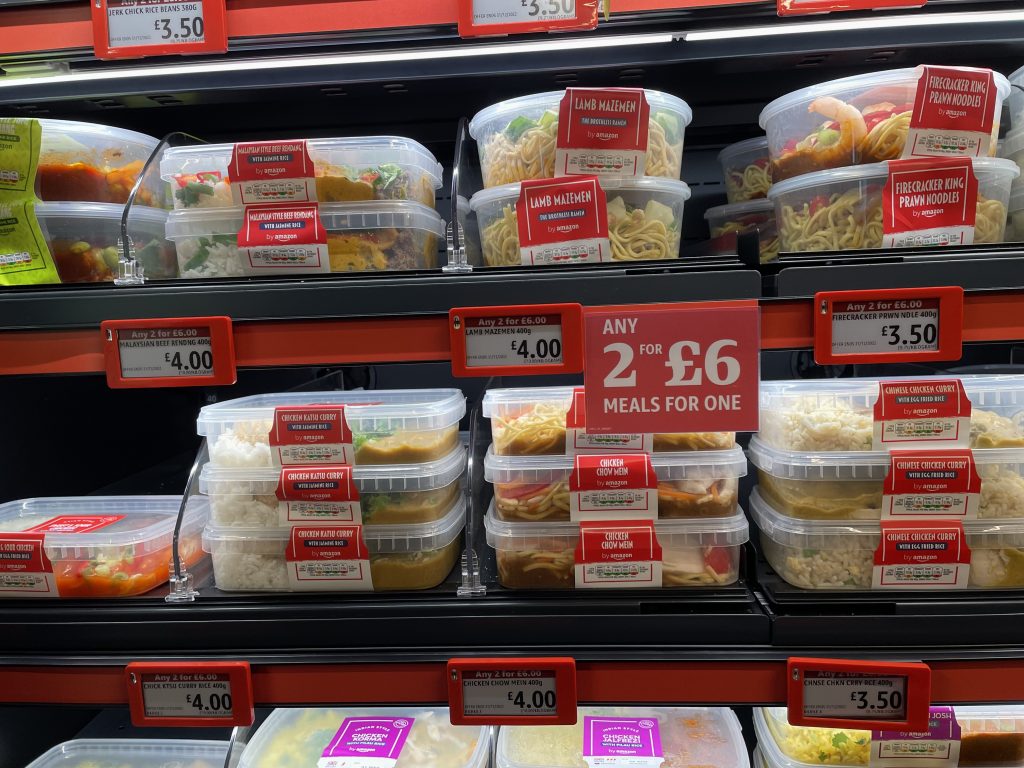 The food offering at Amazon Fresh is quite amazing – and great value too.  The Amazon Fresh stores offer a wide selection of products, including its private food brand 'by Amazon' which offers hundreds of delicious items, hot food throughout the day, and tasty on-the-go meals for breakfast, lunch, and dinner.  There are lots of meal deals, such as a dinner for two 'Night in' for just £5 and a fabulous selection of Asian food (at £4 for a meal for one or £6 for two) The Lamb Rogan Josh that tempted me was fabulous; and not every meal only had chicken as the meat option – like some other supermarkets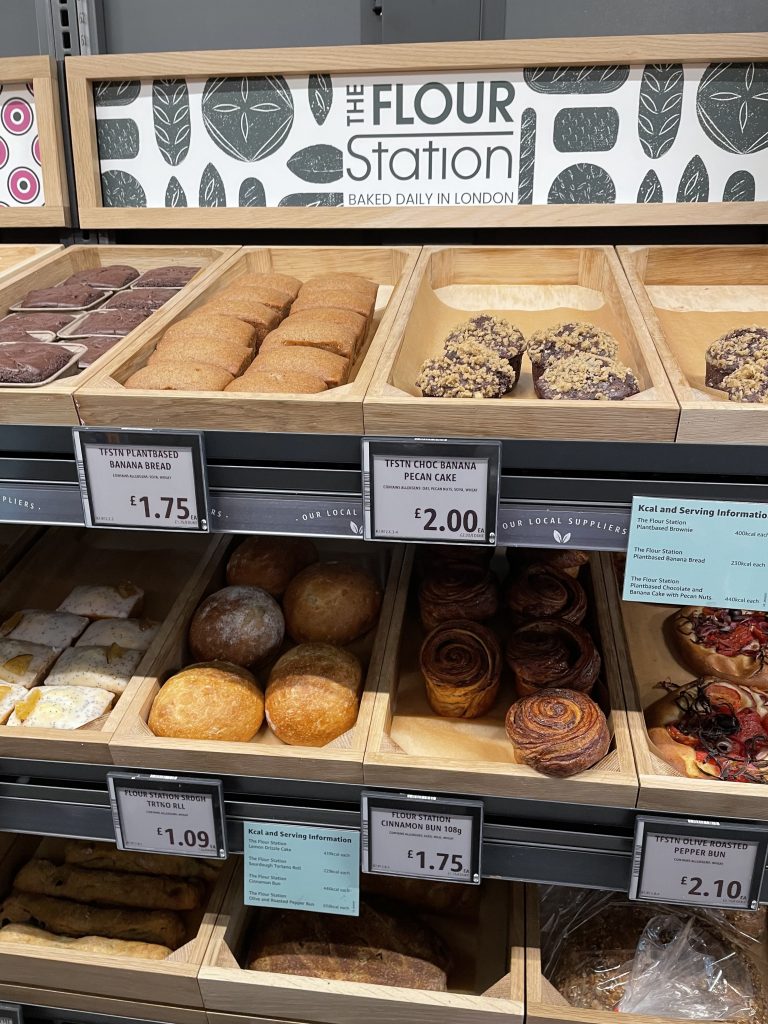 If you want to grab a packed lunch deal or buy an impromptu picnic, then here again common sense prevails: sensibly, you choose your main item at the price marked, then can add a drink AND snack for just £1 more (and the selection of these was top-notch with lots of really healthy options).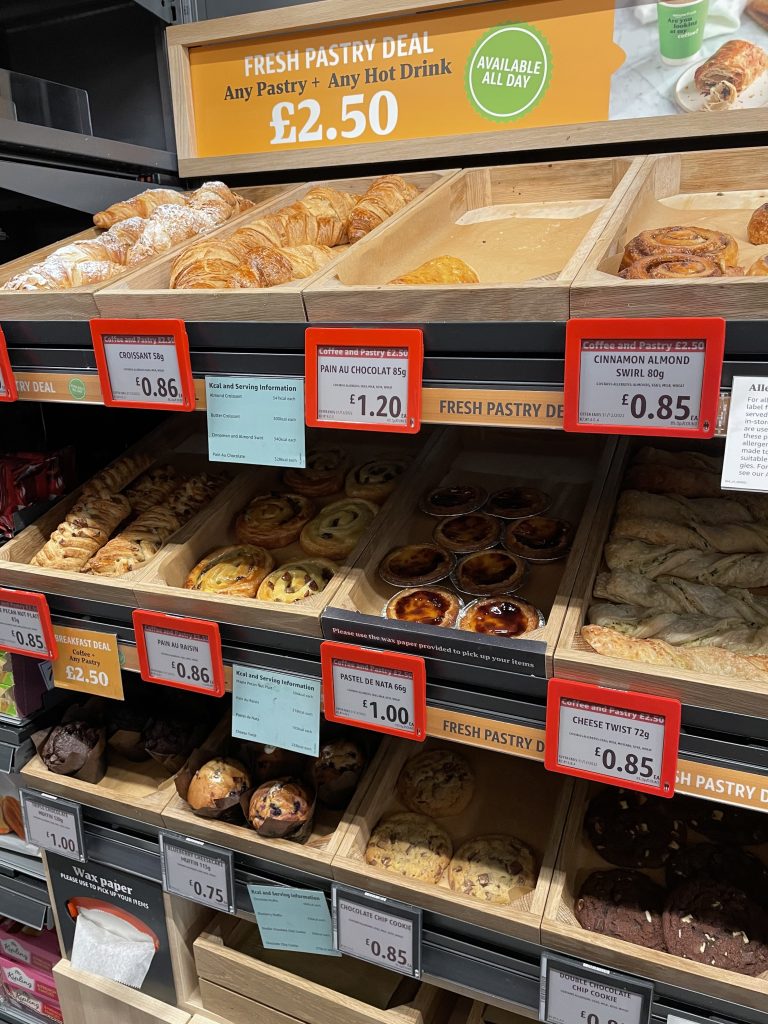 There's also a really impressive selection of baked goods, delivered fresh each day.  The drinks section was also competitively priced.   
I can't even start to get my head around the technology that Amazon uses, but I asked quite a few questions: apparently one can pick up and put down umpteen items, but only the ones that stay in your basket will be charged to your account. And then you are charged when you walk out.
Negatives? There were just a few: no pet food or flowers on sale in the Richmond store (but apparently they do in other stores). Oh, they sell newspapers and magazines, but don't take those paper vouchers that  many newspaper subscriptions involve.  Lucky Richmond!  There are other West London branches in East Sheen, Ealing, Kensington High Street, Wandsworth and Hounslow too but I wish they would open a branch at Twickenham station…