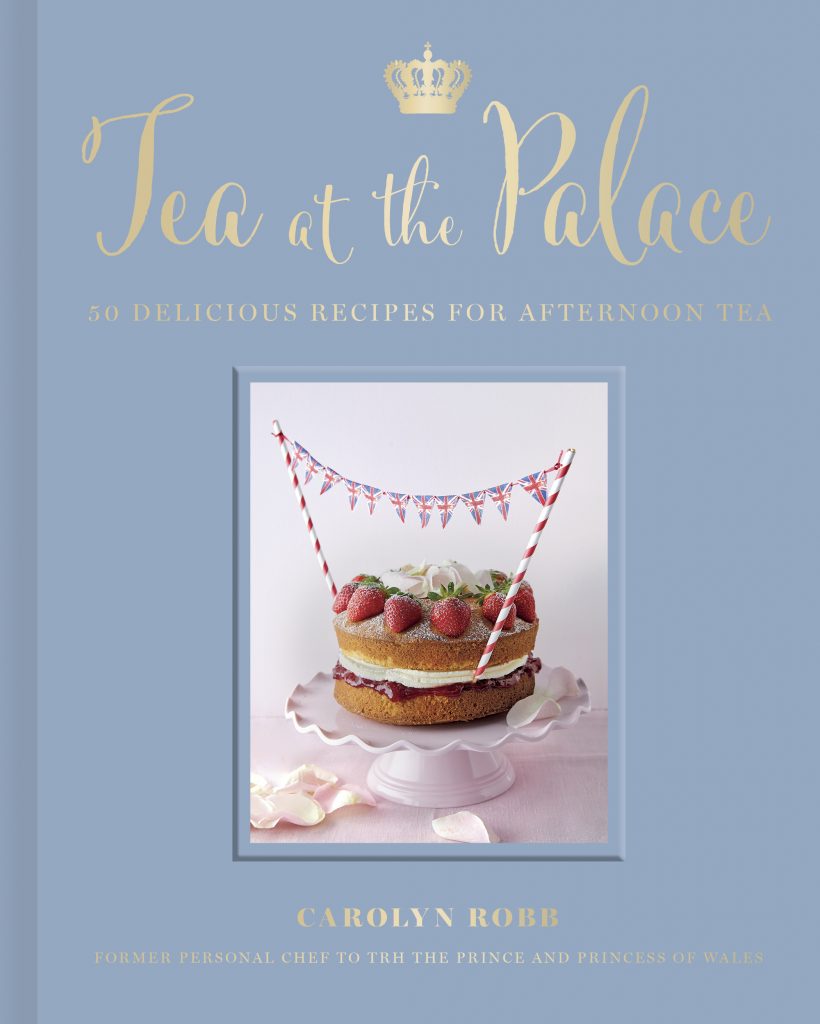 It's not long now until the much-anticipated Platinum Jubilee weekend, and the celebrations that this will entail.  Perfectly timed to coincide with Her Majesty's (and the nation's) celebrations is a fabulous cookbook:  Tea at the Palace, by Carolyn Robb, former personal chef to TRH the Prince and Princess of Wales.  It has loads of inspiration for a street party, garden fete or any afternoon tea occasion, with recipes suitable for all ages.  Set against a backdrop of 12 of Britain's most stunning palaces and residences, the recipes are a mix of traditional, contemporary and whimsical; each with a unique twist.  
With each chapter telling a tale, inspiration is drawn from sources as diverse as a 200 year old royal banqueting menu, and Queen Victoria's highland retreat!  The book is published by White Lion Publishing (an imprint of The Quarto Group) at £14.99 for a truly delightful hardback souvenir of this important royal year.  
I've chosen a couple of recipes from the book that you might like to try – especially if you're organising or taking part in a street party.
Mini Chocolate Cups with Ice Cream and Sprinkles
"The only time I have been served ice cream for afternoon tea was at Buckingham Palace, and I can highly recommend it! These tiny chocolate cups, each of which holds just a couple of tablespoons of ice cream, are the perfect addition to a special afternoon tea for little ones. Decorated with colourful sprinkles and miniature Union Jacks, these festive cups are patriotic, playful and, above all, popular! They can be prepared ahead of time and kept in an airtight container in the freezer, ready to serve when needed."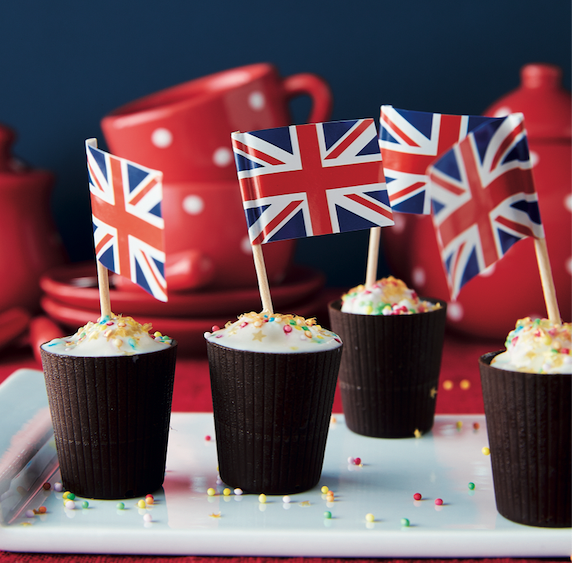 Makes 6 filled cups
6 small dark or milk chocolate
cups, each about 5cm in diameter
and 4cm deep
Vanilla ice cream, for scooping
Brightly coloured sugar sprinkles,
for topping
6 miniature Union Jacks
Put the chocolate cups into the freezer for at least 30 minutes. Fill each chilled cup with a small scoop of ice cream. Top the ice cream with the sugar sprinkles and decorate each cup with a miniature Union Jack. Serve right away or return to the freezer until serving.
Chef's Note: If you can't find commercial chocolate cups, they are very easy to make at home: Melt about 90g dark chocolate or milk chocolate and paint a layer of chocolate onto small silicone moulds or onto any small, rigid mould lined with cling film. Chill the moulds until the chocolate is set, then paint the moulds with a second layer to make the cups sturdier and chill again until set before unmoulding. Alternatively, you can paint small foil cupcake cases with chocolate and peel the foil off once the chocolate has hardened.
'Bunch of Flowers' Biscuits
Makes 36 biscuits
"These delicious flower-shaped biscuits make a lovely centrepiece for a floral-themed afternoon tea. Present them in a jug or a vase, with or without some fresh green foliage, such as stems of rosemary, mint, sage or thyme. The biscuit dough contains golden syrup (or honey), which makes it pliable enough for you to insert wooden skewers before baking without the dough crumbling. Decorating the biscuits is a great activity for children, especially when you have icing in a range of bright colours and plenty of sprinkles and sparkles!"
85g caster sugar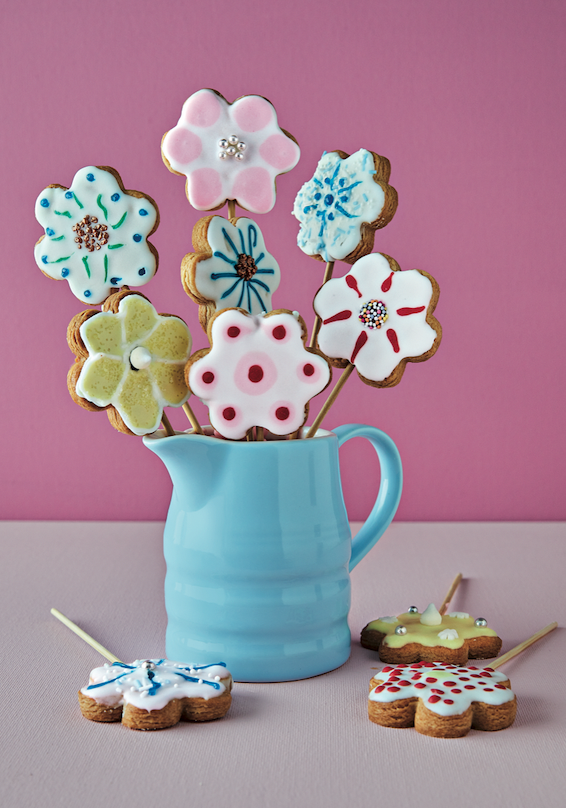 85g butter, at room temperature
85g golden syrup
1 free-range egg yolk
1 teaspoon pure vanilla extract
300g plain flour
½ teaspoon baking powder
Long, thin wooden skewers
FOR THE DECORATION
Selection of premade coloured icings
Selection of sprinkles
In a large bowl, using an electric mixer, beat together the sugar, butter, golden syrup, egg yolk and vanilla on low speed for about 3 minutes until well mixed and no lumps of butter remain. Sift together the flour and baking powder directly into the bowl. Continue to beat until the flour mixture is fully incorporated and a dough forms that clings together and has pulled away from the sides of the bowl. Gather up the dough into a ball, flatten into a disk, wrap in cling film and chill in the fridge for about 20 minutes.
Line 2 baking tray with nonstick baking paper or silicone mats. Turn the dough out onto a lightly floured work surface and roll out 6mm thick.
Using a 7.5-cm round or flower-shaped cutter, cut out as many biscuits as possible and transfer them to the prepared trays. Carefully insert a thin wooden skewer into each biscuit to create the 'stem' of the flower, pushing it all the way to the centre. Arrange the 'flowers' well spaced on the
baking trays to allow for the skewers and for slight spreading during baking.
Gather up the scraps, press together, reroll, cut out more biscuits and add them to the trays. Chill in the fridge for 20 minutes. Meanwhile, preheat the oven to 150°C (Gas mark 2)
Bake the biscuits for 15–18 minutes, rotating the trays back to front halfway through baking, until golden. Leave to cool on the trays on wire racks for 10 minutes, then transfer to the racks to cool completely.
Using the icings and sprinkles, decorate the cooled biscuits as desired.