There's working from home….and there's working from home.
Millions of people across the land have revamped their home office, designed new work-spaces in a corner of their dining rooms or kitchens or found a new purpose for the garden shed. But few are as fortunate as ceramicist Alice Corbett.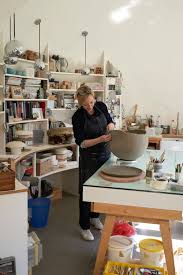 Admittedly her garden studio was built long fore Covid 19 struck, but all the same it is an object of desire in times when it can be hard to draw the line between work and home. It is thoughtful and has purpose – much like Alice herself.
Alice Corbett is a talented artist developing a strong reputation as a sculptor and ceramicist and works from the garden of her home Richmond. Her work is inspired by nature and has a Japanese look and feel. In fact, her lovely studios are reminiscent of the workspaces inhabited by some of the key Japanese artists.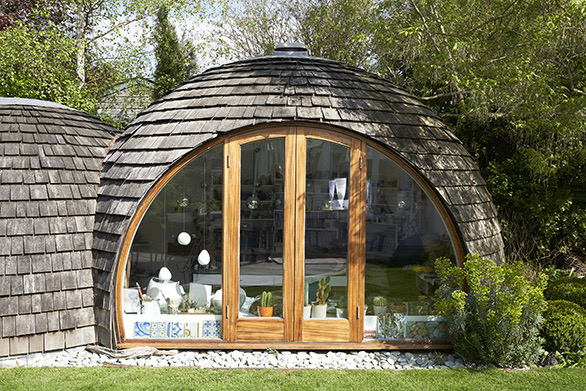 Alice graduated from Kingston University with a degree in Interior Architecture and then studied ceramics at Richmond College. After raising three children and supporting her husband Laurence Dallaglio's career in International Rugby, Alice is stepping into the limelight herself. Her mother, Sylvette David, was the muse of Pablo Picasso and the famed Girl With The Ponytail of several key works.
Her recent collection Changing Perspectives was featured at the quirky Ice House Gallery in the centre of Holland Park, London. Three sections of her work were related to nature and the areas where she grew up. The boulders of the collection were influenced by the river boulders found in the rivers of South Dartmoor, her tall and small cylindrical sculptures were a reflection of the trees, light and shadows found in the heathland close to home and her London wall hangings were inspired by the night skies  
"I have always been inspired by modernist architecture especially Lescaze, Le Corbusier and Frank Lloyd Wright due to these influences I strive to bring the feeling of space and light into my work"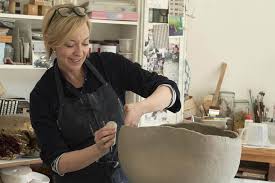 "My works in stoneware vary in size using slab or coiling techniques and then decorated in an abstract fashion, creating several layers of texture, underglaze and oxides, firing pieces two or three times. Glaze create windows through which further layers appear that have been created using old textiles and materials from decades-long gone therefore we have the old and new embodied together.
"Just as Lloyd Wright strove to create buildings which were in harmony with their environment, so too do I attempt to create fluidity within my work making the inside of my pieces as interesting and integral as the outside," she added.