I was very honoured to be invited, some years ago, to the wedding of a dear friend in Lithuania. It was a fascinating trip; the people are lovely, and the food was really interesting and tasty. The scenery was amazing and at the roadside there were lots of stalls where locals were selling mushrooms and wild blueberries that they had foraged from the woods. So when I heard about this great new cookbook – Amber & Rye – and its span of the Baltic, I knew I was onto a winner!
In the Baltics, two worlds meet: the Baltic Sea joins Eastern Europe and Scandinavia, bringing with it culinary influences and cultural exchange. All three Baltic capitals, Vilnius, Tallinn and Riga, are UNESCO World Heritage Sites, steeped in history and culture.
Author Zuza Zak grew up hearing her grandmother's fond and vivid memories of Lithuania, as well as memories of long-ago holidays spent on the Baltic coast. In Amber & Rye, Zuza sets off on her own odyssey of amber, uncovering the culinary treasures and 'Baltic gold' that were to be found in a much-awaited exploration of Lithuania, Estonia and Latvia, rather than the golden resin that washes up on Baltic shores.
She guides us around the Baltic capitals, sharing stories and discovering a dynamic, new style of cooking. Contextualized within the Baltics' rich history and culture, the food is a doorway to a deeper understanding of the region and what makes it tick.
Each recipe explores new culinary horizons and is grounded in Baltic tradition, yet inspired by contemporary trends, making them modern, unique and easy to recreate at home. Expect Poppy seed pastries and Pillowy pumpkin buns for breakfast; Baked trout with roasted buckwheat and Muhulamb burgers for a main meal; Crayfish salad and Fried potatoes with kefir and summer vegetables for lunch; and Rye bread and chocolate mousse for dessert. And, there are wonderful fermented recipes, from Beetroot elixir and Fermented red cabbage to Pickled pumpkin and plum butter.
I've selected a couple of recipes from the book – it is a veritable trip to the Baltic and hopefully we will soon be allowed to travel again and discover the region for ourselves!
Amber & Rye: A Baltic Food Journey by Zuza Zak (Murdoch Books, £25). Photography by Ola O. Smit.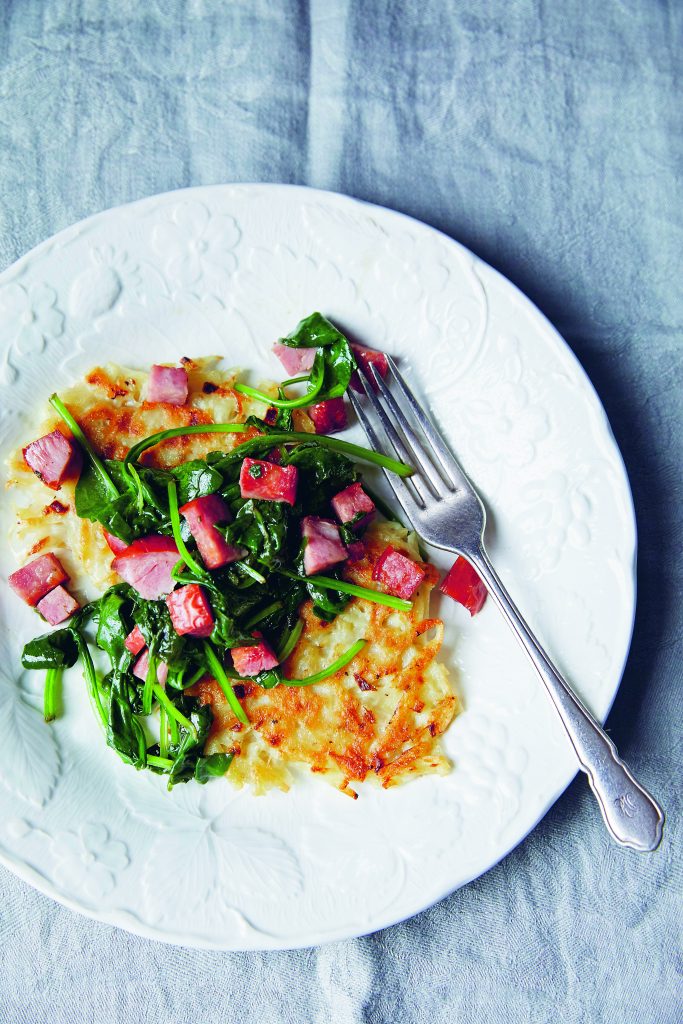 Potato latkes with smoked sausage & spinach (Serves 4)
"Potato-hash pancakes – or latkes in Yiddish – are known as a traditional part of Jewish cuisine. It's not surprising, therefore, that they are also commonplace in Lithuanian cooking, since Lithuania (like many Eastern European countries) had a huge Jewish community prior to World War II. For hundreds of years, recipes, ingredients and techniques were shared in a way that makes tracing their origins impossible; luckily, it's also unnecessary. Likewise, I find it unnecessary to peel the potatoes unless they are looking a bit worse for wear. Some may find the kiełbasa sausage a surprising addition here, given the Jewish name of this dish, but it's delicious! You can, of course, use kosher sausage instead, if you prefer."
50 g (1¾ oz) smoked kiełbasa style sausage, cubed
200 g (7 oz) spinach leaves
Squeeze of lemon juice
Salt and black pepper
For the latkes
2 medium potatoes
2 French shallots, finely chopped
1 egg, lightly beaten
2 tablespoons plain (all-purpose) flour
Rapeseed oil, for frying
Preheat the oven to 100°C (200°F).
For the latkes, coarsely grate the potatoes into a large bowl.
Add the shallots, egg and flour and mix well. Season generously with salt and pepper.
Heat a thin film of rapeseed oil in a large frying pan over a medium heat. Once it's hot, add tablespoonsful of the potato mixture to the pan, working in batches and taking care not to overcrowd the pan. Flatten the latkes with your fork and fry for about 2–3 minutes on the first side, until golden, then flip and cook for another 2–3 minutes on the other side. Drain the cooked latkes on paper towel and keep warm in the oven.
Add a little more oil to the frying pan and add the sausage. Fry until it crisps up, then add the spinach. Once the spinach has wilted (this will only take a minute or so), add a squeeze
of lemon juice and season with salt and pepper.
Serve the sausage and spinach on top of the latkes.
Summer blueberry soup (Serves 4)
"The taste of childhood for many who grew up in Eastern Europe, berry soups are always served during the hot summer months. Elsewhere, I'm not sure how this sort of soup might be thought of and eaten – for breakfast, as a snack or a dessert. To me, it's still undisputedly a soup, so here we are, at the end of the soups chapter: a dessert soup. If you haven't tried this kind of soup before, then you really must, just as soon as the summer berries are ripe and ready. Different berries are used to make soups and there are many variations, but this blueberry version has become a firm favourite of mine."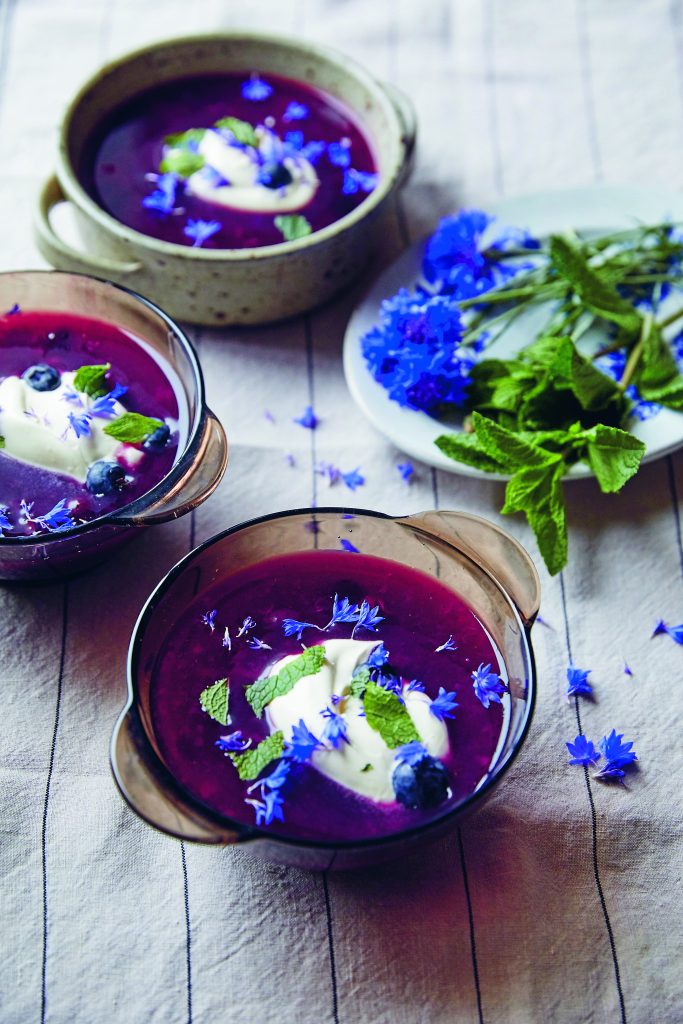 400 g (14 oz) blueberries
1 vanilla bean, split lengthways
3 tablespoons caster (superfine) sugar
1 tablespoon cornflour (corn starch)
Whipped cream, torn mint leaves and edible flowers, such as cornflowers, to serve

Reserve a few of the berries to serve on top of the finished soup, then put the rest into a large saucepan with the vanilla bean, sugar and 1 litre (4 cups) of water. Bring to the boil, then turn down to a simmer and cook for 15 minutes or until the berries are soft.
In a small bowl, mix the cornflour with 100 ml (3½ fl oz) of water until smooth. Add to the pan and stir constantly until the soup thickens. Remove from the heat and allow the soup to cool to room temperature, then chill in the fridge for at least 30 minutes or up to 24 hours.
Ladle the soup into bowls and top with whipped cream, the reserved berries and a whimsical scattering of mint leaves and edible flowers.