Tucked away, near to the entrance to the John Lewis car park in Kingston, is a gin distillery. Yes, you read it correctly, and what's more, it's attached to a great bar that opens in the evenings Wednesdays and Thursdays and during the day at the weekend. Bone Idyll is the brainchild of husband and wife team, and highly respected local restaurateurs, mixologists and entrepreneurs Sam and Alex Berry. They already have No.97, Cento Uno and The Hideaway in Surbiton, plus One One Four in Teddington, so they know their local clientele and market well.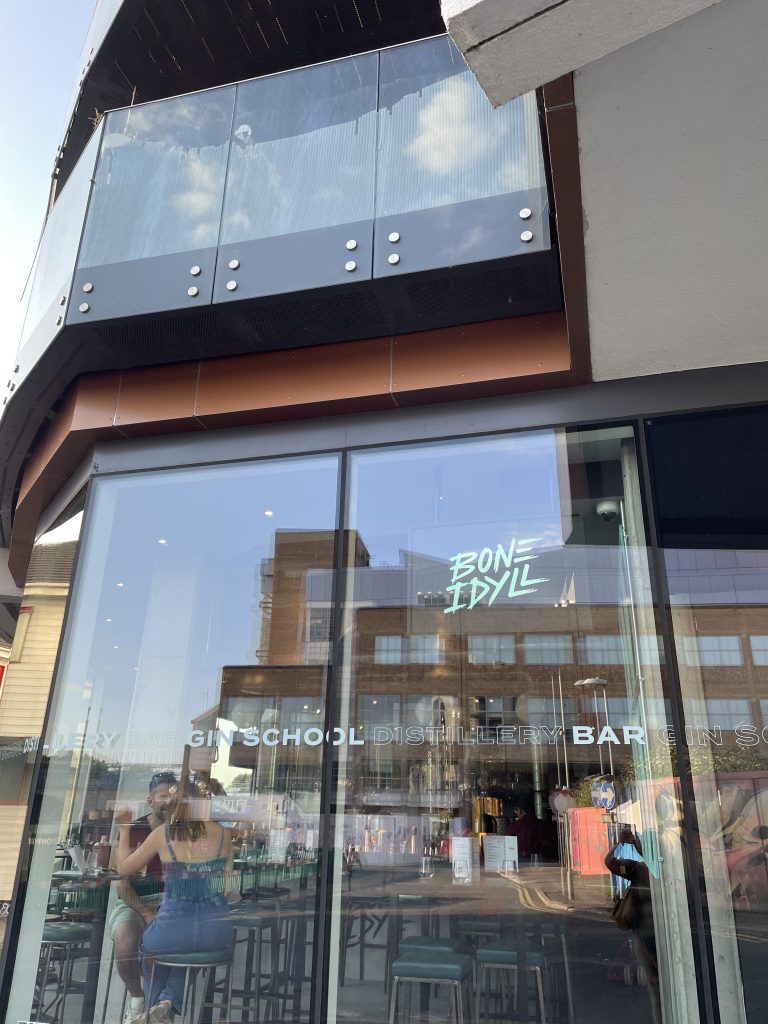 We took ourselves there one evening recently to check it out, and I'm very glad we did! I have to start by admitting that the location isn't currently that pretty (it's adjacent to not one, but two building sites), but I'm sure they've done their homework and soon will be in the midst of a thriving residential/business community, packed with potential customers. One can just see the river and Kingston Bridge and once inside, the whole place is vibrant and exciting.
Instead of crowdfunding platforms, the Berrys approached their loyal customers for investment and soon raised the amount required. This alone is a testament to the regard in which they are held locally.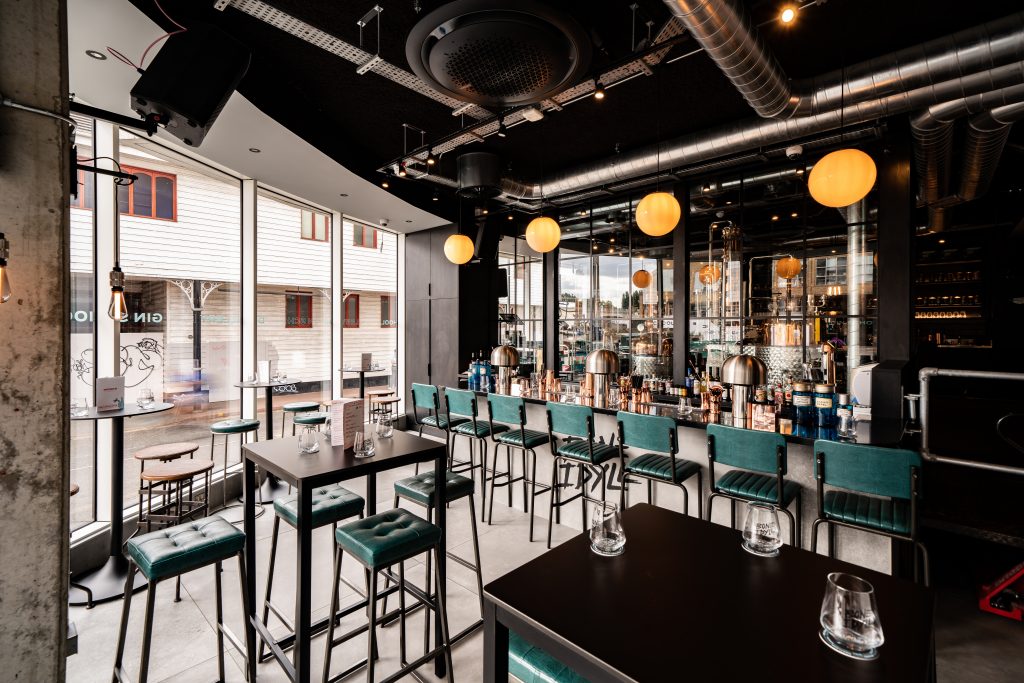 The bar is a fab place to taste the range of Bone Idyll spirits and cocktails. And even if you are off the alcohol (as my husband was that evening) there's still plenty to enjoy. We were shown to our table (with backless bar stools as were all in the bar area, not that conducive to a relaxed evening) by assistant manager Isaac, who kindly gave me a mini tasting of the three different gins Bone Idyll gins distilled on site. I started with the London Bone Dry: citrusy, but with spicy undertones. Then a sip of the Blushing Pink Gin: elegant, with a glint of sweetness, pink pepper spice and floral fruitiness. Now, I'm generally not a fan of pink gins, but this one was by far the best I've tried. Finally the Barrel Aged Gin (matured for three months in a whisky barrel.) This one completely threw me! On the nose it was whisky heavy, but in the mouth, woody, smokey and with notes of cardamom, orris, coriander seed and citrus. I have to confess that I wasn't sure if I liked it or not, but it is definitely very intriguing.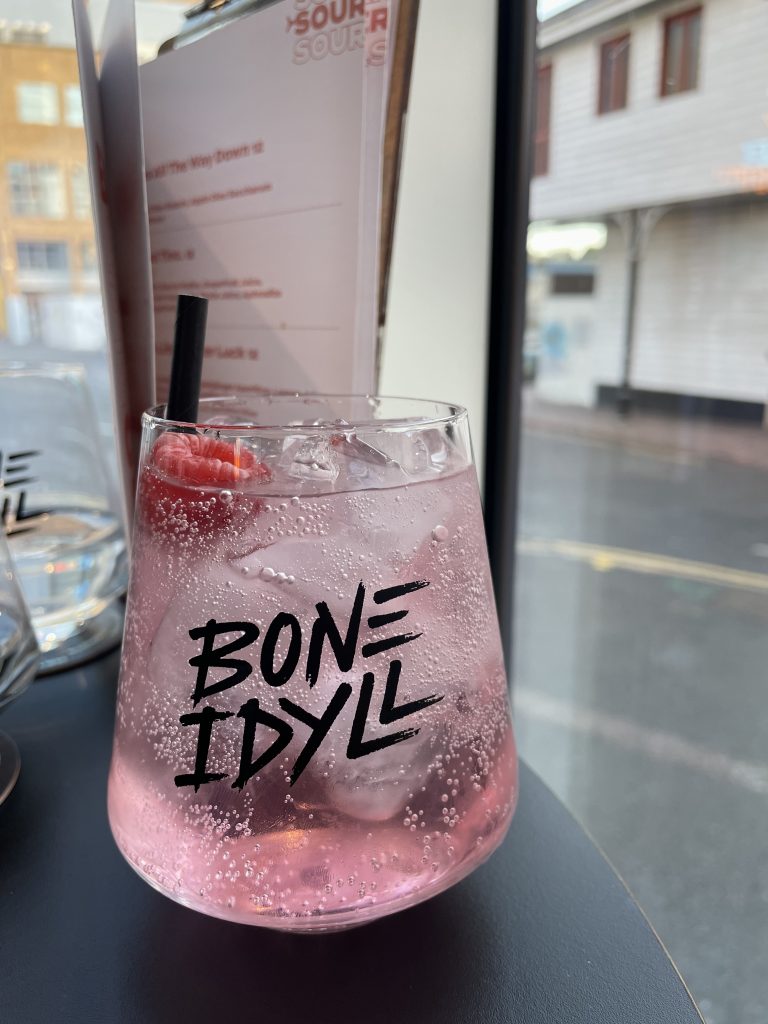 I surprised myself by opting for the Blushing Pink with Pomelo & Pink Pepper tonic (£10 – but there is a happy hour 4-7pm with two for £12). It was delicious and very refreshing and my husband enjoyed a Tea Total mocktail (£7) while we nibbled some nuts and olives (£3.50 per generous serving).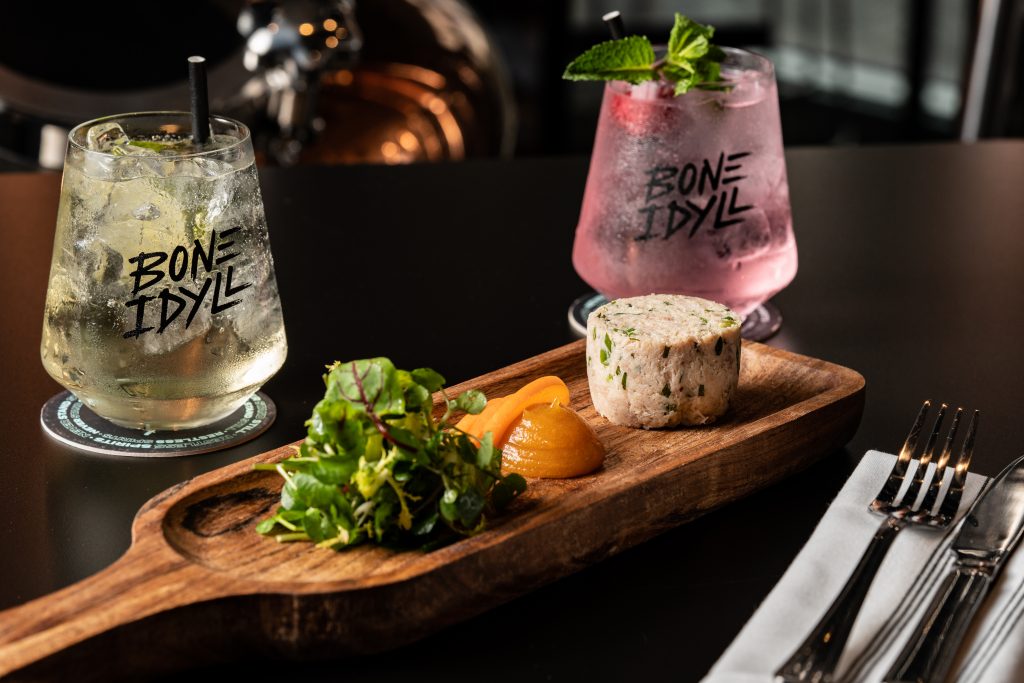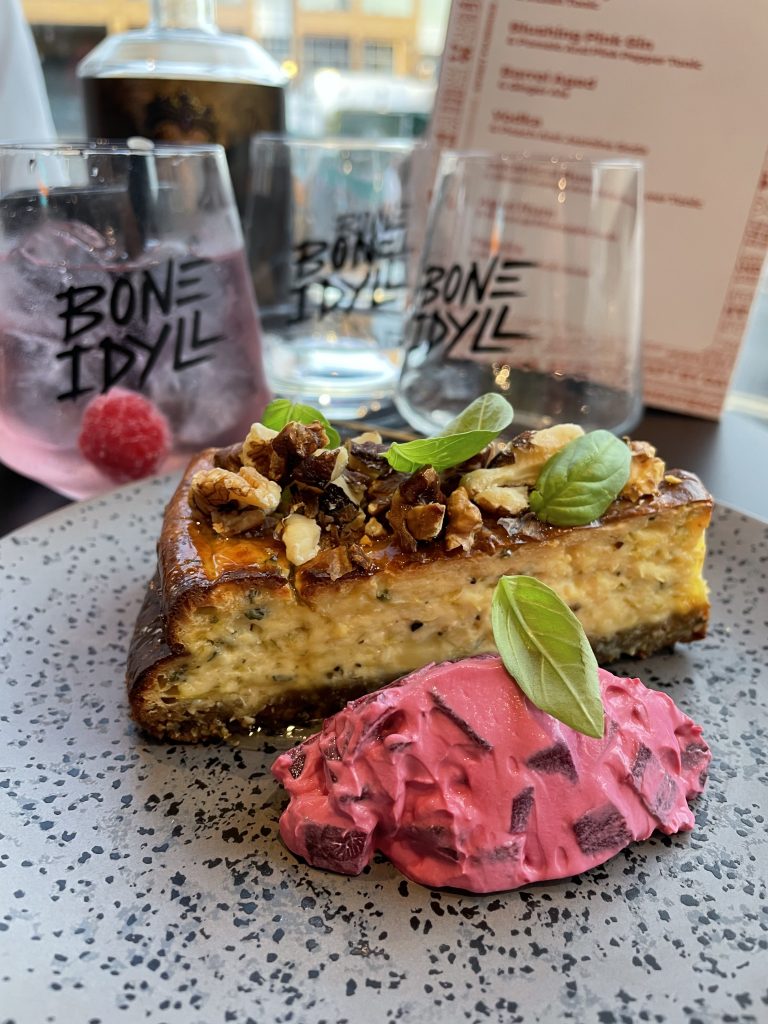 The food menu is, sensibly, pretty limited, but the standard of food was excellent. We shared two snacks – a chicken and tarragon terrine served with apricot and a herb salad (£10) and a Leek & Stilton 'Cheesecake' with beetroot, honey and walnuts (£8). Both were really delicious but the terrine would be improved I think with the addition of a couple of nice rustic oatcakes. The savoury cheesecake was a revelation, so good, and I'm inspired to experiment at home to try to make something similar.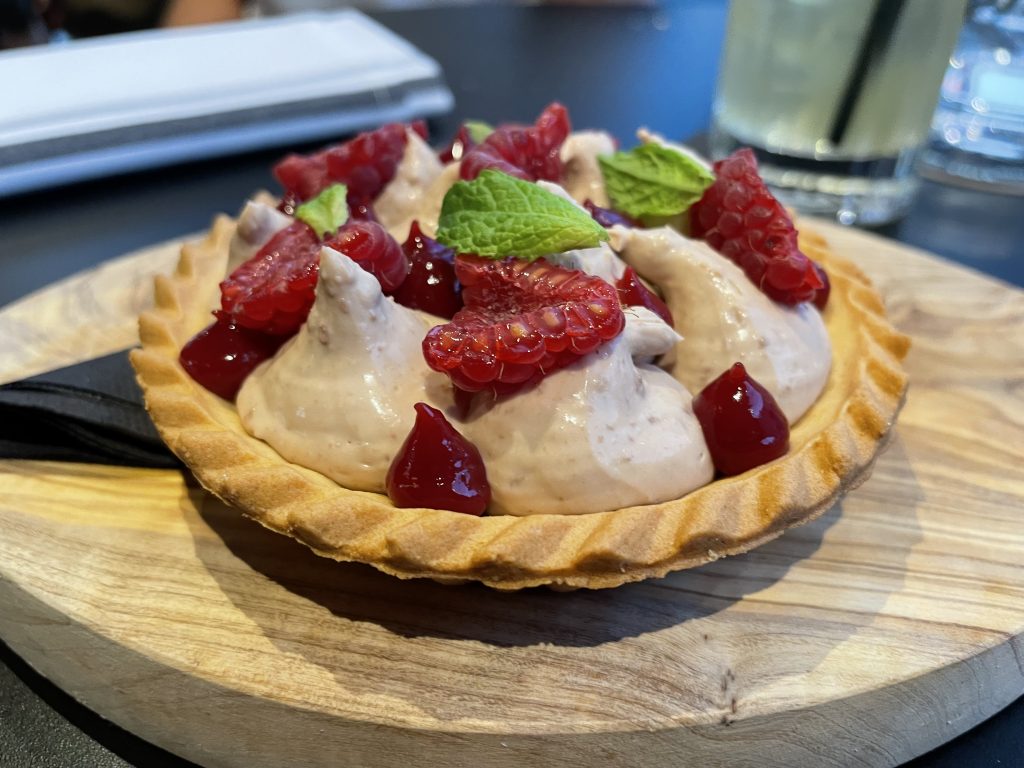 My husband had a chocolate, raspberry and salted mascarpone tart (£6). It was a very generous size and the fresh mint sprigs on top finished it to perfection. I had a small taste and was very impressed. The tart is the only dessert option on the menu, but there are loads of cocktails that will make an excellent replacement! Isaac suggested I try the Apples All the Way Down (£12 Somerset Cider Brandy, Apple Oleo Saccharum Orinoco Bitters, Pet Nat Cider). Listed on the menu as sweet, it wasn't overly sweet at all, had smoky notes and was divine!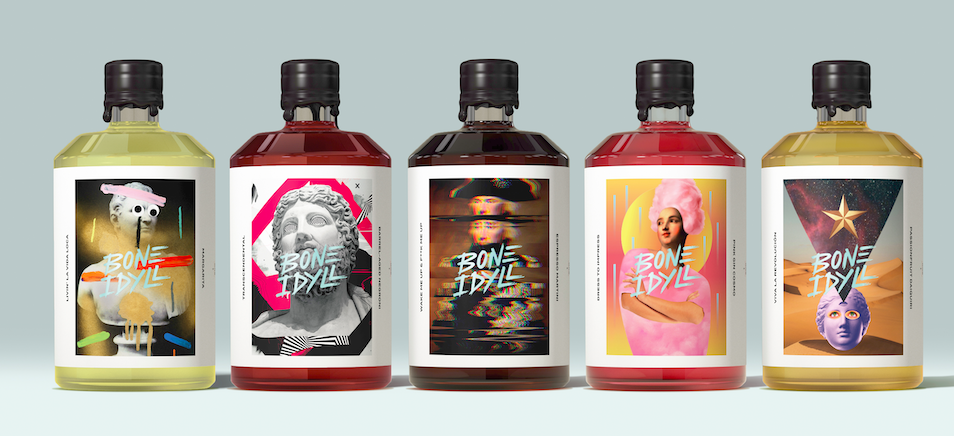 Many of the customers seemed to be popping in to meet up with friends and have a quick drink. The Bone Idyll isn't somewhere I'd recommend for a long, comfortable gourmet evening (the owners have plenty of other options for that!) but it is a fun, innovative and vibrant venue to meet friends and try the delicious spirits. Bone Idyll also distils vodka and rum and has a range of ready to drink cocktails. The full range is available online here or to buy at the distillery, or the other sites in the group. The launch collection features six key spirits, and five cocktails. Prices are from £30 and there is a range of gift/merchandise available too.

Talking of gifts, the Bone Idyll has just opened a gin school at the Kingston site. You can join a group of ten or book exclusively. In the surroundings of the ten copper pot still, guests can choose from a variety of botanicals and experiment with gin mixology to produce their own, bespoke recipe to take home. And all recipes will be kept on file so reordering is easy. For £125 the 2.5 hour session includes three double G&Ts, Bone Idyll gin tasters, bar snacks, a 70cl bottle of your own gin and a £5 discount to spend at the Bone Idyll shop. I can't think of a better way to enjoy a Christmas gathering and vouchers are available too. What a fabulous gift idea!