I do love my air-fryer!  I use it so often, and hardly ever need to use our main oven now.  So any book that gives additional usage ideas is always welcome.  I reviewed Sunday Times bestselling author Jenny Tschiesche's first book on air-fryers earlier in the year – click here to read it – and she has just published a follow up title.  As so many of us are now having to tighten our belts financially, this is a must-have, especially when you consider the energy savings when using an air-fryer.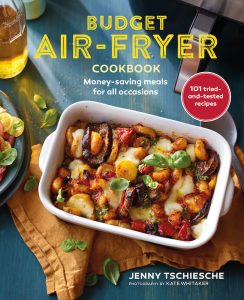 Jenny's new book – Budget Air-Fryer Cookbook – offers nutritious and budget-friendly recipes by using the air fryer instead of the oven and/or grill. The recipes cater for a wide range of tastes and needs, exploring ideas for using tins, jars and cartons, cooking from frozen, using up leftovers, using cheaper cuts of meat, grains and pulses, vegetable-based dishes and much more.
Jenny Tschiesche
Jenny Tschiesche is the founder of LunchboxDoctor.com, which provides a whole range of resources, menu plans, recipes and nutrition advice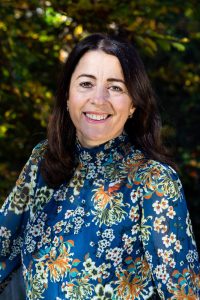 She has a Degree and Diploma in Nutritional Therapy from Bedfordshire University & Institute of Optimum Nutrition. She is the author of five books, four of those recipe books, and is known for creating healthy and delicious one-pot and one-pan recipes.  
Did you know you can cook eggs in your air-fryer?
I hadn't tried it, but I have now. Here are some recipes to whet your appetite. And also lovely recipes for Salmon with Ginger & Lime as well as Beetroot Hummus with Tortilla Chips
EGGS IN TOAST –  A delicious, all-in-one way to enjoy eggs and toast together. SERVES 2
2 thick slices of day-old wholemeal bread
1–2 tablespoons butter, melted
2 medium eggs
1 tablespoon freshly chopped parsley
2 tablespoons hard cheese shavings, eg Grana Padano
salt and freshly ground black pepper
Brush both sides of the bread with melted butter. Put the bread side by side in a dish that fits in your air-fryer.
Preheat the air-fryer to 200ºC/400ºF. Add the dish to the preheated air-fryer and cook for 2 minutes, then turn the bread over and use the base of a glass to make an indentation in the bread. Crack an egg into each indentation.
Cook for a further 6–8 minutes, until the whites have just set but the yolks are runny. Serve with chopped parsley, cheese shavings, and salt and pepper scattered over.
HARD-BOILED EGGS – There's something so simple and yet satisfying about making hard-boiled/cooked eggs in an air-fryer. The lack of saucepans to wash is particularly welcome! SERVES 4
4 eggs, at room temperature  
Place the eggs in the air-fryer. Set the air-fryer to 180ºC/350ºF and cook for 10 minutes (no need to preheat the air-fryer).
Place the cooked eggs in an ice bath or extremely cold water immediately after removing them from the air-fryer. Once cooled, peel the eggs if eating straight away. I like to keep these in the fridge, then peel and roll in a little salt before eating.
EGG POTS – These are a bit like poached eggs, but baked rather than poached.  SERVES 4
1/2 teaspoon olive oil
4 eggs
hot buttered toast, to serve
4 ramekins
Spray or brush the inside of each ramekin with oil. Break an egg into each ramekin. Preheat the air-fryer to 180ºC/350ºF. Place the ramekins in the preheated air-fryer and cook for 6 minutes, then remove carefully as the ramekins will be hot. Loosen the edges of the egg from the pot and serve immediately on hot buttered toast.
SALMON WITH GINGER & LIME
This way of cooking salmon from frozen is ideal for both texture and flavour. It just flakes apart once cooked. This can be served alongside air-fried potatoes and some steamed green vegetables for a simple supper.
1 lime, cut into 4–6 slices
2 frozen salmon fillets (no need to defrost)
1 teaspoon frozen chopped root ginger
1/2 teaspoon salt
2 teaspoons olive oil
SERVES 2
Cut 2 pieces of foil, each large enough to enclose the salmon.
Lay a salmon fillet on each piece of foil and top each with half the lime, half the ginger and half the salt, then drizzle over a teaspoon of oil. Wrap the foil around each salmon fillet to enclose it like a parcel.
Follow the cooking instructions on the packet – the air-fryer should be preheated and set to the same temperature as stated for conventional oven cooking, but reduce the cooking time by half.
For example, if the packet states cook in the oven at 200ºC/400ºF for 30 minutes, this converts to preheat the air-fryer to 200ºC/400ºF, then cook in the preheated air-fryer for 15 minutes.
BEETROOT HUMMUS WITH TORTILLA CHIPS
When beetroot are in season they are available very cheaply, but you can easily run out of recipe ideas for them. This hummus is a great way to use up a couple of leftover beetroot.
2 medium beetroot, peeled and chopped into 2-cm/3/4-in. cubes
1 tablespoon olive oil, plus 1 teaspoon for cooking the beetroot
1/2 teaspoon salt
1/4 teaspoon freshly ground black pepper
1/2 x 400-g can of chickpeas, drained and rinsed, or 120 g cooked chickpeas
1 heaped teaspoon tahini or peanut butter
1 small garlic clove, crushed
2 teaspoons balsamic vinegar
2 tablespoons crumbled feta or goat's cheese, to serve (optional)
vegetable crudités, to serve
TORTILLA CHIPS
2 tortillas, sliced into equal-sized triangles (slightly stale leftovers can be used)
1/2 teaspoon olive oil, ideally in a spray bottle
SERVES 2
To make the tortilla chips, preheat the air-fryer to 180ºC/350ºF. Lay the tortilla triangles out on a flat surface and spray both sides with oil. Add to the preheated air-fryer in a single layer. Cook for 2 minutes on each side, then transfer to a rack to cool. You may need to cook in batches depending on the size of your air-fryer.
To make the hummus, put the beetroot, 1 teaspoon olive oil, 1/4 teaspoon of the salt and 1/8 teaspoon of the pepper into a bowl and stir, then tip into a heatproof dish that fits in your air-fryer. Set the air-fryer to 160ºC/325ºF and cook for 20–25 minutes or until the beetroot are soft (no need to preheat the air-fryer).
Put the cooked beetroot and any cooking juices/oil into a food processor and blend with the chickpeas, 1 tablespoon olive oil, 1/4 teaspoon salt, 1/8 teaspoon pepper, the tahini or peanut butter, garlic and vinegar. Blend until you have your
preferred hummus texture.
Serve in ramekins with the crumbled cheese on top if using, with the tortilla chips and vegetable crudités on the side.
NOTE
The peelings from the beetrootcould be used to make the Vegetable Peeling Chips.
The book is published by Ryland Peters & Small, at £16.99 for a lovely hardback book, with over 100 tried and tested recipes and photography by Kate Whitaker © Ryland Peters & Small