I've got some fab news for anyone based in West London or planning to visit the area: Chiswick High Road has a brilliant neighbourhood restaurant, Silver Birch, that's actually been open for a couple of years now.  But the big news is that a new head chef – Nathan Cornwell – has earlier this year taken over the stove – and he's one who's likely to have already been noted by those Michelin inspectors.  
Nathan Cornwell – a chef destined for great things
The appointment of Cornwell coincided with the restaurant's second birthday last May.  And it's a very smart move!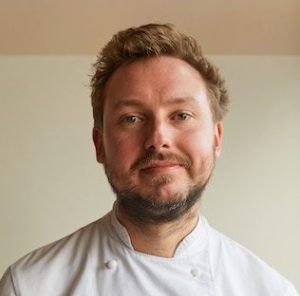 He sports a serious CV that includes stints at Copenhagen's Geranium (3 Michelin Stars), Stockholm's Kadeau and Oaxen Krog (2 Michelin Stars respectively), 2 Michelin-starred Le Champignon Sauvage in Cheltenham.   He had previously served as head chef working alongside double Michelin-starred chef patron Mark Birchall at multi-award-winning The Barn at Moor Hall in Lancashire. His four year tenure there certainly brought a wealth of top culinary talent to head up the Silver Birch brigade.  
Conveniently located on Chiswick High Road
The restaurant is situated at the heart of busy Chiswick, just past Turnham Green Terrace,  and offers an outside dining terrace too.  We were shown to a table at the rear of the restaurant that had a view of the open kitchen. The restaurant decor is modern, light and airy, with plenty of wooden surfaces. 
At other restaurants, the plethora of hard surfaces might have meant a noisy evening, but it wasn't here and  mellow, gentle music was an ideal background.
A Fabulous Cocktail
I couldn't resist starting with a Smoked Rosemary Martini (£14) and my husband ordered a beer.  While enjoying these, it was fascinating watching the attention to detail of the sous chef and rigorous checking of each dish at the pass.   My martini was exceptional.  I understand that they source their infused vodka from a small distillery in Cornwall. 
It was so good: salty, smoky and deliciously 'dirty' and certainly set the scene for an exceptional meal.  
Snacks & Amuse Bouches par Excellence
We were presented with a selection of delicious snacks (cured trout with seaweed emulsion and trout roe, pig's head fritter and a warm blue cheese cracker with Parmesan tuile)  They were elegant, beautifully balanced and a stunning prelude…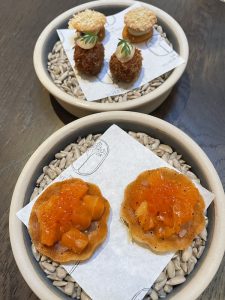 An amuse bouche followed: Bacon with a pea veloute.  Wow! The bacon was in fact a crumble topping, and the whole dish was bursting with freshness and depth of flavour. 
It was accompanied by sourdough bread with lovage butter.  Lovage can be quite an unforgiving herb,so  I was intrigued to see if it was balanced correctly – and of course it was.  The use of herbs throughout the meal was exceptional.  
Seriously Good Sourdough
The sourdough was deliciously sour and springy with a great crust. 
It would have felt greedy to ask, but nice to have the bread replenished,  as all the food was so fabulous we wanted to wipe our plates clean!  
To Start
My husband ordered confit duck egg, smoked onion, coppa, summer truffles (£15) and declared it rich and unctious.  The truffles on top were very generous too (not that I was allowed to steal any from his plate!). 
I ordered roasted Isle of Mull scallop, heritage carrots, lardo and shellfish sauce (£24).
The scallop was sliced for ease of eating, and the sauce was sweet, yet full of multi layered flavours.  It was a very skillfully prepared dish and refreshingly different.  
To Drink
We accompanied our meal with a bottle of Chilean Pinot Noir (£34) which went very well with our choice of dishes.  Silver Birch offers 20 different wines by the glass – from £8 upwards – and also offers carafes of wine.  
Our Mains
My main dish was Cornish Texel lamb, wild garlic, crispy sweetbread, girolles mushroom (£38).  The lamb was sweet, perfectly pink and scattered with tiny capers. The accompaniments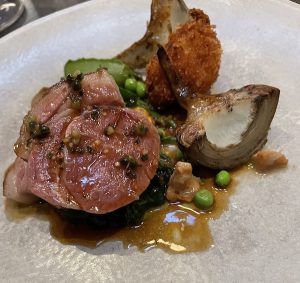 balanced the dish beautifully. 
The other main was Shetland cod, Swiss chard, chicken butter sauce and Morteau sausage (£32) – with a generous portion of cod and, again, seasoned to perfection.   
Dessert Heaven
As you no doubt realise by now, this was a meal of exceptional standard, and the desserts didn't disappoint either. 
Lemken strawberries, elderflower cream cheese and strawberry sorbet (£10) was beautifully presented and the intensity of strawberry flavour in the sorbet was an indication of the craftsmanship in the kitchen and quality of produce.
Never one to resist chocolate, my husband chose brown butter chocolate delice, milk sorbet and caramelised white chocolate (£12) and declared that to be exceptionally good.  
Coffee was served with chocolate fudge: not just any old chocolate fudge – this one had a subtle hint of star anise! And accompanying the fudge was a raspberry macaroon.  
To Sum up
Reader, this restaurant is definitely deserving of a Michelin star, and I will be most surprised if it isn't awarded one very soon.  The menu changes seasonally, so some of the dishes we enjoyed may not currently be available, but it will be as excellent as before.  A set lunch is available Wednesday to Saturday at £38 for two courses or £42 for three.  In addition to the a la carte, a seven course tasting menu is available at £100 (£60 extra for wine pairings).  There is a private dining room available that seats up to 14 or takes 30 standing.  
Nathan and his brigade (including a sous chef who accompanied him from Moor Hall) are highly talented and exceptionally skilled.  Their subtle use of flavours adds an extra dimension to almost every dish and the standard of service is on a par with the top notch kitchen team.