I don't know about you, but I'm conscious that we're drinking far more alcohol than we used to.  So, with the autumnal evenings, and (dare I say it) the Festive Season on the horizon, now might be a good time to rein in a bit.  I'm planning to cut back during the week, but not worry too much over the weekends, so I've been researching some excellent new no or low alcohol alternative drinks. Interestingly, one has to be careful if, for medical reasons, any degree of alcohol must be avoided: do check the label, as some that are labelled alcohol free have a tiny amount, hardly discernible for most, but could be unpleasant for some people.
A Gin Alternative
Clean G is the brainchild of Spencer Matthews, who offers a selection of premium non-alcoholic spirits that taste just like the real thing across gin, rum, tequila, vodka and whiskey, offering an alcohol-free alternative without compromising on taste or social interaction.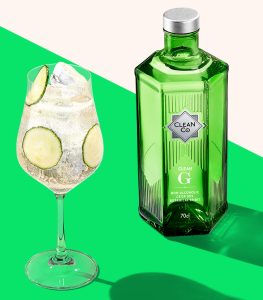 Clean G is the company's take on London Dry Gin. It has notes of crisp juniper, balanced with botanicals – and it's rather delicious. It's won a gold award at the IWSC too and is surprisingly reasonably priced at £16 a bottle online here or at major supermarkets. And it's currently on offer in Waitrose for just £12 (till Sept 26)
A Smoky Botanical
To South Africa for Mahala, and its latest product, Mahala Botanical Amber, a very smooth, smoky, slightly spicy partner to its original Mahala
Classic.
Created and co-founded by respected Master Distiller Danielle Schoeman at her Donã Distillery in Cape Town, Mahala is crafted using a unique, triple-distillation process, achieving a depth of flavour and finish that is notoriously hard to achieve within an alcohol-free spirit.
The botanicals used in Mahala Botanical are Cloves, Honey Bush (exclusive to the Western Cape), Orange Peel, Angelica Root, Buchu (exclusive to the Western Cape), Cardamom, Cassia Bark, Peppercorn, Pelargonium Citronella, as well as the addition of Chillies, natural Smoke and Oak extract in the case of Mahala Botanical Amber.  I like it mixed with ginger ale, but you can also mix it with tonic or soda. 
It really has a unique taste and is delicious: on the first sip warm spices with chilli and smoke, followed by a long, warm, and spicy finish. 
Around £24 a bottle here or The Whisky Exchange or online alcohol free retailers
Danish Alcohol-free
The Danes have brought an excellent range of alcohol-free wines and spirits to the UK.  ISH offers a very broad range of award-winning non-alcoholic drinks.
The drinks have an excellent 'mouthfeel' and the spirits make really good cocktails.  The range includes: Château del ISH Sparkling White – based on a de-alcoholised blend of Pinot Blanc and Silvaner grapes; Château del ISH Sparkling Rosé based on a de-alcoholised blend of Merlot and Pinot Noir grapes; ISH Caribbean Spiced Spirit; ISH London Botanical Spirit; ISH Mexican Agave Spirit; Canned cocktails – Spritz, Lime Daiquiri, G&T and Mojito.
The company also sensibly suggests that you can mix them with other 'full fat' spirits, thus reducing your alcohol consumption. 
More info and to buy here but also available at other alco-free retailers such as The Wise Bartender.
From around £2.50 for a canned cocktail.
France's moderato range
France's foremost 0.0% wine brand, moderato, has recently launched its range of internationally renowned, all-natural wines in the UK
moderato uses classic techniques to deliver a range of characterful critically-acclaimed wines. The red, white, rosé and sparkling cuvées are initially available through London's Club Soda Tasting Room, Shop & Bar in Covent Garden, on their website for national delivery, and Wise Bartender.
Carefully de-alcoholised and blended to reach the desired expression for each cuveé, the resulting wines honour the profile of the original grape, while offering a low-sugar, low-calorie option.
Retailing at £10 each, moderato's range of still wines includes a dry white with aromas of honey balanced with fresh acidity, a crisp rosé with bright citrus and spring fruits, and a lightly oaked red with notes of candied red berries. At £11, moderato sparkling has a rounded body with soft almond on the nose.  
Chilean Sinzero
The French aren't the only ones launching in the UK this year: The first non-alcoholic wine from Chile, Sinzero, is newly available here.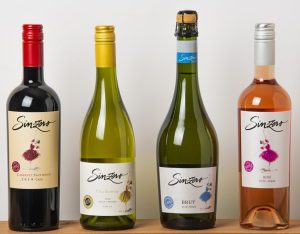 The range includes four different wines, so whether you are a fan of red, rosé, white or bubbles, there is something to suit – and all are available now from DryDrinker.com. 
Hailing from Santiago, surrounded by the snow-capped Andes, the Sinzero range has four products, all of which are under 0.5% alcohol. Each variety has been carefully crafted by their winemaker, Paula Bottero, to ensure they are tasty as traditional wines. The wine is separated from the alcohol leaving the colours, flavours and antioxidant properties. 
A Chardonnay, a rosé, a sparkling and a Cabernet Sauvignon comprise the range. 
Prices start at £11.25 per bottle for the Sinzero red and white, £11.99 for the rosé and £13.76 per bottle for sparkling.
Italiano Sea Change
The Italians get a look in too, with Sea Change Free Albatross range.
Using the Glera grapes (as in Prosecco) these multi award winning wines have a bright, straw-gold colour and hints of elderflower, crisp apple and summer mint. 
Free's production method has no artificial additives or colouring and only 27 calories per 100ml.  Also, the production approach is such that the grapes are picked early and chilled, so never ferment.  So it is a real 0.0% drink.
This award-winning, ethically sourced, wine directly supports global ocean conservation projects, raising over £300,000 for ocean charities to date. Sea Change also has innovative packaging: no plastic wraps around bottle tops, natural corks and labels, a mix of paper from certified sustainable forests and grape waste.
Available online here for £10.99 a bottle.
A REALly Good Alternative to wine
An excellent alcohol free alternative to wines that have had the alcohol removed, is this delicious sparkling rosé tea. Peony Blush, from REAL Drinks, is fermented at REAL's state-of-
the-art sustainable fermentery in Buckinghamshire.
Hand-picked loose-leaf teas are naturally fermented for all the depth, flavour and complexity of a fine wine, even without the alcohol. Made using delicate White Peony (Bai Mudan) tea, grown in the Fujian province in China, this absolutely delicious sparkling provides all the natural character of a classic rosé, without any compromise on flavour.
REAL's alcohol-free Peony Blush rosé is the latest permanent addition to their award-winning range of sparkling teas and joins the renowned Royal Flush and Dry Dragon. REAL Royal Flush has won the award for Best No & Low Wine or Wine Alternative in the Imbibe No & Low Taste Awards 2020. The first award of its kind, the challenger brand entered into the Non-Alcoholic Wine category and was voted the overall category winner, with an additional specially created accolade – Sommeliers' Choice No & Low Award – the judges were so impressed by the product.
Peony Blush is available from www.realdrinks.co, as well as Ocado and in selected speciality food & drink retailers nationwide. RRP £9.00.
Serious Spritzes
Citizen Spritz is reimagining adult drinks with its new range of innovative non-alcoholic spritz mixes.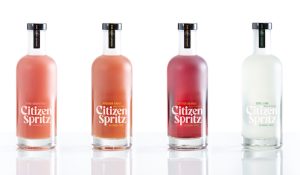 They are carefully crafted with over 40 natural ingredients, expertly blended and layered, to provide depth, complexity and taste.
The spritzes deliver an intense flavour experience, balancing vibrant flavours with that elusive warming alcohol tingle.
There are four varieties: Bitter Orange; Cool Lime; Pink Grapefruit and Passion Fruit.  I've tried the Bitter Orange, and really like it – just a very small amount is needed to produce an excellent bitters-style cocktail.  £20 for a 50cl bottle from Threshers or from Citizen Spritz direct here where there is a pack of any four for £60.