Chilli & Mint is a lovely cookbook that'll find a permanent place in your kitchen if you're interested in food and spice (but not necessarily spicy food!) and the intricacies of Indian home cooking. 
Written by Torie True, an established food writer and cookery teacher, It contains over 100 recipes and full-colour photographs. Torie shares plenty of her tips and tricks for successful dishes, alongside a wealth of information on Indian spices, suppliers, kitchen equipment, fresh ingredients and menu ideas. It will encourage you to bring a little more spice into your culinary repertoire, and by following her accessible step-by-step recipes, any home cook is able to explore India's wonderfully diverse cuisine. 
Published by Meze Publishing at £25, hardback, many recipes are based around vegetables (as the majority of India's population eats mainly vegetarian food), but there are chapters showcasing some delicious meat and fish curries too. As well as meals to feed the family, the book takes you from breakfasts worth getting up for, comforting dals and punchy chutneys, savoury snacks, sweet treats and drinks, through to staple Indian breads and spice blends.  
Here are a few recipes to tempt you to buy a copy:
Chickpea pancakes
Preparation time: 10 minutes  Cooking time: 10-15 minutes 
Makes 5 (or more if smaller)
150g gram/chickpea flour 
1 tsp salt, or to taste 
200ml water 
1 tsp ajwain/carom seeds 
¼ tsp ground turmeric 
20g fresh coriander, finely chopped 
1 fresh green chilli, finely chopped (optional) 
1 large tomato 
½ small red or white onion 
1 tbsp vegetable or rapeseed oil 
1. Place the flour and salt into a bowl (no need to sieve them) and gradually add the water while whisking until the mixture is smooth and the consistency of a normal pancake batter. If it becomes too thin, just add a little extra chickpea flour. 
2. Add the ajwain, ground turmeric, fresh coriander and green chilli, if using, to the bowl and stir them into the batter. 
3. Roughly chop the tomato and onion, place them into a blender and blitz until smooth, then add this paste to the batter. 
4. Heat a non-stick frying pan or tawa and grease with some of the oil, making sure the whole surface is covered. Add one ladleful of batter and gently smooth it out into a circle using the back of the ladle. Aim to make the pancakes around 15cm (6 inches) in diameter. 
5. Keep the heat low and gently cook the pancake until small bubbles appear on the surface. Use a spatula to make sure the pancake does not stick and to check it is nicely bronzing. 
6. When the underside is lightly bronzed, use a spatula to turn over the pancake. Cook for a further minute while checking that side is also bronzing. 
7. Once both sides are nicely bronzed, remove the pancake from the pan and serve up. Repeat the cooking process with the rest of the batter. 
Notes: These go really well with my Bengali tomato chutney (see page 191). If you eat them for lunch or supper, a simple rocket or watercress salad makes a lovely side
South Indian Tomato and Date Chutney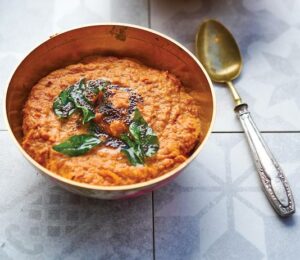 2½ tbsp vegetable oil 
1 tbsp chana dal 
2 small dried red chillies 
½ large white onion, roughly chopped 
1 heaped tsp each grated or chopped fresh ginger and garlic 
3 large tomatoes, roughly chopped 
2 dried dates, roughly chopped 
1 tsp salt 
For the tempering 
½ tsp black or brown mustard seeds 
¼ tsp asafoetida powder 6 curry leaves 
1. Heat a tablespoon of the oil in a frying pan and then add the uncooked chana dal. Move it around the pan until it browns in colour. This will take around 20- 30 seconds so do not take your eyes off it. Transfer to a small bowl to cool. 
2. Blitz the cooled chana dal in a spice grinder or grind in a pestle and mortar. It does not have to be a powder but should be broken up.
3. Using the same pan, add a little more oil if required and fry the dried red chillies. Move them around the pan so they begin to darken, then add the onion. Keep the heat low and allow the onion to soften over the next 4 minutes without bronzing. Add the ginger, garlic, tomatoes, dates and salt. Move everything around the pan for 3 minutes. 
4. Return the blitzed chana dal to the pan and stir well. Remove from the heat, then blitz the contents to form a smooth chutney. Place in a serving bowl. 
5. For the tempering, heat the remaining oil in a small clean pan and then add the mustard seeds, asafoetida and curry leaves. Move them around the pan for a minute and then pour directly on top of the chutney. Stir in just before serving
Dhaba Style Dal Fry
Preparation time: 10 minutes + 30-60 minutes soaking   Cooking time: 50-60 minutes 
Serves: 6
250g plain toor dal 
150g yellow moong/mung dal 
1.3 litres water 
2 tbsp vegetable or rapeseed oil 
1 tsp cumin seeds 
2 dried red chillies, broken in half 
Pinch of asafoetida powder
8 curry leaves (optional) 
1 red onion, finely chopped 
1 tsp salt, or to taste 
1 tsp finely grated fresh ginger or ginger paste 
1 tsp finely grated garlic or garlic paste 
1 tsp ground turmeric 
½ tsp ground cumin
½ tsp ground coriander 
½ tsp ground garam masala 
2 tomatoes, finely diced 
2 tbsp finely chopped fresh coriander 
1 tbsp ghee or oil 
3 cloves of garlic, finely sliced
1. If you have time, soak the dals in a bowl covered with water for up to an hour before cooking. Typically, I miss this part out and instead place both dals in a pan, cover them with water and gently boil for 45 minutes until they are soft when pinched between your thumb and forefinger. Scum will form on the surface while they cook, so remove it with a large spoon and discard as needed. 
2. While the dal is boiling, prepare the tempering ingredients. Begin by heating the oil in a large non-stick pan. When hot, add the cumin seeds, dried chillies, asafoetida and curry leaves. 
3. After 20 seconds, add the red onion and salt and cook for 5 minutes so that the onion softens. Stir in the ginger and garlic followed by the ground turmeric, cumin, coriander and garam masala. 
4. After 2 minutes, add the tomatoes and allow them to soften, which will take another couple of minutes. Fold half the fresh coriander into the tomato and onion mixture. 
5. Once the dal has softened completely, use a potato masher to roughly mash it so that it becomes smoother. 
6. Put 2 large serving spoons of the dal into the pan with the spiced tomato and onion mixture. Move it around the pan and then return the contents to the main dal pan. 
7. Fold the spices into the dal and leave it to cook on a low heat for a further 5 minutes. You can add more water if you prefer a more soup-like consistency, which I often do. Check the salt level and add more if necessary. 
8. Before serving the dal, heat a small pan and add the ghee or oil. When hot, add the thinly sliced garlic and stir until it begins to bronze, watching carefully as it can burn fast. 
9. Finally, pour the ghee and garlic into the dal, stir in and scatter with the remaining fresh coriander to serve.