Whether you believe in pushing the boat out for Easter gifts, or just buying a few token eggs, I've done some research for you as to those which I think are worth considering – and there's something here for all budgets.
Easter Table Decorations
I like to fill a glass bowl with an assortment of mini eggs as a centrepiece for the Easter lunch table.  It looks cheerful and spring-like, and a small vase of daffs in the middle makes it a cheerful addition.  And just to make us all have to shift a bit more excess weight afterwards, I hear that Cadbury now sells a 1kg XL Cadbury Mini Eggs Bag! £10 from Waitrose.
Vegan Gifts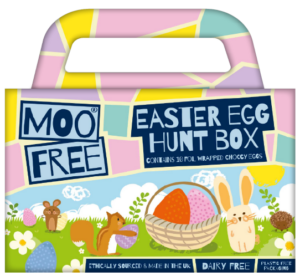 But what if you or another family member is vegan or lactose intolerant? I've discovered some really good vegan mini eggs from Moo Free, a highly ethical and sustainable chocolate producer, with a great value range of products. Their caramel mini eggs are excellent (£3 Tesco), and the company also has a very reasonably priced  Easter Egg Hunt Box (£4 Waitrose)
Easter Popcorn Treats
Still on the theme of Easter egg hunts, Joe & Seph's, those wonderful folk who make the most
delicious chocolate popcorn, have a Gourmet Easter Egg hunt for four.  It includes two chocolate popcorn mini egg pouches, three limited-edition Easter popcorn snack packs, four popcorn Easter baskets and an Easter egg hunt clue sheet. Price £25 available online here.  The company has also produced packs of chocolate popcorn mini eggs and a whole host of other yummy popcorn products for Easter – check out joeandsephs.co.uk
Galaxy Caramel
Galaxy Enchanted Eggs are good value and widely available at around £1 for an 80g bag.  And
there is also a hollow milk chocolate egg with crunchy caramel rolled in rose gold and filled  with Galaxy enchanted eggs.  Great value at £3 from Sainsbury's Asda, Iceland, Tesco and Morrisons.
One for Twix Fans
Another big treat for fans of Twix would be this Extra Large hollow chocolate egg with Twix
Xtra bars from Tesco and Iceland. It was good value at £5, but is just £3.50 at the moment for Tesco Clubcard holders! 
Italian Style from Ferrero Rocher
As a child, I lived in Malta, where there was a strong Italian influence at Easter and the eggs were always quite spectacular.  The nearest thing to this that I've seen here in the UK that hasn't cost a fortune, is this wonderful looking Ferrero Rocher Golden Easter Milk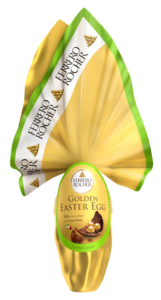 Chocolate Egg.  It's a hazelnut and milk chocolate egg and three Ferrero Rocher – and only costs £8 from Tesco.
British Artisan Chocolate Craftsmanship Personified
Moving up the price range, I was really taken by these beautifully crafted artisan chocolate quail eggs from Choc on Choc.  Made from top notch Belgian dark and white chocolate, (but produced here in the UK by a family run business) and beautifully decorated with a butterfly design, they not only look fab, but taste
amazing too!   The company also makes Caramel Filled Drippy Quail's Eggs – both are £12 for a pack of 12 mini eggs. Do check out the website, you'll be amazed at the incredibly life-like chocolate sculptures.
Changing Opinions on Liquorice
Are you a fan of liquorice?  Then I'd urge you to try these stupendously delicious 'ÆGG's from Danish confectioner LAKRIDS BY BÜLOW.  This year, the company has introduced a new, third flavour – Crunchy Toffee –  to join the Original and Crispy Caramel.  LAKRIDS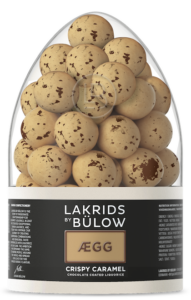 BY BÜLOW is on a mission to make the world love liquorice and it's certainly worked with me! These eggs combine soft liquorice with a creamy milk chocolate coating, dusted in liquorice powder.  They are rather addictive, I warn you!  LAKRIDS BY BÜLOW is available from £9 in prestigious UK stores including Selfridges, Fenwick, Harvey Nichols and now also St Pancras.  The eggs featured are £24 for 480g
Jewelled Perfection from Farhi
I love the range by Farhi – the products are always beautifully presented and are great value for money for top quality.  This fabulous, colourful collection of jewel-like foiled chocolate eggs is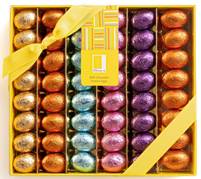 packed in neat rainbow stripes with each one filled with a crunchy hazelnut praline, will  be very gratefully received.   £17.50 for a 375g pack of 48 mini eggs, online here or also available in Harrods (£20) and John Lewis.
Egg Shaped Gift
And last, but by no means least, for a really stylish chocolate Easter gift, the range from Pierre
Marcolini of Brussels is superb.  This lovely egg-shaped box contains a dozen little praline eggs in three different flavour combinations: almond praline with sesame nougatine in a white chocolate shell; praline with pecan nougatine in a milk chocolate shell and praline with hazelnut nougatine and caramel pieces in a dark chocolate shell.  £16.90
The Ultimate Table Decoration
And for a real show-stopper, how about this stunning chocolate flower from Pierre Marcolini (to be assembled before enjoying)? A water lily on a slab of delicious hazelnut
praline milk chocolate and a selection of petals in dark and milk is something to be enjoyed by everyone at the table after Easter lunch. Both are available online here or from the Pierre Marcolini boutiques in Marylebone High Street, Selfridges and Harrods £55 for the lily.
The Taste of Easter in a Jar!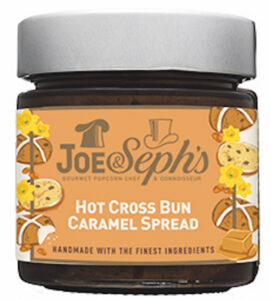 And totally away from chocolate, Joe & Seph's also produces  a wonderful jar of Easter deliciousness with their Hot Cross Bun Spread.  Not terribly sweet, but deliciously rich,  you can spread it on warm toast or crumpets (or even a hot cross bun!) for added caramel indulgence! Made with fresh double cream and infused with real raisins and citrus peel.  I'm going to try making an Easter bread & butter pudding with it spread on the bread…yum!  £4.30 from Ocado or online from Joe & Sephs