At long last the sun has been shining, the garden is springing to life and the house can be filled with cheerful bunches of daffodils!  With this weekend being the Easter bank holiday, here are some suggestions for food and wines for a paschal gathering with friends and family that won't break the bank.
Easter Sunday
For me, Easter Sunday lunch has to be roast lamb.  It's a great time for English lamb, but New Zealand can be much better value if you're watching costs.  There are lots of offers at the moment in various supermarkets… Marks and Spencer has a £20 Easter Meal Deal for four,  that includes lamb shoulder and three side dishes.  And Lidl has English West Country Lamb on offer, while Tesco has whole leg joints at half price at the moment for Clubcard holders. There's a great Jamie Oliver recipe here for anyone who feels nervous about cooking a roast for a crowd.
A New Twist on the Traditional Roast
But you might want to be a tad more adventurous? Here's a delicious,  slow roast shoulder of lamb recipe from Opies:
Slow Roast Lamb Shoulder with Onions & Peas 
Serves 6-8
Preparation time:  30 minutes Cooking time: 3 hours + Allergens: Fish, sulphites, dairy
1.5kg lamb shoulder joint
50g anchovies in oil
2 flat cloves garlic, sliced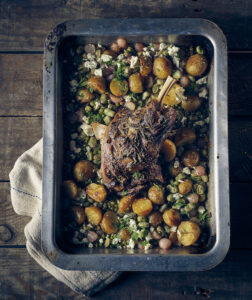 2 sprigs rosemary
Salt and pepper, to taste
2 tbsp olive oil
1kg new potatoes
1 jar Opies Silverskin Onions with Red Wine Vinegar
325g broad beans
300g peas
175ml white wine
100g feta cheese
Fresh mint leaves, chopped
Method
Preheat the oven to 170°C / 150°C fan / Gas 3. Place the lamb in a roasting tin and using a knife, pierce the shoulder all over. Drain the anchovies and cut each fillet into three, then stuff a piece inside each hole along with a sliver of garlic and a few leaves of rosemary.  Season the lamb generously all over and drizzle with oil, then cover with foil and place in the oven for 2 hours. Meanwhile, halve the new potatoes and silverskin onions.
Bring a large pan of salted water to the boil, then Add the potatoes to the lamb tray, turn the oven up to 200°C / 180°C fan / Gas 6 and roast for 30 minutes until starting to brown. Next add the broad beans, peas, white wine and silverskin onions and return to the oven for a further half an hour.
Remove from the oven, crumble the feta cheese over, scatter over the mint and serve.
Easter Wine Suggestions
Lots of supermarkets are offering a 25 percent discount at the moment, if you stock up on six or more bottles.  Here are a couple that I think are definitely worth considering:
A Great Value Fizz
Start your Easter celebrations with a great value bottle of fizz: Codorniu Brut.  
Like champagne, this cava is made according to the 'Traditional Method'. It's a fresh, crisp and elegant sparkling wine, with attractive flavours of citrus and apple and a stream of fine, persistent bubbles.  Brilliant value at just £7 a bottle, from Sainsburys.
A Stonkingly Good Red
You'll probably want a nice bottle of red wine to enjoy with your lamb, however you decide to cook it.  Do look out for this excellent value Marqués de los Zancos Rioja Crianza.  It's a fruity, medium bodied Rioja, aged in barrels for 12 months.

Inspired by the traditional Riojan Danza de los Zancos (Stilts dance), with swirls of soft vanilla and a subtle flourish of peppery spice, it's very good value at £6.75 a bottle at Tesco.
Hot Cross Buns
There's a plethora of 'new' hot cross buns on the market, but I'm afraid that I much prefer the original style.  Toasted and buttered, they are so delicious, but I also enjoy them toasted, and then filled with a slice of cheese while still piping hot. Try it! 
Simnel Cake
I also enjoy a slice of Simnel cake on Easter Sunday.  Here's a great one in the Tesco Finest range for £12 and it would make a lovely gift if you're a guest over Easter.
However you spend this weekend, and whatever your religious convictions, I hope you'll enjoy celebrating these new beginnings, and the start of spring.  
Happy Easter!