When Tesla offered the me a T
esla X for the weekend, I was apprehensive about driving a 2.5 tonne vehicle, slightly intimidated by the extensive computer system and couldn't shake off the nagging feeling that I might find myself somewhere in Thames Valley with a flat battery. Here's what I made of a vehicle which is starting to gain traction in our neck of the woods ….
As a former foreign correspondent and current affairs reporter on ITV's Tonight with Trevor McDonald, I have had to drive all manner of vehicles in many different parts of the world, sometimes under difficult circumstances.
I am not normally troubled by the challenges of a new motor, even under extreme pressure. I once drove from Florida to New York after terrorists bombed the Twin Towers. It was impossible to fly journalists across the Atlantic and so I drove up the Interstate 95 in an automatic of indeterminate capability with two producers from ITV. It took 27 hours and frankly the technical problems over a live shot with Jonathan Dimbleby stressed me out more than the drive
But the night before I got behind the wheel of the Tesla X, I must confess to being a little nervous. I am not a motor fanatic. I do not like big cars and the idea of navigating my way around in a £100,000 vehicle stretched my sense of responsibility to its limits.
I had an hour of instruction from the excellent Communications Manager at Tesla, Emma Rahmani, and then turned on to the M4 and headed to Buckinghamshire to meet my brother on the grounds that of he can technically instruct the maintenance of ejector seats to Air Forces all over the world for Martin Baker, he could certainly give me some moral support.
The funny thing was within twenty minutes, I started to relax and enjoy not just driving but travelling. The Tesla X is unlike any other car I have driven. I felt safe in the Tesla X which, although sophisticated, is simple to drive and an enjoyable to experience. It has also been awarded a 5-star safety rating in every category by Americas National Highway Traffic Safety Administration making it the first SUV to receive the federal government's highest safety rating across the board.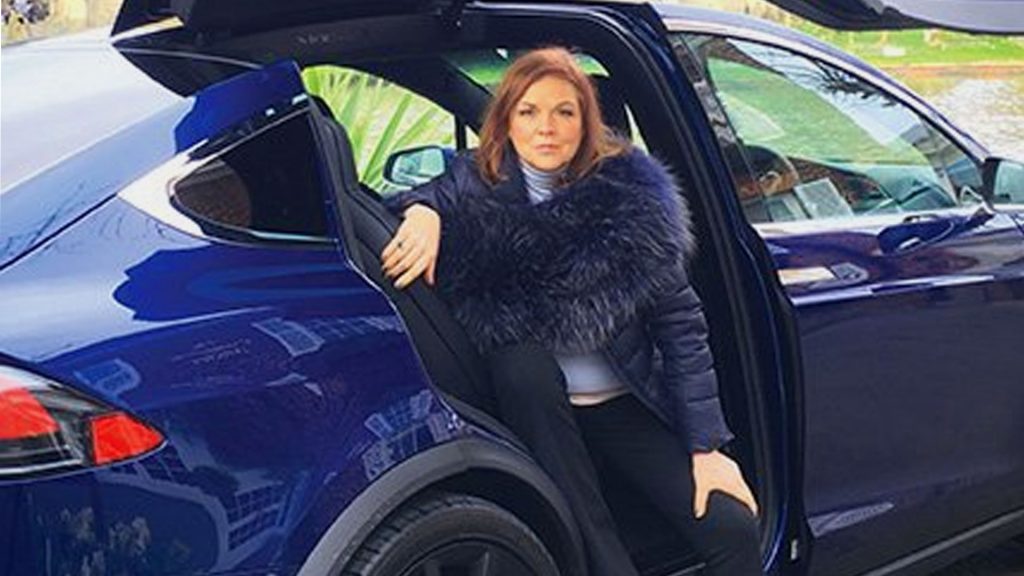 Darkness fell and I made my way back to Twickenham for a meeting with our advertisers, Thames Travel. I arrived 15 minutes early, un-hassled and the object of much admiration when I parked the car in Riverdale Road.
The following day I picked up our Food Writer Alison Jee. We drove to Marlow to review Sindhu at the Compleat Angler. Her piece is on page xx. Several RiverTribers had mentioned their interest in the restaurant and it was a chance to get back on the motorway.
To say the journey was stress free would be an understatement. It was a pleasure….even with a spot of concern over the narrow gateway on Marlow's bridge which I decided to avoid and enter the town by the longer route. The Tesla X is a deceptively wide car. New owners should tattoo this fact to an appropriate body part.
I got up the next morning to drive over to the Osterley home of Sindhu's owner, Atul Kochhar, who agreed to be photographed in the grounds. He is a big Tesla fan and, despite being on a business trip to Dubai, ordered the Tesla 3 on the day its UK launch was announced.
He loved the Model X – particularly the spacious interior. I had all seven passenger spaces set up to show him. He is a dedicated supporter of electric cars and drove a Gee Whiz until a road crash just before the birth of his child meant he had to be cut free from the wreckage. He has always wanted another electric car and felt a Tesla would fit the bill.
Later that day I took our Property Correspondent, Anne Ashworth, and her husband, for a spin in Richmond Park. On a sparkling day with endless blue skies, this is where the cars huge front windscreen comes into its own. The trip was a pleasure.
My worst fears about the test drive centred around charging. Tesla buyers usually have chargers installed in their homes, garages or driveways. The company's mantra is to treat the car like a mobile phone….plug it in every night as soon as you get home. This was not an option for me so I found out where the local charging points were. I used one in the Sainsbury Car Park off Manor Road, Richmond and an Eco-city charger at Heston Services on the M4.
Both exercises when without a hitch – except that I nearly shut myself in the boot at Heston when I accidentally pressed the boot closure on the fob as I leant in to retrieve my handbag. I have a gift for this kind of mishap.
The next morning, I returned the car. It was quite a wrench….and I never thought I would say that. It is a wonderful car and a key element in our battle to clean up the environment. For RiverTribe eco-warriors it is a no-brainer.
RiverTribe reviews…..
Atul Kochhar, Executive chef, Sindhu Restaurant: "I am a big fan of Tesla. I think this is a fabulous car. I ordered a Tesla 3 as soon as the announcement of the production schedule came out. The X is a very exciting and powerful car. It will become iconic.

Marketing Director of Savills, Fiona Stewart, said, "Electric cars will be commonplace very soon. This is an amazing car. The real game-changer will be the Tesla 3. I am certainly thinking of buying one."

Communications Trainer, Tom Maddocks, said, "It is a very impressive car. Without a doubt, Elon Musk had led the way with this and the Tesla S. Charging is the biggest issue and people need to do their research to feel really comfortable before buying one. It will be interesting to see what happens once Tesla's rivals make progress."

Property Columnist, Anne Ashworth, said, "It is certainly the car of the future. You can feel its weight and stability and that gives a sense of security. The back is spacious but I did feel the seat belts needed quite a bit of adjusting."

Tony Malcolm, writer: "This motor is a monster. More of a MPV than a 4×4. Not sure you can actual call it a motor, as you have to plug it in. As a bona-fide petrol head, I am yet to be convinced. I have to resolve this issue as an ardent supporter of helping London overcome its crippling CO2 emissions from exhausts.

The Tesla does turn heads. It's Falcon wing doors are reminiscent of the Back to the Future DeLorean DMC-12. It is the future. Will I be going back to it? We shall see."

Zak Malcolm, Art director: "I loved the big bold display unit and the comfortable leather seats. For me the Falcon wing doors would be more useful for the driver and front passenger. I would definitely buy the smaller version."

Food Writer, Alison Jee, said, "It is certainly a very comfortable car. I felt very safe in it. It is exceptionally wide and this is something everyone should take into account when it comes to driving around built-up areas. I thought the car shaped key remote was a nice touch".