Do you wear sunscreen on your face every day?  Well, if not, perhaps you should!  Millions of Brits are putting themselves at risk of skin cancer and irreversible sun damage. That's according to Hada Labo Tokyo — the leading Japanese skin care brand centred on science, innovation and user experiences.   At least two in five women are failing to apply sunscreens effectively2 and one in four will ignore recent warnings from the British Association of Dermatologists (BAD) that we should use sunscreen for half the year.
Backed by Research
The same Hada Labo Tokyo real-world research poll shows that two in five women (44%) do not use a sun cream, when they do, a third (32%) use a product with an SPF of 20 or lower.
Even this underestimates the extent of the problem. The Hada Labo Tokyo survey shows that 29% of females only apply sunscreen when they are outside, or when they are already showing signs of sunburn — despite NHS advice that these products should be applied TWICE before going out, once 30 minutes before and again just before venturing outside.
Older women — who are at the highest risk of skin cancer after a lifetime of exposure — are the least likely to protect their skin, with only 48% using sun protection daily, compared to 64% of 18- to 24-year- olds.
Malignant melanoma is now the fifth most common cancer in the UK5 and the number of people diagnosed with this often-deadly cancer has, apparently, more than doubled since the 1990s.  Every year, there are 16,700 new cases and almost nine out of ten of these are (86%) are entirely preventable.
Dr Hilary Jones
Dr Hilary Jones, an adviser to the Hada Labo Tokyo Skin Care Panel says: "The reality is that our love affair with the sun means that one in five people in the UK will develop skin cancer at some time in their life — and climate change means this risk will continue to rise if we do not do more to prevent sun damage.
"In recent years we have spent millions of pounds promoting sun safety, and raising awareness of the risks of sunburn and the importance of using sunscreens, but the message simply isn't getting through.
"As a paper published nearly ten years ago pointed out, we have failed to curb the incidence and mortality rates.' Shockingly, death rates are now higher in the UK than they are in Australia."
Dr Catherine Hood
Women's health specialist and a member of the Hada Labo Tokyo Skin Care Panel, Dr Catherine Hood, believes: "It's time we stopped simply repeating messages and campaigns which aren't working and look at why people are not using sunscreens, despite clear evidence that they will help to save our skin and possibly our lives.
"The only way we will address this public health challenge is to find out why people are choosing not to use sunscreens as often as they should."
INTRODUCING HADA LABO TOKYO'S NEW SUN-CARE COLLECTION SKIN SAVIOURS:
In order to address the key barriers associated with existing products, Hada Labo has created two silky smooth sun-care saviours which are super-light and easy to apply and combine SPF 50 sun protection with super-hydrating hyaluronic acid.
NEW Hada Labo Tokyo Water-Resistant Moisturising Sunscreen: Face Cream SPF 50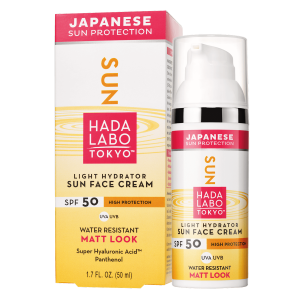 This new Hada Labo Tokyo suncreeen for the face is a light cream with an SPF50, providing the highest protection against sun rays. The cosmetic uses top- quality, photostable filters to shield the skin against harmful UVA and UVB radiation which can be the main cause of skin spots or discolourations.
Besides forming an effective shield against UVA and UVB radiation –– this air light cream has potent anti- ageing properties. The face cream includes Panthenol, which helps to regenerate collagen and elastin, while the Hada Labo Tokyo signature ingredient, Super Hyaluronic Acid, is intensely moisturising, ensuring the skin is very well hydrated. RRP: £16.95
New Hada Labo Tokyo Water-Resistant Moisturising Sunscreen: Sun Lotion SPF 50
Featuring all the incredible benefits of the exclusive face cream, as well as protection from sun damage and signs of ageing, the new Hada Labo SPF 50 Sun Lotion makes sunny days a breeze. A dry-touch consistency, delivered in a quick-absorbing and non-greasy formula makes the lotion a dream to apply — even on wet skin and has an SPF 50.
The new Hada Labo Tokyo Sun Lotion guarantees the highest protection against sun rays. This is thanks to the skin scientists at Hada Labo Tokyo bottling up the very latest clinically proven quality, photostable filters to shield the skin against harmful UVA and UVB radiation. And to hydrate the skin thoroughly, vital for when in the sun, the New Hada Labo Tokyo Water- Resistant Moisturising Sun Lotion SPF 50 contains three intensively moisturising Super Hyaluronic Acid ingredients to help prolong skin hydration needs and bust ageing in the sun. In addition, the new Hada Labo sun lotion includes the regenerating Panthenol, and rebuilding anti-ageing ingredients – Collagen and Elastin. RRP: £18.95
All Hada Labo Tokyo products are manufactured based on original Japanese formulas Hada is Japanese for skin and has been the number one brand in Japan for over a decade; Labo stands for laboratory; so, Hada Labo Tokyo means Skin Lab Tokyo.
Where to Buy?
Hada Labo products are fab – I've tried some and can thoroughly recommend them.  The interesting aspect for me, is the fact that they're very reasonably priced indeed for such superior products.  You can buy Hada Labo at Superdrug or from Amazon