Folks, I'm talking about a restaurant, not a tree!  Hawthorn opened earlier this year just by Kew Gardens station – in the site formerly occupied by The Glass House.  But the space has undergone an extensive refurb.  It's  run by a chef who certainly knows his stuff and has honed his skills in some very elite kitchens.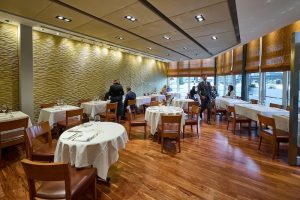 Joshua Hunter
Chef Joshua Hunter is classically trained and has cooked in Michelin-starred restaurants including Kitchen W8, Murano by Angela Hartnett, and La Trompette, as well as for celebrity private clients including the Beckham family and Tom Cruise.
Focusing on modern European cuisine, Joshua creates dishes taking inspiration from fresh, seasonal ingredients. He uses carefully chosen suppliers to create simple, unfussy dishes that prioritise flavour and combine his passion for British game and wild food.  
A Good Value Set Lunch
I met a friend there recently to try the set lunch (Three courses weekdays  £47.50 or £52.50 on Saturday).  There were choices of five dishes for each course – pretty impressive I thought.  I started with an interesting cocktail – a white port spritz.  It was refreshing and a generous glassful and it's inspired me to create long summer drinks with port and other dessert wines.  We were brought a delicious amuse bouche of a dainty tuille filled with homemade taramasalata while we scanned the menu.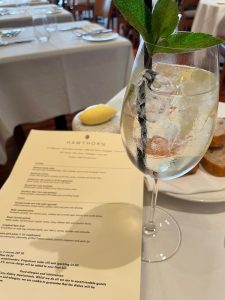 As it was lunchtime, I didn't want anything too heavy, so opted for fish for both courses. I started with seared loin of tuna (with crispy chilli and garlic dressing, confit belly, ponzu, avocado and spring onion.   It was very tasty and I adored the dressing.  The tuna was cooked to pink perfection.  
My friend had chosen the pressed ham hock persillade (served with a whole wheat muffin and truffled Jersey Royal potato salad).  I confess that I did have a certain amount of food envy as it looked amazing.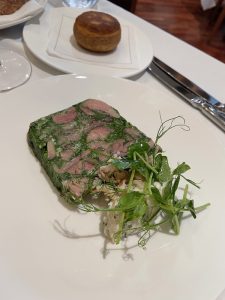 A glass of Chenin Blanc from Stellenbosch was suggested to accompany my meal and was a perfect pairing.  
Main Courses
Roast Cornish pollock (with Nduja butter, borlotti bean ragout, clams, crispy chicken skin and coastal herbs) was really superb.  When the beautiful plate arrived, I  thought the portion was, perhaps, a tad on the small side – but no, it was actually just the right amount, and truly excellent.  My friend chose the butter poached plaice (with Parmesan gnocchi, new season peas, smoked eel, braised gem lettuce and confit lemon)  Another exceptionally well presented and flavoursome dish.  This chef really knows how to balance flavours.
Not Just Desserts!
As dessert was included in the set menu, we felt obliged to test the kitchen skills a bit further. Wanting something light, I chose Affogato; it was spectacular and served with white chocolate stracciatella ice cream and a delicious chocolate cracker on top.  My friend chose the restaurant's signature dish: Granny Smith apple crumble souffle – again a tremendously good dessert as it was served hot, and then a portion of custard ice cream placed on top.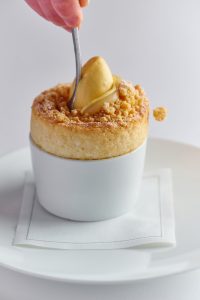 A perfect end to the meal was coffee, served with truffles and mini meringues.
To Sum Up – Do Try it for Yourself
This destination restaurant really is a superb addition to the local restaurant scene in Kew. Its proximity to the tube station is, no doubt, already attracting foodies from West London and beyond.  There is free parking in the evenings as well, but I'd recommend hopping on the tube so that nobody has to draw the short straw and be the duty driver.
 Dessert photo by Tim Green