I've been fortunate to meet Jo Pratt on a couple of occasions now, at various food festivals, and she gave a great demonstration at last year's Surrey Food Festival.  Hopefully, when things are back to 'normal' we will all be able to go along to it again and see her prepare more of her delicious recipes.
I was already a fan of her Flexible Pescatarian and Flexible Vegetarian cookbooks, and her latest tome – The Flexible Family Cookbook– is another fabulous book.  It has just been published, by Frances Lincoln, at £20 for a lovely hardback. As with her other 'Flexible' books, Jo realises that many families nowadays have one or two members who can't or won't eat certain foods, so her recipes give multi variations on each recipe's theme.  In fact, the book gives so many options it represents amazing value for money too! Ever practical, Jo offers a variety of family friendly recipes that can be used for cooking balanced, nutritious meals to suit a host of requirements. Recipes range from traybakes and one-pot roasts (easy and convenient timesavers), to scrumptious puds and simple bakes (enabling smaller hands to help). Covering everything from gluten-free, nut-free, dairy-free cooking and veganism, to suggestions for flavour and spice adjustments for younger or fussier palettes, this book's a culinary lifesaver and a crowd pleaser.
A fellow West London resident, Jo Pratt is an award-winning writer, cook, food stylist and presenter. The best-selling author of seven cookbooks, she's worked with many high-profile chefs and brands including Marcus Wareing, Jamie Oliver and the late, lovely, Gary Rhodes. And being a mum, she shares her tips on encouraging youngsters to enjoy experimenting with different flavours.
I've chosen a couple of recipes for you to give you a taste of the book: Creamy Pea, Spinach & Cashew Soup and Mango & Coconut Chicken – both perfect for this time of year.
CREAMY PEA, SPINACH AND CASHEW SOUP (Time taken 30 minutes / Serves 4–6)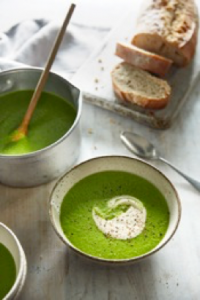 'We actually just call this 'pea soup' in our house as the kids weren't keen on knowing there was spinach and cashew nuts in it, so I shortened its title to reduce the moaning. However, without these the soup wouldn't have its wonderful vibrant colour and creaminess, not to mention the punch of nutritional goodness. The kids know no different and enjoy it anyway, so it's a winner all round.'
125g/4½ oz cashew nuts
2 tbsp olive oil
1 large onion, chopped
1 stick celery, finely chopped
700ml/1¼ pints/scant 3 cups hot vegetable stock
500g/1 lb 2 oz frozen peas
100g/3½ oz fresh spinach
flaked sea salt and freshly ground black pepper
crusty bread, to serve
Put the cashew nuts in a bowl and pour over enough boiling water to thoroughly cover. Set aside to soften. Meanwhile, heat the oil in a large saucepan over a medium heat. Add the onion and celery, and gently sauté for about 10–12 minutes until they are softened but not coloured. Increase the heat and pour in the stock. Bring the stock to the boil and then stir in the peas and spinach. Once the stock returns to the boil, cook for 1 minute, then remove from the heat. Drain the cashews and transfer them to a blender or food processor with 200ml/7 fl oz/scant 1 cup cold water. Blitz thoroughly until you have a really smooth and creamy consistency. Reserve about one quarter of the cashew cream for spooning on top of the soup when serving and keep the rest in the blender.
Ladle the soup into the blender with the cashew cream and blitz until smooth – work in batches if necessary.
Return the soup to the pan, season with salt and pepper to taste and reheat if needed. Spoon into bowls and dollop on or swirl in the reserved cashew cream and serve with crusty bread.
Flexible
Nut-free: the cashew nuts can be substituted for 125g/4½ oz silken tofu, which blends really nicely into the soup and also gives you a low-fat, high-protein addition, too.
Get ahead: as with most soups, I'll often make this in a big batch and freeze half in individual portions for an emergency nutritious lunch.
MANGO AND COCONUT CHICKEN(Time taken 50 minutes / Serves 6)
'I started to make this recipe when the kids were little and I was trying to introduce more spice in their diet. The addition of mango brings a mellow sweetness to the curry, balancing out the spices perfectly. For more heat, I like to scatter some chopped fresh chilli on mine at the end. Or for a hotter curry for everyone, you can add chilli flakes at the start. You can also cook veggies in the sauce to bulk it out.'
2 tbsp coconut, sunflower or rapeseed (canola) oil
1 large onion, finely diced
2 tsp grated ginger
5 tbsp Korma or a mild curry paste
1 tbsp tomato purée
800g/1 lb 12 oz boneless chicken pieces (thigh or breast), cut into bite-size chunks.
1 x 400ml/14 fl oz tin coconut milk
1 large ripe mango, peeled and chopped into small pieces
75g/2¾ oz ground almonds
flaked sea salt
To serve:
½ –1 mango, peeled and sliced
handful of toasted coconut flakes
Steamed Basmati Rice
Heat the oil in a large wide saucepan over a medium-high heat. Add the onion and ginger. Sauté for about 8 minutes until the onion is softened and becoming golden. Add the curry paste and tomato purée, stir for around 30 seconds or so, before mixing in the chicken. Stir to coat in the paste and
cook until the chicken has started to brown all over.
Mix in the coconut milk, mango and ground almonds. Bring to a simmer and cook uncovered for 30 minutes for the sauce to thicken and the chicken to cook through. Season to taste, and serve with
sliced mango, coconut flakes, and coriander on top, alongside the basmati rice.
Flexible:
Pescatarian: make the sauce as above but minus any chicken. Once its cooked, add skinless fillets of any sustainable white fish, salmon or even some prawns. Spoon over the sauce and bring to a simmer. They will only need 5–10 minutes cooking time, depending on their thickness.
Vegetarian: diced paneer, halloumi and chickpeas are good protein-rich substitutes for the chicken, with the addition of cauliflower florets and broccoli to bulk out the sauce.
Nut-free:if you can't have ground almonds then the same quantity of desiccated coconut can be used.