The Circus with a Difference
Giffords Circus isn't just any old circus – it's SO much more! The most beautiful, enchanting circus I have ever seen.. and I've been to a few in the world!
Started 19 years ago by Toti and the late Nell Gifford – A traditional British village circus, blended with extraordinary acts from all over the world. This year's show is Les Enfants du Paradis taking inspiration from French Romanticism in the mid-19th Century. I found the show to be wild and wonderful, gone are the tacky circus clowns, hello to amazing athletes and performers creating a magical and exciting atmosphere.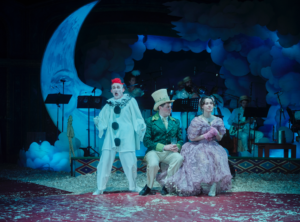 Giffords Circus has entertained over a million people so far worked with some extraordinary circus performers and creative geniuses: Attila the Hungarian horseman from the Great Hungarian Plain; Ethiopian jugglers and longtime friends of the family Bibi and Bichu; Tweedy the clown; The Donnert Family and their team of jockey riders flipping from horse to horse; Gabor Vosteen who played Mozart on five recorders, three in his mouth, one in each nostril; lovely Liverpudlian Michael Fletcher who stole the show as swinging 7's ringmaster in Xanadu; the ethereal and inimitable clown Nancy Trotter Landry; Molly Molloy, the choreographer who redefines Burlesque; eccentric dancer Barry Grantham; the amazing Angela de Castro and of course the comedy genius that is Cal McCrystal. My favourite at Chiswick House was Antony Cesar performing on his aerial straps.
What can you see and do there?
It also has a travelling restaurant, Circus Sauce, headed by chef Ols Halas. Circus Sauce is Giffords Circus unique, travelling licensed restaurant which opens for dinner in the evening. It has a weekly changing menu of three-courses costing from £50 adults and £30 children. Held in a beautifully decorated tent, on-site, for circus goers to satisfy their appetite after all the fun of the performances!
If you're not doing the dinner, then there are circus wagons and tents in front of the big top you will find all kinds of delights. In the main tent you will be able to buy cans of water and drinks, sweets, freshly spun pink candyfloss and popcorn. In the cafe wagon we serve such delicious food such as loaded fries, veg tempura, pulled pork burgers with rhubarb and hot dogs, also tea and coffee. New for 2023 they have a French style bistrot serving steak frites, tartiflette and other French inspired dishes.
More about the founder Nell Gifford…
Nell grew up in Oxford, before moving aged seven to rural Minety on the Wiltshire/Gloucestershire border. As a child, Nell would play for hours with her younger sister Clover, playing on their ponies and dreaming up magical worlds.
"I held the jewel of my childhood up to my eye, and through it I saw ponies and a dressing-up box and a tent, and that was Giffords Circus." Nell Gifford
Nell ran away with a circus when she was eighteen, travelling to the US to work for Circus Flora and her brother-in-law Gerald Balding and fell instantly in love with this overlooked art form. She read English at New College Oxford and then following her graduation worked on several circuses; Bobby Roberts, Santus Circus and the Chinese State Circus before joining Circus Roncalli in Germany. But throughout her travels she always kept her dream, remembered from childhood, of starting her own village green circus.
Together Nell and Toti Gifford (Nell's former husband) realised this dream.  They spent every penny they had buying a round, white tent from the Trade It newspaper, and building a maroon and gold showmans wagon to live in. They advertised for performers and dancers in The Stage newspaper and held auditions in a dusty little theatre in Cheltenham (which is now The Playhouse).
Nell would travel to Cuba, Paris, Moscow, rural Hungary, Romania and beyond in search of talent.  People who were prepared to give up their own life, temporarily, and throw in their lot with Nell and bring their mastery of a certain skill to the show.  Gypsy violinists, tap dancers, tight-rope walkers, trapeze artistes, stunt riders, opera singers, magicians, illusionists, gymnasts all have inhabited Giffords Circus.  They travelled with the Giffords family, stopping to set up camp on commons and village greens.  They welcomed local families, farmers, weekenders, tourists, film stars, rock stars, artists, pensioners, shop keepers and school children who all so love the show and who make up the audience.
Nell discovered she had breast cancer in 2015, and in 2019 before she passed away made this poignant film with Gem Hall, sharing her very personal experience of living a creative and inspiring life with cancer.
https://www.youtube.com/watch?v=3HBKxHxmrS0
Giffords Circus 2023 tour will be calling at Chiswick House and Gardens 2nd – 19th June and tickets are on sale now!
https://giffordscircus.digitickets.co.uk/tickets
Lyndsay Kenwright