Summer in a Glass
I love rosé wine.  For me, it's 'summer in a glass', but it is, in fact, an all-year wine, and while almost every country that produces wine has a rosé, I think we all have to admit that Provence rosés have stolen the march on most others here in the UK.  It's not surprising, as the area boasts nearly 300,000 hours of sunshine each year, and is swept by 32 different winds. These winds help to dry and air the vines, protecting them from fungal disease, with each wind producing a mesoclimate with unique characteristics.  Nearly half of the rosés produced in France are from Provence and – surprise surprise – the UK is one of the top three countries exported to!  (The US is top in case you were wondering).  And, amazingly, Marks & Spencer reports that last summer it sold 25 bottles a minute!
Why is Provence Rosé so Popular?
There are many reasons why Provence rosé is so popular:  It's easy to drink; aesthetically pleasing; has a great mouth feel; is pale and dry, yet aromatic and reliably consistent in quality.  It also pairs really well with so many different foods, from fish to cheese, and it's a great daytime drink.  
Rosés from other regions can often vary a great deal in sweetness and colour.  That's not necessarily a bad thing, but if you're looking for consistency, you'd be wise to choose from Provence.   The area being synonymous with rosé does, of course, have a negative factor: there is usually  a premium price attached to it!   I enjoy a Spanish rosé rioja from a well-known German supermarket when holidaying in Mallorca (and it's always rather galling to find the same wine at about three times the price here in the UK).   
For a long time rosé wasn't considered a serious category in the wine industry, and I understand that some sommeliers still don't consider it a table wine – they have the perception that it's just a drink to enjoy on the terrace on a hot summer day.  They're wrong!
So what's so special about rosé?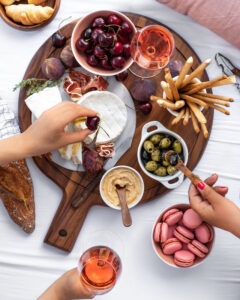 Well, a good rosé should be fruit-forward and have a crisp, dry finish. It might display notes of summer berries, stone fruit, crisp acidity and a touch of blossom. Some  have more of a savoury, herbaceous element and thirst-quenching minerality. Rosés can be sweet or dry.  They can come from the old world or Europe – the latter tend to veer towards the drier end of the spectrum, while new world rosés can often  be sweeter, and fruitier. Of course, the grape type, region, climate and production method can lead to marked differences in the flavour of the wine – which is even more reason to explore different varieties to find your favourite!  Rose can also pair surprisingly well with all manner of diverse foods – for example, soft cheeses, lamb, and even spicy food such as Asian or Middle Eastern.  Here are some of my recommendations, in a range of price brackets:
Mirabeau Pure Provence Rose
This is Mirabeau's flagship wine, inspired by sunny, lazy Côte d'Azur days. With notes of summer fruits, and a hint of rhubarb, it's a great aperitif, as well as with food. Normally around £16 a bottle, but currently on special offer at Waitrose for £12.99 
Barton & Guestier Tourmaline 2020 Côtes de Provence
Perfect for a summer party, this fresh, fruity Provence Rosé Magnum (150cl as opposed to the usual 70cl) is an elegant Provence rosé that has Grenache, Cinsault and Syrah grapes. With lovely floral, citrus, pear, peach and red berry notes, it also has a herbal note.   £26 for 150cl magnum at Waitrose
Maison Castel Côtes de Provence Rosé 
This is a superb example of Provence Rosé, and it tastes as fabulous as it looks, with a beautiful pale pink hue, the hint of freshly picked red fruits and delicate

flavours of wild strawberry, all wrapped up in a wonderfully stylish bottle. £14.99 at Waitrose.
Cave Des Roches Coteaux D'aix En Provence 75Cl
A dry, fruity rosé with flavours of juicy red berries & delicate citrus fruit from the vineyards of Provence. Cinsault, Grenache, Shiraz/Syrah grapes.  Stonkingly good value from Tesco at £7.50 but there's also a 25% discount for Clubcard holders currently – so hurry before the offer finishes next week!
Arbousset Tavel Rose 75cl
Tavel is a Cru in the southern Rhône Valley that produces only rosé wines, known for their complexity and finesse. They can be appreciated in their youth ,and unlike much rosé, can also be considered for ageing. The Arbousset Rosé is dry and full bodied, with notes of grapefruit, raspberries and spices. Its great complexity means it can be enjoyed throughout the year, as well as with foods such as grilled meats, spicy cuisine, cheeses and fruity desserts. 

Another one from Tesco, and a tad more pricey at £12 but worth it (and don't forget the discount offer!)
If you're interested in art (and a fan of Provence), you might like to take yourself to Waitrose (in person or online) and buy a bottle of this exclusive, special edition Minuty M at £19.99.

Minuty M is a blend of Grenache, Cinsault and Syrah. A wine redolent of the Provençal countryside, with appealing citrus and herbaceous notes that yield aromas of white-fleshed fruits.  This limited edition bottle of Minuty M cuvée pursues an artistic journey with Hanna KL, a Swedish visual artist who reinterprets the iconic bottle with a joyful mix of illustrations and vibrant colours this year.   Inspired by the awakening of the senses, this new flacon transports you to Saint-Tropez via poetic images and the artist's vision of the five senses, illustrating the  sensorial memory captured in the heart of the Riviera.
Minuty is a family story, and for four generations, the men and women of Minuty have used their know-how and expertise of family heritage by  producing rosés, whites and reds emblematic of the Côtes de Provence. During  2022, Minuty sold more than 9 million bottles worldwide!
So, let's raise a glass to those lovely folk in Provence, who produce such wonderful wines… Santé!