I don't know about you, but I find that I need different graters for a variety of foods.  (And then your favourite one either disappears somewhere in one of those kitchen drawers that holds a plethora of culinary 'odds n sods' – just when you need to lay your hands on it in a hurry!)  So, in the interests of helping you choose the best selection – and be a 'grate' (sic) help, I've done some research on your behalf: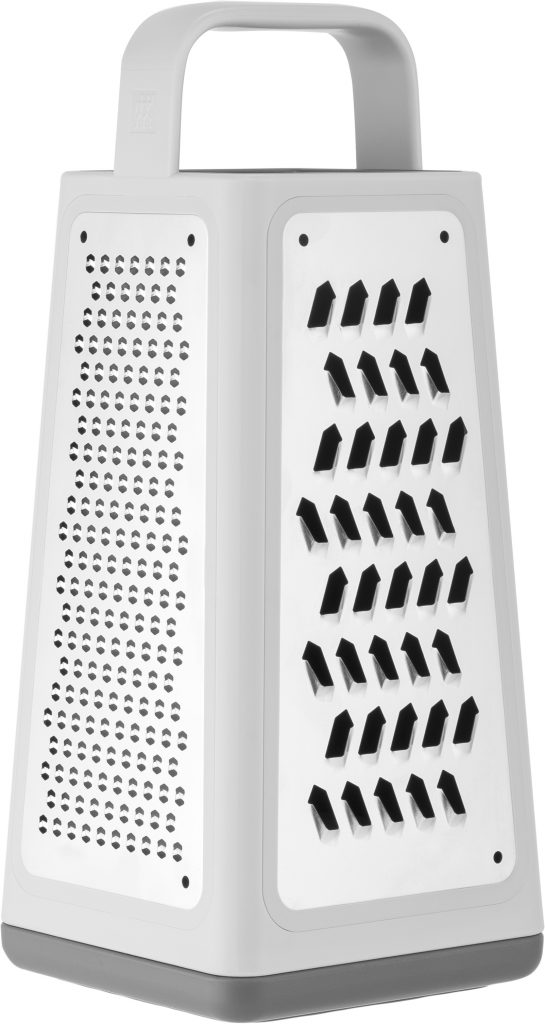 German company ZWILLING is, I think, probably the 'Porsche' of graters. Its newly launched range of Z-Cut graters is superb.  The Tower grater, for example, is sturdy, easy to clean and well designed – it even has an integral box for collecting what you've grated, and an anti-slip base.  Add to this a protective cover for when you're storing it, four sides for fine, medium and coarse grating as well as a slicing blade, Zwilling has every option covered for you.  The rrp for the Zwilling Z-Cut Tower Grater is £40 but it's quality and will last.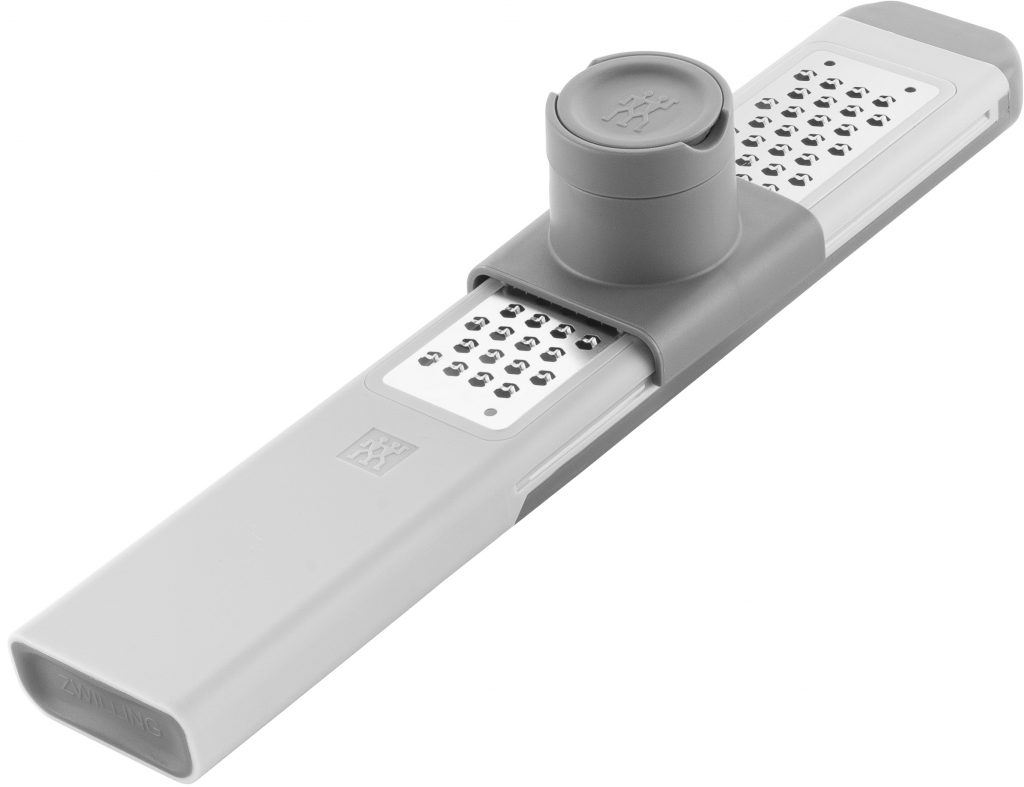 Another natty little grater from ZWILLING is the Z-Cut Fine Grater, ideal for  grating and zesting lemons and limes to add extra zing to any meal. It has a holder for smaller food items to keep fingers safe, a collection tray, unique blade design for precision two-way grating and is priced at £19.95.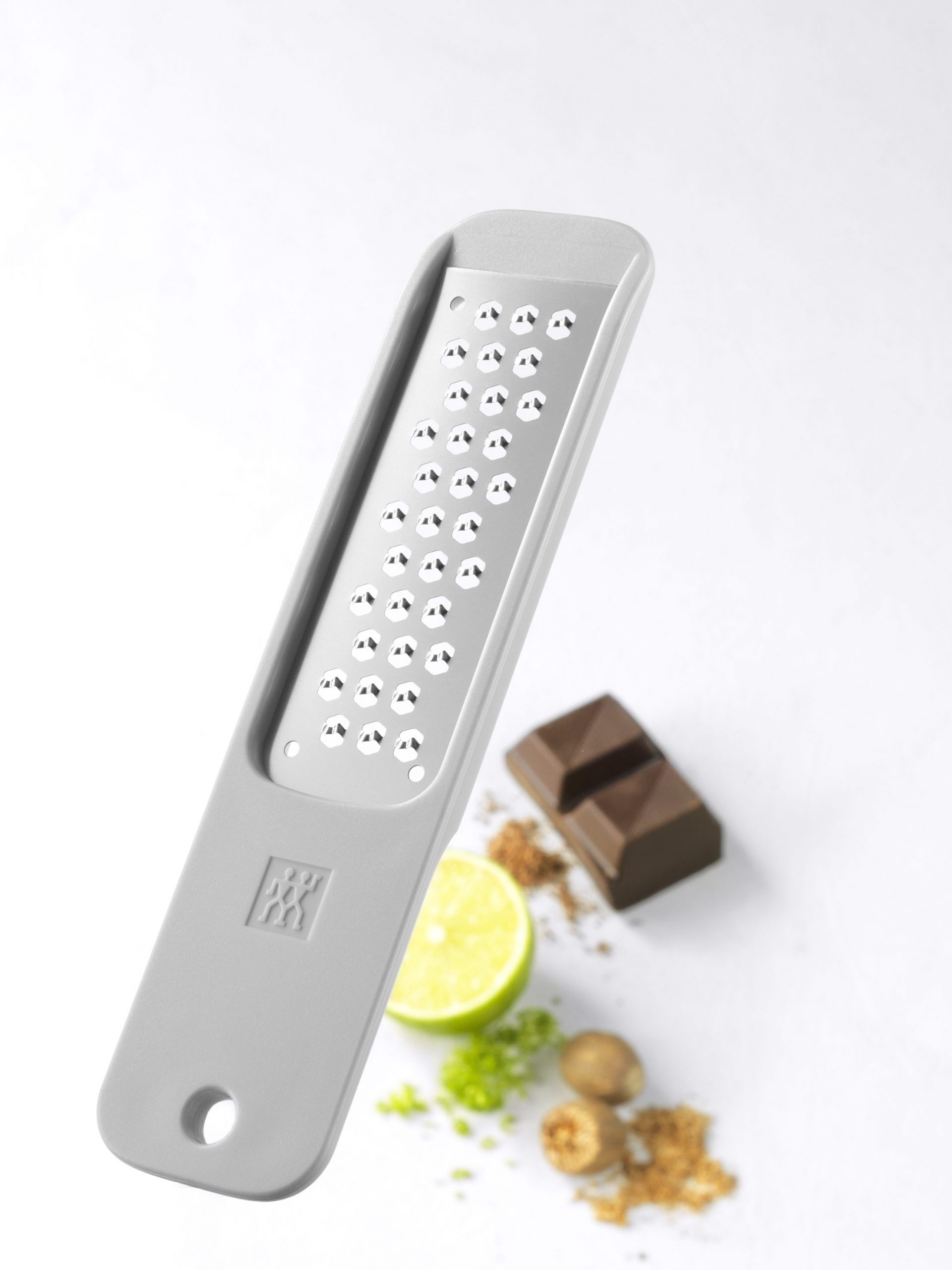 And last but not least from ZWILLING is the Z-Cut Mini Grater.   This Mini Grater is ideal for small nubs of ingredients such as nutmeg, wasabi, garlic and chocolate.  The grater's unique blade design offers precision grating while the two-way effect saves time. Made from high-quality stainless steel, it's dishwasher safe and  priced at £7.95.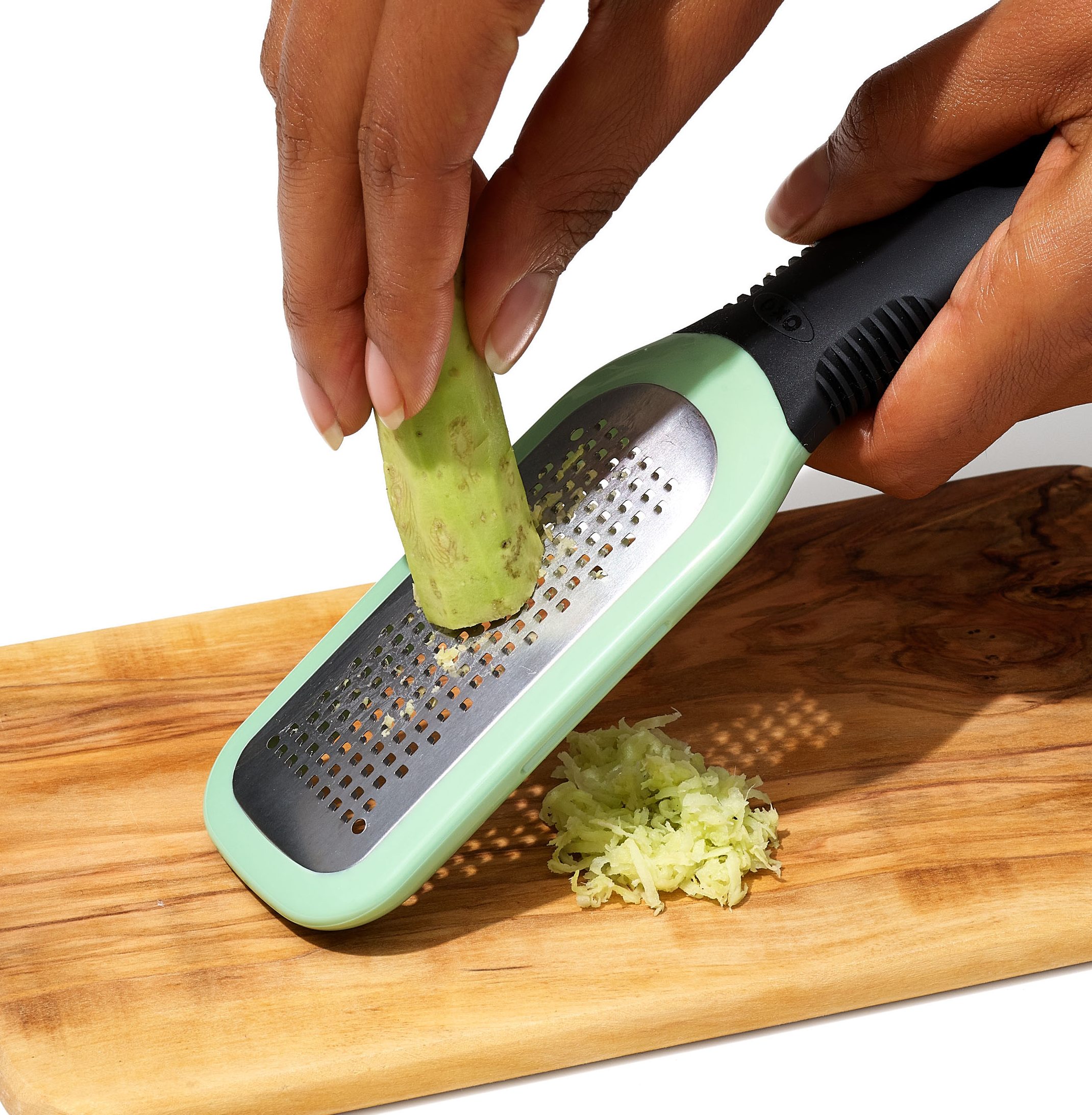 Every curry enthusiast likes to prepare their own pastes, and this Etched Ginger and Garlic Grater from OXO is a speedy little gadget that makes short work of troublesome, fibrous ingredients like ginger and turmeric.  Again with a non-slip foot, and a snap-on cover that also acts as a scraper to help gather your paste and keep your hands free from strong food scents and staining. Around £12.50 from John Lewis and Amazon
Another well-known name in graters is, of course, Microplane.  The newly launched Bowl Grater is a clever design as it fits across the top easily and efficiently grates vegetables, fruit and hard cheeses directly into a container. It sits comfortably across a bowl (up to 16cm in diameter). It can be placed horizontally across the surface or inside / at an angle in the food bowl, allowing for secure, comfortable and quick grating thanks to two rounded and non-slip handles on both sides perfectly moulded to the contours of the container, preventing slippage. The extra coarse blade creates a larger texture, so is ideal for raw vegetable salads and coleslaws as well as dishes such as frittatas and vegetable gratins. It's also perfect for helping make flaky pastry, just remember to chill the butter before grating! Dishwasher safe, the Bowl Grater can also be cleaned quickly by simply rinsing under the tap. RRR £19.95 from John Lewis.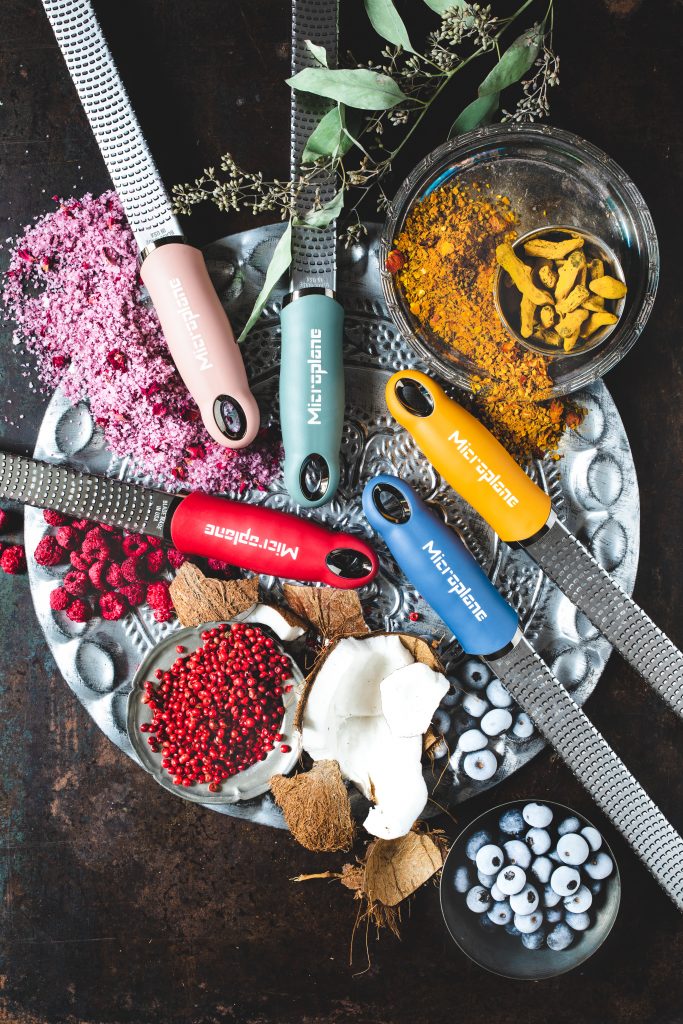 Microplane is, of course, a brand often used by professional chefs, and when you use one, you realise why! You can easily grate hard cheeses into fine wisps with Microplane's iconic Zester/Grater. Perfect for a number of fine Italian dishes from Caesar salad to pasta, it's also ideal for zesting citrus to add a natural kick to desserts. This zester is designed to remove zest but leave behind the bitter-tasting pith.  It also has a non-slip foot and a plastic cover to protect it in the drawer.  Around £24 from Harts of Stur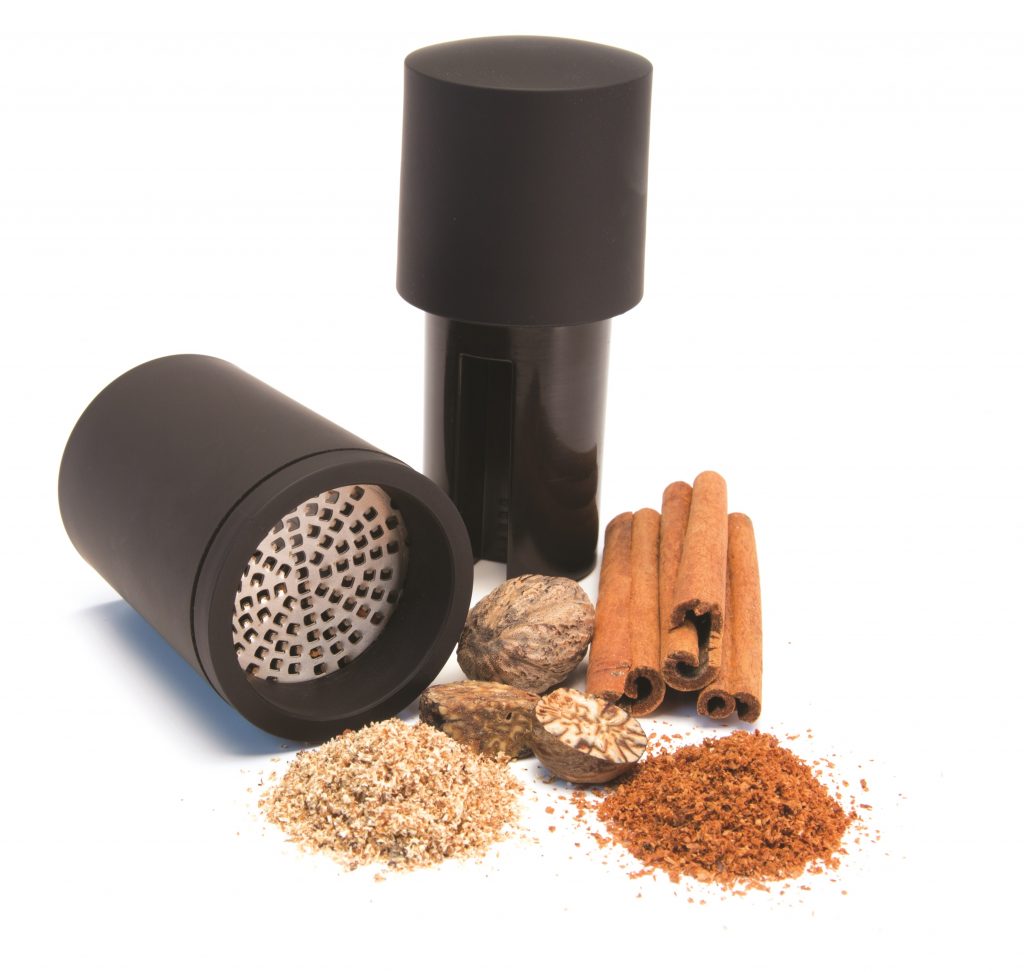 And finally, the Microplane 2 in 1 Spice Mill is another neat little gadget, with razor-sharp stainless steel blades that effortlessly grates those hard spices such as Indian Long Pepper, nutmeg and cinnamon.  It also stores gratings in a small, airtight compartment for future use.  Around £24 from Harts of Stur
I used to have a selection of cheap and cheerful graters that I'd acquired over the years, but I've now got rid of them.  This is because I've realised that if you spend wisely, and buy the best quality you can afford, it's worth it, as those quality ones will last for years.  
I hope these have given you some 'grate' food for thought when it comes to investing in any of these all-important kitchen tools.