I haven't been tempted – yet – to view the new Barbie film, despite lots of friends (male, surprisingly, and female) saying how good it is.  Also, with the weather finally having given us a brief summer, and not too bakingly hot, it's the perfect time to light that barbie – the one in the garden of course!  
Whoosh! And it's with you
Interestingly, research from Tesco Whoosh reveals that a barbecue is our top summer mealtime moment, yet 24% often feel unprepared when hosting friends and family. This research was commissioned by Tesco alongside news that its delivery service Whoosh can now deliver from door to door from as little as 20 minutes, making it a helpful option to bring last minute essentials for barbecues or supply extra drinks and nibbles for those impromptu get-togethers (that hopefully will continue into the warm late summer evenings).
If you haven't invested in a barbecue yet, it's also a good time to buy one, as many garden centres will be discounting them.  We bought a new one this year from Aldi, and it seems to be great, and was amazingly good value.  
So, in the spirit of Barbie, I thought it a good time to give you some recommendations:
The range of ready-to-cook barbecue food keeps expanding.  To be honest, unless you are a serious BBQ aficionado, wanting to prepare everything yourself, I really recommend trying the ranges from the major supermarkets.
Good old M&S comes up trumps
Ever reliable, Marks and Spencer has an excellent range and there are some great in-store offers, like the amazing-value grill deal.  For just £12 you can pick up three products such as Asian-style chicken wing kebabs, smoky cheese and onion beef burger, hog roast doughnut burgers and lots more. 
Add to this the fact that they also stock a wide range of extras, like sauces, cheese slices, crinkle-cut gherkins and you're sorted in one trip. 
I recently tried some of the kebabs:  Turkish style beef and Greek style pork.  Both were delicious and so easy to cook. 
The other product I really enjoyed from M&S was a halloumi quarter pounder (£5.25 for two) that held together beautifully, and made a refreshing change from meat. 
I still have to try the chilli and halloumi kebabs (£5.25 for four) …maybe this weekend!
BBQ Sauce Trio
Finding the best BBQ sauce can be time consuming, but the new range from Tracklements has something for every taste and spice tolerance.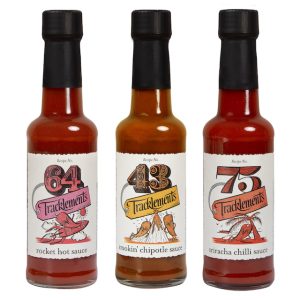 Tracklements Rocket Hot Sauce (v hot), Tracklements Sriracha Chilli Sauce (less hot) and Tracklements Smokin' Chipotle Sauce (much milder) are available individually, at £3.50 for 150ml bottles, from fine food delis and farm shops or online here.  
But I'd recommend buying all three – as you'll be sure to find a myriad of other recipe uses for them.
Fab Pink Fizz
While the barbecue is heating up, I do enjoy a glass of sparkling wine, and Codorníu cava is one of my favourites, and the Codorníu rosé is the ideal bottle to have on hand. 
The grapes to produce their cavas are selected from centuries-old vineyards, following guidelines of sustainable viticulture. By following the traditional method of double fermentation, Codorníu combines innovation and tradition and produces a deliciously fruity cava. 
It's also very reasonably priced for the quality and widely available from supermarkets, or fine wine shops from around £6.25 a bottle (Sainsburys and currently if you buy six or more there's a 25% discount, so worth stocking up)
Have fun getting fired up this bank holiday weekend!