Bowl food? Wholesome bowls?  The very description doesn't really do justice to the simple concept and convenience of putting a fabulous selection of one dish recipes into a cookbook. It will inspire you: It's packed with one dish recipes that use only fresh, whole foods to build a bowl of flavour, comfort and nourishment. The recipes are designed to fit your lifestyle and allow you to fall in love again with cooking. 
A Clever New Cookbook
Wholesome Bowls is written by Melissa Delport, an international award-winning author, integrative holistic health coach, private chef and wellness retreat facilitator.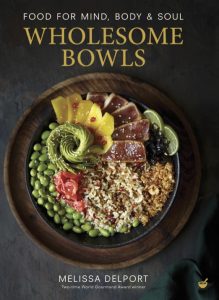 She found fame after entering MasterChef in South Africa.  After years of being a fad dieter, Melissa discovered the path to health and wellbeing. Learning to release fear around mealtimes, coupled with her knowledge of food, mindfulness practice and a desire to share this way of eating, the concept of Wholesome Bowls was born.
It's a great book and has recipes such as Turkish Eggs with Spicy Sesame Drizzle for brunch, a gooey Balsamic Fig and Goats Cheese Bowl for lunch, a warming Pearl Barley Mushroom Risotto or a vibrant Chicken Fajita Bowl for dinner. For something sweet there's Vegan Sweet Potato and Chilli Brownie Bowl or Spiced Hummingbird Cake with Cashew Cream Cheese Frosting.  Wholesome Bowls is published by Nourish Books at £20 , hardback
Here are a few recipes to inspire you:
THE SHROOM BOWL
mushroom, croutons and poached egg bowl (vegetarian) serves 2
This is a decadent, creamy and crunchy breakfast. It is very satisfying while also packing in many healthy elements. You can also try preparing eggs in different ways – scrambled, poached or boiled – to pair with this bowl. 
2 teaspoons coconut oil 1 red onion, chopped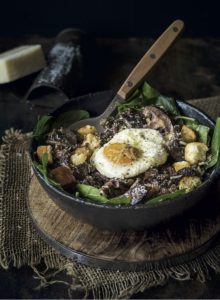 2 cloves garlic, minced 
2–3 teaspoons fresh rosemary leaves
2–3 teaspoons fresh thyme leaves 
400g (14oz) mixed mushrooms
2 tablespoons mascarpone
25g (1oz/1⁄4 cup) finely grated parmesan cheese
salt and pepper
2 eggs
1 handful baby spinach croutons (a few per bowl) 
zest of 1 lemon 
In a medium-sized frying pan over medium heat, add the coconut oil and onion and sauté until translucent. Add the garlic and herbs and fry for another 5 minutes. Remove the onion mixture from the pan and set aside in a bowl.
Turn the heat up to high and add the mushrooms, about a quarter at a time, frying for about 5 minutes with each addition. Adding them in batches prevents the mushrooms from boiling and allows them to fry, releasing their earthy flavours.
Once all the mushrooms are golden brown, return the onion mixture to the frying pan and turn the heat down to low. Add the mascarpone and Parmesan and fold through. Season to taste and remove from the heat.
For the eggs, cook them to your liking. Fried eggs work well with this recipe and add to the decadence of the creamy mushrooms. If you're wanting something less decadent, add poached or boiled eggs.
Build your bowl by layering your ingredients, starting with the spinach, then the mushrooms, eggs and croutons, and finish it off with fresh lemon zest. 
HEALTH FACT
Eggs are a good source  of vitamin B6, which helps maintain a healthy nervous system. They also help produce melatonin and serotonin, which are fundamental for sleeping patterns and mood stability. 
THE FIG AND GOAT
fig and goat's cheese salad (vegetarian) – serves 4
"The fig really shines as the hero of this dish and is a prime example of how fruit can fit perfectly into a savoury dish. "
2 red onions, quartered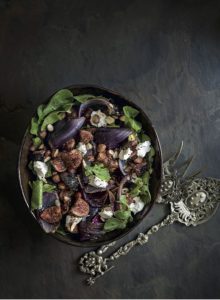 2–3 teaspoons fresh thyme leaves 2 teaspoons coconut oil
salt and pepper
3 tablespoons olive oil 2 tablespoons balsamic vinegar
1 teaspoon ground cinnamon
10 ripe fresh figs, washed and quartered
2 handfuls rocket
50g (13/4oz) goat's cheese, crumbled 
80g (23/4oz) hazelnuts, crushed 
Preheat the oven to 180°C/350°F/Gas 4.
Mix the onions, thyme, coconut oil, salt and pepper together in a roasting pan until the onions are well coated. Roast for 25 minutes or until soft and some of
 the edges have started to char.
In a mixing bowl, mix the olive oil, balsamic vinegar and cinnamon together well. Add the figs to the bowl and coat with the mixture. Use a large bowl to assemble the salad. Layer the salad, starting with the rocket, then the red onions, figs and finally the goat's cheese. Top with crushed hazelnuts and serve. 
HEALTH FACT
Figs are nature's detoxifier and goat's cheese is a great alternative to cow's milk cheese. See how you feel after you eat a certain type of food and pay attention to what works best for your body. 
FRILLS NO FUSS
kale and grape quinoa salad
(vegan)
serves 6 
"I love this recipe because there is such a contrast of flavours, from the bitterness of the kale to the sweetness of the grapes. If you couple kale with the right flavours then you will discover just how great its taste and texture is." 
SALAD
250g (9oz) chickpeas/ garbanzo beans, cooked 
2 teaspoons coconut oil salt1/2 teaspoon cayenne pepper 
1/2 bunch kale, stalks removed and leaves torn
2 tablespoons olive oil
400g (14oz) seedless red grapes,washed and halved
1/2 small red onion, finely chopped 
45g (13/4oz/1/2 cup) finely chopped red cabbage
65g (21⁄4oz/1/2 cup) walnuts
2 tablespoons sunflower seeds 
185g (61⁄4oz/1 cup) quinoa, cooked as per the packet instructions
DRESSING
juice of 1 lemon

2 tablespoons olive oil
2 teaspoons dijon mustard 
1 tablespoon honey
2 cloves garlic, minced 
salt and pepper 
Preheat the oven to 180°C/350°F/Gas 4.
Arrange the chickpeas/garbanzo beans on a baking sheet, add the coconut oil, a good pinch of salt and a light dusting of cayenne pepper. Roast for 25–30 minutes, giving them a toss at the halfway point. You want the chickpeas to be crunchy but not little rocks.
Put the kale into a large salad bowl. Drizzle with olive oil and gently massage the leaves until they wilt. Add the grapes, onion, cabbage, walnuts and sunflower seeds and toss together.
Mix all the dressing ingredients together in a small bowl and add to the salad bowl, along with the quinoa. Toss together.
Top with the roasted chickpeas just before serving. If you add them to the salad too soon they'll lose their crunch. 
HEALTH FACT
Kale is very high in vitamins C and A, and iron, which gives your immune system the ammo it needs to keep you healthy.