Most of us have done it: made a New Year resolution – often a mixture of guilt and optimism.  And it inspires many of us to cut back on all those indulgences we've enjoyed over the festive period.  I don't know about you, but January's a miserable enough month, without the extra burden of cutting back on alcohol!  So I personally think it's better to have a 'Damp January', rather than a Dry one. According to research, the 'all or nothing' approach to alcohol consumption is not sustainable. Sunnyside, a mindful drinking app, reported that 35% of people aiming to take part in Dry January last year had a drink in the first week. And when you've slipped up, it's hard to motivate yourself to carry on. So, I'm trying to avoid alcohol during the week, (but not if a special occasion warrants indulging).  Here are some of the new drinks that I've researched for you…and it's worth noting that lots of the websites have special offer pricing currently too.
Grown Drinks:
With an impressively low abv of 4.5% and just 45kcals per can, GROWN is a great light alcoholic drink; minus the headache.
Instead of using soda or sugary tonics, GROWN keeps it natural using apple wine from Kentish culinary and dessert apples. This provides a distinctly crisp and refreshing mouthfeel. Botanicals are then added to give the drinks their unique finish. Although made in a similar way to a fine fruit wine, GROWN is 75% less calories than your average glass of white wine. Sustainably produced in Kent and crafted from a blend of organic & natural ingredients, these ready to go cans and bottles are available in two flavours; Sparkling Rhubarb & Ginger, and Elderflower & Fresh Basil. £15 – case of 4 from growndrinks.co.uk

Everleaf:
I'd encountered Everleaf some years ago and really liked its 'ecclesiastical' notes, so I was pleased to discover that there are two additional expressions now.  One of the bestselling non-alcoholic brands in the UK, Everleaf Forest was the first, and then Mountain and Marine in 2020 and 2022, Everleaf has also launched its signature serve, the Everleaf Spritz into ready-to-drink cans. Everleaf Forest is still my favourite – an intricate blend of 14 bittersweet botanicals including sweet orange blossom, vanilla, bitter gentian and more, it's bittersweet and complex. Everleaf Mountain is more aromatic and vibrant, while Marine is crisp and refreshing. But they are all good.  Available to purchase online via Everleaf's website and Amazon, with Forest available to buy at Marks and Spencer nationwide . RRP – £19 per 500ml 
Pentire Coastal Spritz: 
Another range extension – and a really good one – is Pentire's Coastal Spritz.  Naturally distilled coastal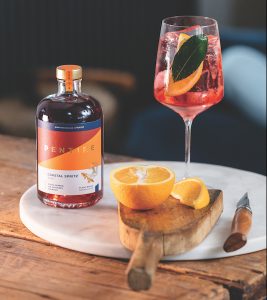 botanicals blend with Blood Orange, Sea Rosemary and Oakwood to create the perfect balance of natural bitter flavours and refreshing coastal tones. Ideal for aperitif moments, it can complement a meal, stand alone as a refresher, or be enjoyed as a preprandial. Available from Master of Malt or Pentire at around £22 a 50cl bottle.
Tame & Wild:
 This is a premium sparkling soft drink that's available in four fruity flavours, all inspired by the British countryside. It's founded by Yorkshire strawberry farmer Annabel Makin Jones, who wanted to create an adult soft drink that was artifice-free, bursting with flavour.  With four flavours  (Damson, Rosehip & Passionflower, Rhubarb, Elderberry & Rose, Strawberry, Cucumber & Lime flower, Blueberry, Dandelion & Lavender) these award-winning drinks are less than 30 calories and have less than 5g of sugar. Not cheap at £2.25 a 275ml bottle, but I'd suggest trying the full range in the gift pack at £10 Available at TameandWild or premium stockists including Selfridges, Fortnum & Mason and Daylesford Farm Shops.
Thatcher's Zero:
Crafted using a selection of bittersweet apple varieties, the blend of traditional and modern apples used in Thatchers
Zero creates an alcohol-free cider with body, smoothness and character.  With its crisp, medium dry character and fruity aroma, Thatchers Zero retains the taste and character of a true cider but without the alcohol.  To be honest, one wouldn't realise it's alcohol free.   It's also gluten free, vegan and widely available in Sainsbury's, Tesco Asda and the Co-op at around £2 a 500ml bottle.
Ticket beer:
This is a saffron-enriched alcohol free, vegan pale ale (0.5ABV) with a strong Persian influence (infused with saffron, lavender and orange), which mingles with malt barley to create an interesting, balanced beer.  Ticket will appeal to many women who, like me, aren't usually beer drinkers.  This beer is refreshing and pairs well with food. Available from Ticket directly or WholeFoods Box at £3 for 330ml can or bottle.
Guinness 0.0: 
The Guinness brewers have worked tirelessly to ensure that Guinness Zero lives up to the Guinness name with its smooth, cool, dark taste.  The alcohol has been removed without removing the character of the brand. My husband was very impressed indeed when he tried it.   It's also low calorie at only 80 calories per standard 500ml can.  Widely available in major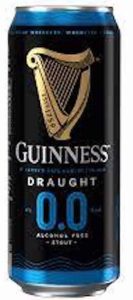 supermarkets for around £1 per 500ml can.
Gordon's Alcohol-free 0.0:
Like Guinness, when you have a brand name to live up to, it's important to get the zero alcohol version correctly made.  Gordon's 0.0 uses its usual distilled botanicals and the result contains no more than 0.015% ABV.  It delivers a pretty reasonable attempt at the bold, piney juniper led character you'd expect from Gordon's but is slightly sweet. But it's reasonably priced at £12 and widely available.
Tanqueray 0.0:
I have to say that I preferred the Tanqueray 0.0 to the Gordon's when I tasted them.  Both are juniper-heavy in the style of traditional London Gins, but Tanqueray 0.0 has a bit more bite or bitterness without the lingering sweetness of the Gordon's. The Tanqueray is also widely available and slightly more expensive at around £14 a bottle, but in my opinion worth paying the small premium.  
Mavrik: 
I'm really impressed with these four non-alcoholic cocktails from Mavrik.  They taste as though they actually contain some alcohol.  Flavours are: Aromatic G&T; Cuban Mojito; Venetian Spritz or Storm & Spice and only 50 calories a can. Available from
  independent stockists or online from Mavrik, at £9.75 for a tasting pack of all four flavours. then you can create your own mixed case of 12 for £23.80
Crodino: 
If, like me, you're a Negroni fan, then I would urge you to try Crodino. a surprisingly Non-Alcoholic Italian Aperitivo.  With a distinctively rich and bittersweet taste (plus the fact that it's produced by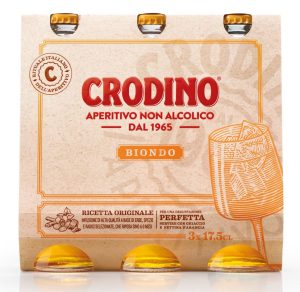 Campari adding 'street cred') Crodino is great.  It's easy-to-serve, in a long-stem wine glass filled generously with ice and finished with a slice of fresh orange.  And it's widely available too, from Waitrose and Sainsburys at £4 for 3x175ml bottles.
Cheers!