Summer is, at long last, here and seems to be rushing by!  Here are some of the new food and drink products that I've discovered for you in June and wanted to share with you:
Fabulous Crisps
I try to avoid eating too many crisps, but these two new flavours from KETTLE® Chips are just far too good to resist! Sriracha Mayo and Dill Pickle & Jalapeño.
These moreish crisps draw inspiration from the company's US roots, and, trust me, they are seriously delicious! KETTLE® Chips are hand cooked in small batches in Norfolk, 100% of the potatoes used are British, and contain no artificial flavours, MSG or colours. 
Around £2.40 for a sharing bag from Waitrose, Tesco and other stockists.
Truffle Mayo Heaven
Anything truffle flavoured always appeals to me, and Hunter & Gather, the brand behind the UK's first and only avocado oil mayonnaise range, has launched a limited edition, delicious, truffle mayonnaise.  
Avocado Oil White Truffle Mayonnaise is made in the UK with absolutely no seed or sunflower oils, sugar, grains or added nasties. 
The result is an exquisite, creamy mayonnaise that's the perfect accompaniment to summer salads, steaks, or sweet potato fries.  Or just use it as a dip for raw veg, or  make the most wonderful egg mayonnaise! 
Available to buy from the new Hunter & Gather app and online at www.hunterandgatherfoods.com. £10 for a 250g glass jar.
Easy Smoothies
On a hot summer day, a really refreshing and easy breakfast is a smoothie.  Naked Smoothies has just launched two new flavours: Strawberry & Banana (with strawberries, banana, apples and sour cherries) and Pineapple & Passionfruit (pineapple, passionfruit, apples and banana).
They're really rather good and pack a flavour punch, with no added sugar or nasties.
Available in 300ml and larger 750ml bottles (perfect for sharing), at Tesco, Sainsbury's, and independents priced at around £2.50 and £3.75 respectively.  
Fabulous Spanish White
I've just returned from a lovely week in Spain and I'm delighted to find that one of my favourite white wines –  Viñas del Rey Albariño is available in the Tesco Finest range. 
It's such an elegant wine, with aromas of apricot, honeysuckle and notes of fresh grapefruit and mandarin. £10.50 a bottle (and currently on the Clubcard 25% offer).
French Desserts with Ease
Inspired by the traditional French dessert: Liégeois, new Bonne Maman Coffee Crème dessert is a sumptuous, aromatic creamy café au lait style dessert with a rich and creamy coffee crème, topped with a light Chantilly cream.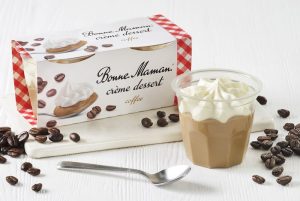 The company has also launched a Dark Chocolate Crème dessert that's equally scrumptious.  They really are extremely good and provide a superb summer finale to a lunch or dinner (or a picnic).  They contain no artificial colours, flavours or sweeteners. 
In packs of 2 x 90g pots, they're available initially at Sainsbury's and Waitrose stores nationwide at £2.55 rrp.   
Amazingly Good World Class Vodka
I'm generally not a fan of 'flavoured' gins or vodkas, but I've found one of each that I heartily recommend you try:  
The first is an Indian Mango flavoured vodka from Desi Daru that's so good, it's won countless awards, including World's Best Flavoured Vodka at the World Vodka Awards! 
Desi Daru is owned by British-born Indians, who celebrate the best of the two countries they call home, using ingredients from the Himalayas to the jungle plus our own English countryside.  It's a newly-launched brand, just a year old, but it's certainly going places, and certainly one to watch!
Desi Daru's Alphonso Mango-flavoured vodka is seriously fabulous – either served neat on the rocks, or in a cocktail. 
The brand also produces the Desi Daru Original, distilled using English winter wheat and the purest water from the snow-capped Himalayas. 
Available from around £35 a 70cl bottle from The Whisky Exchange or Amazon.
A Gin worth Chasing
This gin is one that's so summery,  I really feel I need to drink it in the garden!
Chase Pink Grapefruit & Pomelo is the perfect summer tipple for a gin lover like me. It has powerful notes of pink grapefruit combined with subtle hints of juniper and lime zest.
Made with classic gin botanicals distilled with grapefruit peel it's wonderfully zesty.  Serve with lots of ice, tonic and a slice of grapefruit.   It's also won multiple awards and is made at the Chase Distillery in Herefordshire. Try it too in a delicious Pink Grapefruit and Thyme Cocktail.  
Around £29 for 70 cl from Sainsbury's, Waitrose or Amazon or online from Chase 
A Chilean Wine to Help You Chill

While on the subject of grapefruit, here's a rather special wine:  
Boutique Chilean winery Leyda's new 2022 Reserva Sauvignon Blanc Garuma is the ultimate summer sauvignon and pairs well with fish and shellfish.
This lovely Chilean wine starts with notes of fresh grapefruit, joined by lime as it slowly warms. Lime and lemon zest move centre stage as the grapefruit wanes, with nice acidity and a medium-length finish delivering a well-rounded experience. 
A perfect summer wine at a great value price! Exclusively available from Tesco from at £10.00 per bottle (£8.00 when on promotion from 26th June to 16th July)
The Ultimate Yorkie
And finally, if you are visiting any food festivals this summer, do look out for Marshall & Co chocolate. I met them at the Foodies Festival and the products are excellent.
The founder has a family history of confectionery – originating from his great, great, grand aunt who ran a sweet shop in Todmorden, Yorkshire at the turn of the last century.  And in whose AGA the cocoa beans are roasted to this day. This bean-to-bar vegan chocolate is really good.
There are six different bars available on the website here