We've got another burst of hot weather on the horizon apparently, and I can't think of a better way to cool down that with a delicious cocktail.  I'd never considered using a dessert wine for summer cocktails, but a recent visit to review a restaurant in Kew (Hawthorn if you were wondering – review to come very soon) started me thinking:  At Hawthorn I was offered a white port spritz – delicious and very refreshing.  
So, inspired by the idea of using a sweet wine for summer cocktails, I was delighted to discover that Brown Brothers Orange Muscat & Flora (a delicious Australian sweet wine) was already on the case!  
With its brilliant gold colour, zesty citrus note and a hint of honey and spice, it's already one of my favourite 'stickies'.
Brown Brothers Orange Muscat & Flora is a surprisingly inexpensive wine – £8.50 for a 37.5cl bottle in Tesco and it's as versatile as it is delicious.  It's fabulous with blue cheese or summer desserts, as well as being such a refreshing cocktail ingredient.
So here are a few ideas for you to try – the Martini will go down a treat while watching Wimbledon:
ORANGE MUSCAT & FLORA & FIZZ 
Glass: Chilled Glass Champagne Flute 8-10oz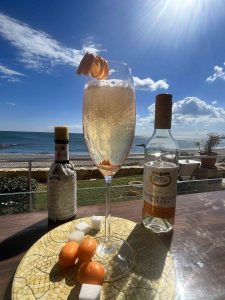 25ml Orange Muscat & Flora
100-125ml Pre-Chilled Regular or Lime Soda in Day Time or 100-125ml Champagne 
(no ice)
Method: 
Add Orange Muscat & Flora

Add Preferred Fizz 

Drop sugar cube seasoned with drops of aromatic bitters 
Garnish Options: 
– Orange Twist 
– Sugar Cubed angostura bitters 
HIGH BALL 
Glass: Tall Glass or Wine Glass 14oz
50ml Orange Muscat & Flora
25ml Fresh pink grapefruit juice squeeze
15ml Campari
Soda roughly 100ml (Use glass rim as gauge) 
Cubed ice
Method:
Build Ingredients into glass with cubed ice

Topped a highly charged soda a few inches from top

Light Stir and Swizzle with long bar spoon add more ice & straw
Garnish Options: 
– Pink G Twist 
– Rosemary 
– Tall Straw
Use one, or a combination
PRIMA VERA FIX
Glass: Tall Glass 12oz or Wine Glass or Copa 16oz
15ml sugar
4 lime wedges 
50ml – 75ml Orange Muscat & Flora 
125ml soda or tonic
cubed ice
Method: 
Add bar spoon of caster sugar or 15 ml sugar syrup

Add 2 squeezed lime wedges

3/4 fill glass with ice 

Add 2 squeezed lime wedges 

Add tonic or soda an inch from top of glass

Stir room bottom, Add more ice 
Garnish Options: 
– Lime Wedge
– Sprig mint
– Tall Straw
MARTINI OF CHAMPIONS
Glass: Cocktail Coup or Martini Glass
– Gin 25ml
– 50ml Orange Muscat & Flora
– 25ml Lemon
– 3/4 Bar Spoon Marmalade or runny honey 
– See heighten garnish options if you have ingredients in stock 
– No Ice in glass
Method: 
1. Add ingredients into your shaker with ice
2. Shake ingredients with Cubed Ice in shaker
3. Strain into pre chilled cocktail glass without ice
Garnish Options:
– Lemon Wheel or Twist 
– Triangles of freshly toasted bread 
– Butter & marmalade onside 
– Sprinkles of goats cheese
Instead of Marmalade
– Toasted Triangles, slices of Avocado, honey drizzle, rock salt