A Great New Cookbook for Chicken fans
Almost everyone likes fried chicken, unless, of course, you're vegan or vegetarian!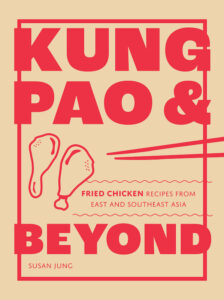 Even if you're trying to be good and lose weight, there are those occasions when a really delicious fried chicken dish just fits the bill perfectly (I know, I've been there too!). I've recently encountered a magnificent homage to fried chicken, written by Susan Jung, a food columnist for Vogue Hong Kong.  Kung Pao & Beyond: Fried Chicken Recipes from East and Southeast Asia has just been published by Hardie Grant at £20 for a lovely hardback. 
Susan Jung
Jung was also food and wine editor for the South China Morning Post for almost 25 years and in this time, her readers constantly requested more fried chicken recipes.  Her own love of fried chicken knows no bounds – she is obsessed, and has travelled the world trying and testing every fried chicken recipe you could wish for.  The recipes in this book take this humble fast food to a whole new level, and she's also incorporated amazing accompaniments.
Educational if you're not au fait with Chinese cooking
An introduction to the plethora of Asian ingredients, cooking equipment and techniques is at the forefront of the book, but fear not, you don't need to stock up too much in order to experiment and enjoy her recipes!
Whether it's Korean Fire Chicken, Vietnamese Butter Wings, or Japanese Karaage, nothing surpasses the unique twists and flavours that cooks in East and Southeast Asia have brought to fried chicken. Here is a really clever and tasty  recipe to whet your appetite:
Chicken Poppers with Instant Noodle Coating – serves 4-6 as a snack
"I came up with the idea for this dish after listening to two friends talk about instant noodles – a subject that is dear to my stomach. Peter reminisced about eating instant noodles, sprinkled with the seasoning mix, straight out of the packet, without cooking them first.  Carol said that she hadn't ever tasted one of my favourite instant noodles, Nongshim Shin Ramyun.  I wondered how instant noodles would work as a coating for fried chicken, and fortunately had a packet of Nongshim Shin Ramyun in my cupboard. (An important tip if you want to buy these: seek out the ones made in South Korea, because they taste so much better than the ones made elsewhere)  It was one of the easiest fried chicken dishes I've made, and the noodles fried up spicy and crunchy.  You can vary the flavour by using other types of instant noodles, but make sure the seasoning packet is a dry mix, not a paste.  Also, just the seasoning powder, not any oil or dehydrated vegetables that may come in the packet.  This fried chicken goes very well with soju (Korean distilled alcoholic beverage) or beer."
Ingredients:
450g (1 lb) boneless chicken thighs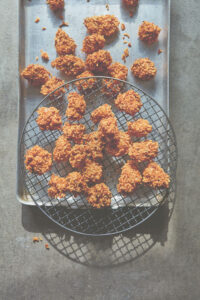 Coarse salt crystals, as necessary
2-4 packets of instant noodles, depending on size
About 60g (2 oz) potato, sweet potato, or tapioca flour
2-3 eggs
750ml (3 ¼ cups) cooking oil
Method:
Butterfly the chicken thighs, cut them into 2.5cm (1 in) chunks and put them in a bowl.  
Weigh the chicken, then multiply the amount by 0.005 – this is the amount of salt you need.  
Sprinkle the salt over the chicken, mix well, then set aside for at least 10 minutes.
Put the noodles with the contents of the dry seasoning pack in a food processor.  
Process until the noodles are about the size of rice grains.
Put the potato, sweet potato or tapioca flour in a shallow dish.  
Whisk the eggs in another shallow dish and put the instant noodles in a third dish.  
Dredge the chicken thighs in the flour and shake off the excess, then dip in the egg.  
Dredge in the instant noodles, pressing firmly so they adhere.
Lay the chicken on a cooking rack placed over a tray.
Pour the cooking oil into a pan, preferably a medium wok, set over a medium heat.  
Fry the chicken in two batches at 160⁰C (320⁰F).  
Fry the pieces for 4 minutes, then put them on the rack placed over the tray – there's no need to fry again. 
Kung Pao & Beyond by Susan Jung (Quadrille, £20) Photography ©Yuki Sugiura