The sun's shining, the King's been crowned, the blossom's out, and all's well with the world, we hope.  It's amazing how a bit of sun can raise everyone's spirits! 
There are some great new products being launched at the moment, and here are a few that I can wholeheartedly recommend:
Wild Garlic Sauce
May is still the wild garlic season and I was pleased to be able to buy some recently at our farmers' market.  But if you can't get your hands on any, fear not, Tracklements has come to the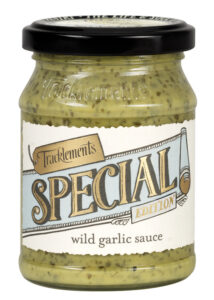 rescue:  Tracklements Special Edition Wild Garlic Sauce is a careful balance of delicate wild garlic, (hand-picked in the Wiltshire woodlands), honey and mustard.
The perfect partner for pork tenderloin, hot smoked trout or pan-fried Pollock, this little jar has a lot to give. Drizzle over steak, chicken, roasted vegetables, omelettes, scrambled eggs and tortillas or stir into a potato salad. It's also rather good mixed through mayonnaise or crème fraiche for a dip, or salted butter for a tasty little surprise on toast to accompany a bowl of soup. 
Tracklements Special Edition Wild Garlic Sauce rrp £3.75 for 170g, is available from fine food delis and farm shops nationwide and online at www.tracklements.co.uk. 
New Vegan Pasta Sauces
Just Spices, the spice blend company, has launched new organic pasta sauces in three flavours: Pomodoro (classic tomato), Verdure (classic tomato combined with courgette and aubergine and garlic)  and Funghi Porcini (aromatic porcini mushrooms, parsley and garlic). 
The sauces are vegan, contain only natural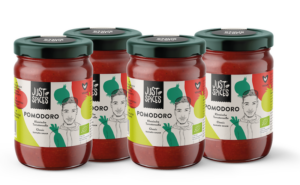 ingredients, have no added sugar (unlike some well known brands) and use only Italian tomatoes. One jar is enough for two servings but the Funghi will serve four.  The sauces are really tasty on their own, and need no additions, but if you're not vegan or vegetarian, will also make a fabulous base for adding your own extra ingredients.  The 4-pack get-to-know bundles, with one or more flavours, are available online at justspices.co.uk from £17.96
Scandi Coffee
I'm a great fan of Scandi food and drink, and I was delighted to discover that Swedish coffee company Löfbergs has launched Fika Dark Roast
Ground Coffee into Tesco stores. 
Fika ('coffee' in Swedish) is the practice of reconnecting with others by making time to stop and catch up over coffee and snacks. Each 450g pack contains enough coffee for an average 75 cups and the coffee is certified by the Rainforest Alliance.  It's a soft and delicate dark roast, with notes of cocoa, and has great length.  100% Arabica from South & Central America and East Africa, it's smooth and delicious! £5,50 a pack from Tesco
Floral Gin – Tropical Paradise
I've just found a gin that can transport me to a tropical paradise!  Santa Ana is inspired by the dancehall days of 1920s Manila and the legendary Santa Ana Cabaret, a musical playground for Manileños of the time.
It's made in France,  in the Charente region, to extract four native Philippine botanicals: Ylang Ylang, Alpinia, Calamansi and Dalandan. Santa Ana's combination of delicate floral top notes and a fresh tropical citrus palate complements the seven traditional botanicals (including Juniper, Bitter Orange, Angelica and Orris Roots, Fennel) used in the gin, to create a richly exotic taste profile.
It really is a very unusual gin, and perhaps an acquired taste as it's quite perfumed, but I love it!  Buy online at Santa Ana or from Master of Malt and other online retailers for around £30 a 70cl bottle.
White Rum – Yo Ho Ho
Having already talked about the John Paul Jones Lowland Rum some time ago, I was very pleased to hear that the company has added a new rum to the portfolio: Ranger, a premium white.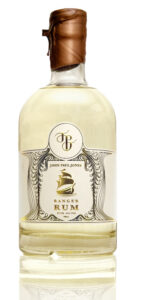 It's named after one of the most famous vessels captained by JPJ during the Revolutionary War, Ranger. being the first ship commissioned by the US to raid enemy craft within the Irish Sea. 
Botanically flavoured, it uses real apples and limes, then, like the Lowland rum, is steeped in seaweed, handpicked from Southwest Scotland, (JPJ's birthplace).  The result is smooth, balanced and light.  It's refreshingly good served with a tonic, or just neat over ice.  You'll find those apple notes, entwined with classic Caribbean fruits, result in a salty, coastal, finish. 
£35 for a 70cl bottle online from John Paul Jones or Master of Malt.
Californian Dreamy Wines
Now that we can actually believe we are going to have a summer, maybe it's a good time to introduce a taste of California into your wine rack? I've tried a couple of excellent California wines recently: Dark Horse Sauvignon Blanc and Franciscan Cabernet Sauvignon. 
Dark Horse
The long, warm California days allow the grapes for the Dark Horse to reach their full juicy potential, resulting in a wine that's full of citrus fruit with melon notes and a

balancing hint of green freshness.  It's a lovely summer drink and a perfect match for grilled fish or a goat's cheese salad.  £9 rrp and available from Tesco.  
The Franciscan
The Franciscan is a rich, fruit-forward classic Californian profile example.  Layered notes of ripe dark fruits and jam on the palate are complemented by well-integrated hints of caramel, mocha and sweet oak.  With a really smooth finish, this is an ideal match for a juicy steak.  £17 a bottle from Ocado
Really Cool Desserts
And a perfect end to your meal now awaits you in the freezer cabinet at Waitrose!
Crosta & Mollica has just launched two deliciously authentic Italian sorbets. Crafted by scooping out the pulp from the fruit centre, then using the original flavour directly from the fruit, the result is a beautifully smooth sorbet. Each natural fruit half is then hand filled and sandwiched back together. A lighter alternative to ice cream or gelato, the Crosta & Mollica Sorbetto Shells simply contain smooth ice and fresh fruit purees. This combination balances tangy and tart flavours with fruity sweetness.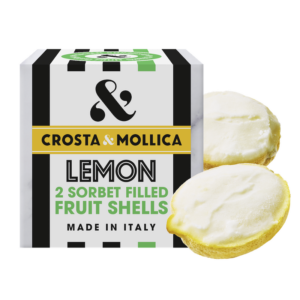 Vegan-friendly, these frozen desserts are available in two  flavours; Lemon Sorbetto and Pomegranate Sorbetto. Crosta & Mollica Sorbetto Shells are exclusively available in Waitrose at £5.75 rrp. And they're Bellissimo! 
Finishing with a Fabulous Finishing EVOO
Greek and Mediterranean fine food producer, Odysea, has launched a new, Early Harvest, Extra Virgin Olive Oil – perfect for
dressing dishes, salads or simply for dipping crusty bread.
Produced using Megaritiki olives, the oil is packed full of goodness, with high levels of both monounsaturated fats and antioxidant polyphenols.  Its flavour boasts fresh green aromas, distinct notes of dry herbs, and balanced pungency and bitterness.
This Odysea oil comes in a beautiful green tin, and is available in Sainsbury's stores nationwide, £7.90.