I'm such a fan of Nisha Katona's recipes, so was delighted to learn that she has another new book.  Meat Free Mowgli was published at the end of last year, and I thought January the perfect time to tell you about it, as so many of us are trying to cut down on our meat consumption – and quite a few are vegetarian already and/or perhaps following Veganuary.  As Nisha herself says in the introduction of the book: "Indian food is the perfect go-to cuisine for the modern family who want to eat less meat. And thus, the idea for Meat Free Mowgli was born – a collection of simple, plant-based meals in the Mowgli style we know and love." And many Ind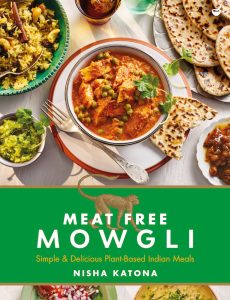 ian recipes are vegan anyway, but not necessarily by design.
Meat Free Mowgli
In Meat Free Mowgli, Nisha weaves her magic again,with  healthy, effortless, and cost-effective plant-based recipes – with just a handful of carefully paired, easily sourced, ingredients. The book's organised by ingredients – and all the ingredients are easily sourced. Each chapter presents ideas on what to do with our favourite vegetable types: including Roots; Beans; Nightshades; Squashes; Brassicas & Leafy Greens; Lentils & Other Grains; Mushrooms; Fruits as well one one vegetarian chapter for Eggs and Dairy. Dishes include Broccoli and Coconut Bhajis; Broad Bean Stuffed Puris; Samosa Tarts; Tangy Tamarind Roasted Squash; Cashew and Mango Curry; and accompaniments such as Kale Raita; Indian Mushy Peas and Manchurian Honey Potatoes, as well as recipes for pickles, side dishes and chutneys. Sweets and drinks include Baked Rose Yoghurt and Coconut Panna Cotta. Colourful, energising and full of flavour.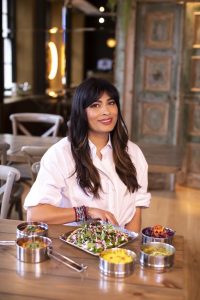 About Nisha
Nisha Katona MBE is the creator of the much-loved Mowgli restaurant chain. She can regularly be found sharing her passion for simple, honest cookery on the TV and radio; including BBC's Great British Menu and Saturday Kitchen; ITV's This Morning; and an expert panellist on BBC Radio 4's Kitchen Cabinet. 
Meat Free Mowgli is hardback, £25 from Nourish Books, a publisher who is all about enhancing wellbeing through a balanced diet.  
Here are some tasters for you from this lovely book.
Maa's Green Chili Pickle
(MAKES 1 SMALL JAR)
"A classic, this is my Maa's searingly hot recipe for chilli pickle. A little different to the chilli pickle you may have seen in my other Mowgli books, this is still very spicy – you have been warned!"
100ml/31/2fl oz/scant 1/2 cup vegetable oil 
1 tbsp panch phoron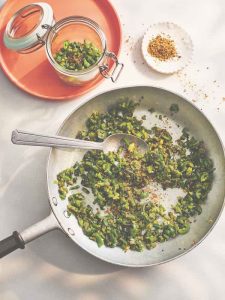 25 green chillies, finely chopped or blitzed in a food processor
1 tsp ground turmeric 
1 tsp salt 
juice of 1 lemon
Heat 3 tbsp of the oil in a saucepan over a medium–low heat. When hot, add half of the panch phoron and let it sizzle briefly. Be careful not to let it burn or it will taste bitter. Remove from the heat and add the chopped green chillies, turmeric and salt. Beware of spluttering!  
Return the pan to a low heat and let the mixture cook down for 20–30 minutes, or until the chillies have really softened. 
Meanwhile, in a separate dry frying pan/skillet, toast the remaining panch phoron for 3–4 minutes, or until fragrant. Let cool, then blitz to a fine powder in a spice grinder or small food processor.  
Once the chillies have really softened, remove from the heat, stir in the ground panch phoron and transfer to a sterilized jar. 
Heat the remaining oil until hot, then pour it over the chillies in the jar until they are submerged. Stir in the lemon juice, seal and leave to cool. Store in the refrigerator for up to 6 weeks.
Paneer, Cashew & Mango Curry
(SERVES 2)
"Fruity, nutty, creamy, sunshiny delight, this dish is a real lift to the senses. Make sure you get large, ripe mangoes for optimum flavour. It is easily doubled to serve four."
2 tbsp vegetable oil
½ tsp black mustard seeds 
1 red onion, roughly chopped 
2.5cm/1in piece of fresh ginger, peeled and finely chopped 
2 garlic cloves, finely chopped or crushed 
1 green chilli, finely chopped  
2 tbsp garam masala 
1 tsp ground coriander 
1 tsp ground cumin 
½ tsp ground turmeric 
¼ tsp chilli powder 
1 tsp salt 
1 tsp sugar 
225g/8oz paneer, chopped into small chunks 
½ large mango, flesh diced into 1cm/½in pieces 
50g/2oz/1 ⁄3 cup cashew nuts 
50g/2oz/scant ¼ cup coconut cream 
100ml/31/2fl oz/scant ½ cup water, or as needed 
lemon juice, to taste 
handful of fresh coriander/cilantro, roughly chopped
Heat the oil in a large non-stick pan that has a lid over a medium heat. When hot, add the mustard seeds and let sizzle, then add the onion and cook for 5–6 minutes, or until starting to soften. 
Add the chopped ginger, garlic and green chilli, cook for 2–3 minutes, then add the ground spices, chilli powder, salt and sugar. 
Add the paneer and cook for 3–4 minutes, or until starting to colour all over, then add the diced mango, cashews, coconut cream and measured water. Cover with the pan lid and simmer for 6–8 minutes, or until the paneer is cooked through, adding a splash more water if needed. 
Season with lemon juice and garnish with the chopped coriander before serving.
Baked Rose Yogurt (SERVES 4)
This is a typical Bengali dessert. Baked yogurt is gently sweetened with a light tang and has a firm texture rather like cheesecake. For a pretty pink colour, try to find a genuine Indian rose syrup (in the Asian aisles of supermarkets or in Indian grocers). Other rose syrups will not give such a depth of colour, but will still taste wonderful. You can either make this in a large dish or in individual dishes. Either way, it is the perfect dessert for entertaining as it can be made ahead of time and is super easy."
250g/9oz/1 cup full-fat Greek yogurt 
125g/4oz/generous 1 ⁄3 cup condensed milk
3 tbsp rose syrup 
1 tsp vanilla extract 
1 tbsp finely chopped pistachios 
1 tbsp dried rose petals
Preheat the oven to 180°C/350°F/gas mark 4. Bring a kettle of water to the boil. 
In a jug, mix together the Greek yogurt and condensed milk until well combined without any lumps, then add the rose syrup and vanilla extract. 
Place 4 ovenproof ramekins in a baking dish, then carefully divide the yogurt mixture among them. Pour enough boiling water into the baking dish to come halfway up the sides of the ramekins, then cover the dish tightly with kitchen foil. 
Bake in the oven for 20–25 minutes, or until set, then remove from the oven and let cool. 
When cool, place in the fridge and leave to set for at least 2 hours, or ideally overnight. 
Serve decorated with the chopped pistachios and dried rose petals.