Richmond town centre has seen quite a few new openings of late, one of the most recent being Megan's, situated in the Old Town Hall, on the corner of Whittaker Avenue and Hill Street. 
It's a great location for shoppers and for anyone wanting to stroll along the riverside before or after a meal. 
Megan's is an 'all-day' restaurant, opening for breakfast, through brunch, lunch and dinner.  The menu is Mediterranean inspired, but with a distinct leaning towards Turkey. 
That's fine by me, as I love Turkey and Turkish food!
A Dog Friendly Place
We went for dinner the other week, with Crystal Poodle in tow (Megan's prides itself on being very dog friendly).  The decor is rather nice – casual, but cleverly designed with macrame curtains between some of the tables.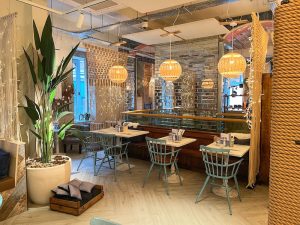 This offers an element of privacy, but you still feel that you are 'part of things'.  We were welcomed by our lovely waitress, Sophie, who explained the menu to us and fetched me a G&T and my husband a beer, while we deliberated over the plethora of highly tempting dishes on offer. 
Starters
I love labneh, so the Labneh & Hummus board (£9.90) appealed to me, while my husband was completely sold on the idea of the Buttermilk Fried Chicken (£8.50).
We shared (well, I was allowed a tiny taste of the wonderful chicken!). 
The chicken was particularly good, and another time, it would be an ideal main course served with a side salad and some sweet potato fries.  
Our Main Courses
The fries actually came with my main course – grilled salmon with a mixed salad and the choice of fries or tabbouleh (£16.90). 
It was really excellent, but seeing some of the other dishes being served on other tables, I did regret, though,  not ordering something a bit different and perhaps more exciting!
Husband opted for the Posh Lamb Doner Open Kebab (£15.90) which looked excellent – a picture of deliciousness and confirmed so by him!  
Baklava Heaven
I was too full for any dessert, but the Baklava & Ice Cream tempted him, and I must say, it looked absolutely delicious.  On many Turkish holidays we've had baklava, but serving it with ice cream apparently really hits the mark and takes off some of the rich sweetness.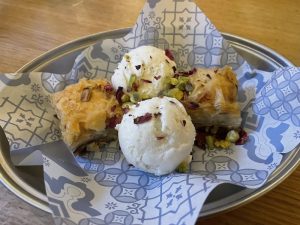 A Good Wine List
We enjoyed a bottle of Mirabeau Rosé (£36) with our meal.  Wines are from £25 a bottle, and it's worth noting that there's an excellent range available by the glass.
Great for Brunch
I've been back to Megan's since – with a friend for a spot of lunch – and I would thoroughly recommend the Veggie Brunch (£13.90).  Strangely though, it is quite noisy at lunchtimes, and less so in the evening – I think the background music is turned down later in the day.
To Sum up – Do check it out
Megan's isn't expensive, and the quality of the food is great.  It's a relaxed, dog friendly, and highly enjoyable place to meet friends, and enjoy a drink and a bite or two to eat.  It caters really well for vegetarians and vegans (I was also given the opportunity of a tiny taste of the plant-based 'lamb' which was surprisingly good!). 
There are a number of special promotions running such as Rosé Hour and Neighbours' Nights, so do check the website here when choosing the time of your visit.