Father's Day will be upon us again very soon – June 18 in case you were wondering!  I thought it sensible to start thinking about it sooner, rather than later, in order to do some planning.  So here are some suggestions for gifts that show your appreciation of any papa who is a bit of a foodie, and/or enjoys a snifter or two! 
Brownie Heaven
For a Father with a sweet tooth, then I would highly recommend ordering a delivery from Bradfords Bakers, who deliver across the UK.  The prices are very reasonable, and the quality is top-notch.  For example, I'd suggest this wonderful Variety Brownie Box containing a delicious selection of chewy fudge brownie squares.  Toppings include Mini Smarties, Choc Buttons, Jazzies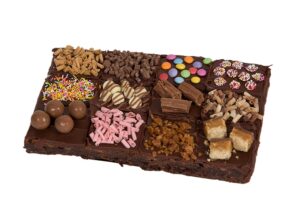 and lots more.  The box is available in two sizes: small (£16.90) –  22 x10cm containing 8 topping varieties or large (£21.90)- 24 x 16cm with 12 varieties.  The brownies arrive in one piece (to be cut as desired)  in an attractive presentation box with a free gift card.  Delivery is from £4.95 (select your delivery date at checkout).  The company also has a range of other lovely gift ideas, so do check it out on www.bradfordsbakers.com
Meaty Magic
If his taste leans more towards the savoury, then a selection of delicious British charcuterie from Tempus Foods will really hit the spot!
Tempus is the brainchild of MasterChef winner Dhruv Baker and MasterChef runner-up Tom Whitaker. Their time-honoured, award-winning British Charcuterie is made in Surrey, and I'd recommend the Spiced Coppa.  Winner for a Great British Charcuterie Gold medal and not just one, but three Great Taste stars, this pork collar is world renowned for its beautiful marbling and rich, complex, flavour profile.  Tempus has elevated a classic delicacy to new heights by adding its unique blend of spices.  Costing just £7.50 for 75 grams, you can buy Spiced Coppa as well as a host of other wonderful charcuterie gift ideas  www.tempusfoods.com
Champagne + Fromage
How about a spot of cheese and a good bottle of wine?  Then I recommend you visit a wonderful site I recently discovered called Champagne + Fromage.  A combination of two different companies, each lovers of artisanal, unique French products, the website is a must for any fan of French cheeses and wines.  There's a well curated selection of products, with delivery free within the UK for orders over £60 (with next day delivery when you order between Tuesday before 12pm and Thursday before 12pm).  And if you find yourself in Covent Garden, pop in for a glass or two of grower champagne  and some lovely cheese at their site in Wellington Street. 
A Perfect Pairing of Flavours
Moving further onto gifts of an alcoholic nature, I've found you the ideal present for the man who likes gin, as well as port: Conker Distillery Port Barrel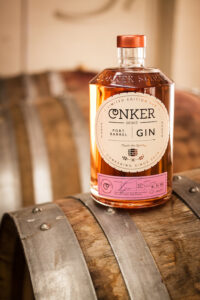 Gin! Conker has rested its signature Dorset Dry Gin in used port barrels from Portugal – infusing the dry piney juniper and herbs with notes of vanilla oak, warm spice and red fruits.  You can enjoy it neat over chunks of ice, or add a twist of orange peel and top it up with tonic for an intriguingly different, and rather delicious, G&T. Available at £50 for a 70cl bottle from Ocado, Master of Malt or the RNLI online shop.
A Fine Rye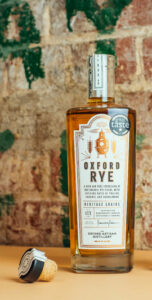 Maybe whisky is more to his taste?  Then if he's an aficionado, I'd suggest you try him with The Oxford Rye.  The ancient heritage English grain is harvested, twice distilled, then rested in American Oak to draw out its best characteristics.  The Oxford Rye has an aroma of sandalwood and vanilla, and on the palate, notes of creamy praline, nuts and sourdough, ending with a flourish of cloves, nutmeg and smooth spiciness.  It's fabulous on the rocks, or opened up with a splash of water, but it also makes a delicious cocktail with ginger beer and a touch of citrus.  It's from the same clever people that produce the wonderful Oxford Rye Dry Gin, and like the gin, is available online from The Oxford Artisan Distillery at £40 for a 70cl bottle (40% abv), or from Master of Malt.
A Great Scotch
Another excellent whisky – a Scotch – and more widely available perhaps, especially if time is of the essence, is The Singleton of Dufftown, 12 year old
Malt Whisky.  It  has an aroma of toasted nuts with rich fruits,  hints of blackcurrant, brown sugar and coffee on the palate – before an elegantly drying and crisp finish. It's also ideal as an introduction to malt whisky due to its smooth, rich, accessible flavour.  It's a Speyside single malt that's been aged primarily in European oak casks and is great neat or with ice, but also mixes perfectly with soda for a refreshingly long drink. It's available at most major supermarkets for around £38 and online (currently on special offer too) from thebar.com, or House of Malt and Amazon.
Musical Rum Pack
For the music and spirits loving Dad in your life, here's the perfect gift – creatively packaged to look like a music speaker.
The gift box contains a 70cl bottle of 8Track Rum, a highball glass,  pin badge and selection of music-inspired cocktail ideas.  Born from a love of music and celebrating good times, it's committed to supporting the independent music industry.  8Track Rum is an easy-drinking, premium, spiced rum with a refreshing balance of citrus and spice.  Available online here for £39.95 or from Threshers.
A Mellow Merlot
You don't have to spend a lot on a Father's Day gift – here's an extremely good bottle of delicious Californian Merlot at an excellent price, and you
may even have the chance to share it!   Sumptuously rich, Apothic Merlot  bursts with intense flavours of black cherry, blackberry and wild blueberries, layered with hints of vanilla and coconut, a result of oak contact with the wine for months. Deep, full-bodied with a plush, velvety mouthfeel, this wine is lovely.  Apothic gets its name from "Apotheca", a reference to a winemaker's sanctuary for crafting and storing blends in the 13th Century.  Available from Tesco stores nationwide. Priced at £9 a bottle.
But of course, just like Mothers' Day, you don't have to spend a lot.  Just a card, a phone call, or better still a visit, can be priceless.