What is Pilates?
Pilates is a form of exercise originally developed by Joseph Pilates. He called it Contrology and developed it from his own needs through illness as a child and then later during World War 1 as a prisoner of war for himself and other men. He even set up springs and pulleys on hospital beds which is what led to the current day Pilates reformer and trapeze table!
Pilates really took off when joseph moved to New York with his wife and by the 1960's it was a well-established favourite form of exercise, particularly in the Ballet schools of New York.
From there it has moved into mainstream health and fitness across the world and there are variations in the specifics of different teaching schools but all based on the original exercises from Joseph Pilates himself!
Pilates uses controlled movements to work the deep core muscles of the body. This gives you a strong and stable base around the spine to then move and strengthen the arms and legs helping you to move freely and without pain.
Why should you try Pilates?
Pilates is appropriate for everyone whether you are new to exercise or an athlete competing in high level sport. It has multiple benefits including;
Increasing core strength
Improving coordination of movement
Strengthening arms and legs
Strengthening the postural muscles
Improving balance
Increasing flexibility and mobility
Giving an opportunity for mindful movement
Aiding in rest and recovery
Aiding in rehabilitation from injuries
Reducing joint and muscles pain
What are the different types of Pilates?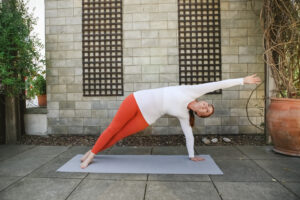 Mat-work Pilates
This is very commonly run as group classes as all you really need is a mat and a little bit of space. There is a full repertoire of body weight exercises in Pilates that can work the whole body in different positions including standing up.
Classes tend to be at different levels but all of the exercises can be modified for your needs or different options given. The only pre-requisite is that you can comfortably get on and off the floor!
You will be able to work your whole body as the exercises cover activating the core muscles, strengthening your legs and arms as well as coordinating movements and challenging your balance.
Small pieces of equipment such as resistance bands, small weights and balls can also be used to vary the exercises and increase the challenge.
It is perfect to practice at home as all you need is a mat (or nice carpet!) and some space.
Equipment Pilates 
This is often called Reformer Pilates as that is the most well know and commonly used piece of equipment in a fully equipped Pilates studio.
The full range of equipment includes not only the reformer but the Trapeze table (also known as Cadillac), the chair and the ladder barrel. 
The reformer is a large bed with a moving carriage that has springs attached to add resistance or aid movement. It also has straps that you hold with the hands or place around the feet to work against the resistance of the springs. This highlights the main difference to mat-work where you are only using bodyweight as the resistance.
The trapeze table is a static bed that has a large metal frame over it which allows for exercises pulling up or hanging from the frame. It also has a bar with different strength springs so that again you can use the springs to add resistance or to assist in movement.
The chair was designed originally to be a piece of furniture in the home that could be used as a seat but also to exercise on. It also uses springs on a foot pedal and is fantastic for a whole range of exercises including standing work.
The ladder barrel is possibly my favourite piece and is not that common to find in a studio! It has a ladder at one end and then an arc that is lovely to use to mobilise the spine and challenge the abdominal muscles. 
On all the pieces of equipment you can do low level assisted movements as well as high level exciting moves such as a shoulder stand on the barrel or hanging upside down from the feet on the trapeze table!
Group classes
There are many mat-work group Pilates classes now available in studios, gyms and local town halls which makes it very accessible for most people. Different teachers will have different training and styles of teaching and you might need to try a few to find the perfect class for you. 
Pilates studios offer reformer classes and these are becoming more common so it is worth you looking to see if there is one in your area. They are more expensive than a mat-work class as the equipment is expensive and you cannot have as many people in a class.
Some specialist studios will have the full range of equipment and may offer group classes but you will likely need to have a one to one first to understand how all the equipment works and how to use it safely.
One to one Pilates
This is the best way to start Pilates if you have never done it before. It is more expensive than a group class but can be used just to assess you and your body and get you started with properly understanding the basics of the movements on an individual basis. This will enable you to get the most of a group class so that you can start to feel the benefits quickly!
One to one sessions will be designed specifically for you and your needs. Each person is an individual and will need a different focus compared to the next person in the studio. This tends to mean that you will progress quicker and achieve your goals faster if you work with a Pilates instructor one to one. 
You are also less likely to get injured if you have one to one Pilates as the individual attention will mean that you are performing the exercises correctly without putting any undue strain on your body.
One to one can be combined with group classes so that perhaps you do a group once a week, a one to one every other week and practice at home in between. They can be totally flexible to suit your needs.
Physio-led Pilates
Physiotherapy is well recognised for treating injuries, pain and rehabilitating after surgery. 
Pilates is known as a form of exercise but not necessarily known for its use in rehabilitation, pain management and pre and post pregnancy.
When we combine physiotherapy and Pilates you get the perfect result of excellent assessment and diagnosis, manual therapy, and exercise prescription. You can also work with someone who has medical knowledge and can liaise closely with the rest of your medical team including sports doctors, surgeons, strength and conditioning coaches and more.
Having your one to one sessions with a physiotherapist who is trained in Pilates means that you can take part and feel the benefits of Pilates even if you have had injuries, pain, spinal surgery, joint surgery or sports injury.
Physio-led Pilates is also perfect for pre and post-natal ladies due to the specialist knowledge required to advise safely during this time and give effective pelvic floor and core rehabilitation.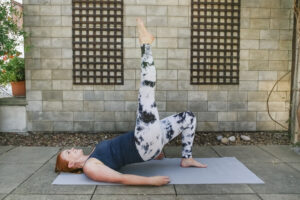 I hope you now feel more ready to choose your perfect Pilates class and get started! I am always happy to help with any enquiries, as well as teaching physio-led one to one classes myself I am happy to make recommendations on group classes near you.
Her are my 6 top tips about starting Pilates!
Get a one to one first!
Start with the beginners

 

Try equipment
Practice at home – pick three exercises
Try different instructors
See a physio if you are doing it for injures, pain or a chronic condition.

 
Words by Ruth Smith